One of the pillars of health that is often overlooked is sleep. Most of us know that exercise and nutrition are key to a healthy lifestyle. I would also add hydration and stress management, but those are topics for another time.
How much sleep is enough for your health? According to the National Sleep Foundation, young adults and adults need 7 to 9 hours and older adults need 7 to 8 hours of sleep. If you are active (particularly for endurance athletes), I recommend a minimum of 8 hours to allow your body extra time for recovery.
If you're not hitting these targets, it can be tricky to carve out the time for more sleep. I've certainly struggled with this in the past myself! Let's start by talking a bit more about the importance of making time for more sleep & how it impacts your body when you're not getting quite enough.
Disclaimer: This post is sponsored by my friends at Tomorrow Sleep. Thank you for allowing me to continue creating great content for you by supporting partnerships with brands I love. As always, opinions are 100% my own! You can read my disclosure policy here.
The Importance of Sleep
1. Lack of sleep decreases protein synthesis (how your body's builds muscle), causes muscle loss, and can lead to a higher incidence of injuries. If you are someone who struggles with injuries, this could be one of the contributors that you can control!
2. When you don't get enough sleep, you'll be hungrier & more likely to eat more food than you need. This sounds strange, but the lack of sleep decreases your appetite-regulating hormone (leptin), which increases your appetite!
3. Within just four days of sleep deprivation, University of Chicago researchers found that insulin sensitivity dropped by more than 30 percent. Matthey Brady "We found that fat cells need sleep to function properly," said study author Matthew Brady, associate professor of medicine and vice-chair of the Committee on Molecular Metabolism and Nutrition at the University of Chicago. When you are insulin resistant, your body stores more excess fat (increasing your body fat) and can even lead to diabetes. When you are insulin sensitive, your body removes fatty acids and lipid from your bloodstream and prevents storage. If you have been struggling to lose weight and reduce your body fat, lack of sleep can absolutely be a contributing factor!
4. How long does it take you to fall asleep? This can be a great indication if you are sleep deprived. If it takes between 10-15 minutes to fall asleep, then you are well rested. If it takes you less than 5 minutes to fall asleep, it's a sign you are sleep deprived. This is a great way to determine the amount of sleep that is best for your body.
5. Do you feel like you are always hungry? When you don't get enough sleep, your leptin levels (an appetite-regulating hormone) fall, which leads to your appetite increasing.
6. Did you know that many sleeping pills and sleep aids suppress REM sleep? This can be very unhealthy over time, so try natural alternatives (which don't suppress REM), like these all-natural Serenity Softgels, for supporting a restful sleep without the negative side effects.
7. When you get enough sleep, your concentration is improved and you'll have a higher cognitive functioning. Even one sleepless night can impact these areas – which can impact your daily life and memory recall.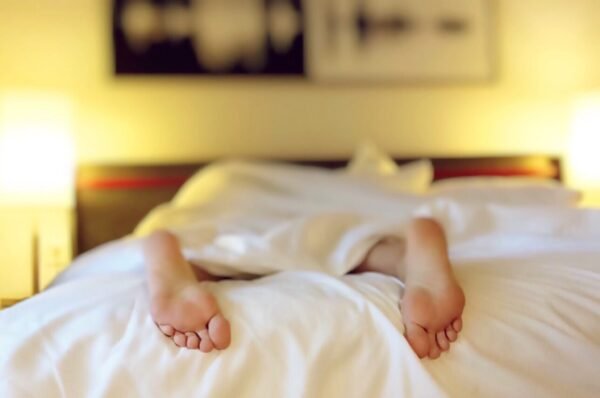 Now that you know how important sleep really is for your health, let's look at some ways to improve your sleep quality.
How to Improve Sleep Quality 
1. Turn off electronic devices at least an hour before bed. Or use a filter to block the blue light on your devices – my Android now has a blue light filter built into the settings. If your phone doesn't already have this feature, try Twilight, which is a free app!
2. Make sure your room is dark when headed to sleep. Try blackout shades or a sleep mask to help keep it dark even as the sun rises.
3. Make sure you have a good, medium-firm mattress! According a sleep study, sleeping on a new mattress resulted in "a significant decrease in stress," possibly due to the increased sleep quality and decrease in pain associated with the firmer mattress. I highly recommend the hybrid mattress from Tomorrow Sleep – which has definitely increased our sleep quality (Use promo code: FIT150 to save $150 off any $500+ purchase through 12/31/17). Visit the Tomorrow Sleep website to go shopping and redeem that code at checkout.).
4. Set the temperature a little cooler at night for restful sleep, as your body temperature raises slightly as you all asleep.
5. Consider white noise (like a fan or sound machine), because oises can disrupt your sleep (even when you don't wake up). I use an app on my phone called "Relax & Sleep" that I customized to a mix of campfire, creek, ocean and beach.
6. Use high-quality essential oils that support restful sleep, like lavender or serenity. topically (try the bottom of your feet or back of your neck) or diffuse them in the bedroom. My favorite blend for sleep is cedarwood, lavender, and breathe to support calming and restful sleep. I also made a roller bottle with serenity & balance that I roll on the bottom of my feet before bedtime (especially when traveling) to help calm my mind and body to fall asleep. Learn more about the oils I use.
7. Make sure to get regular exercise, which  makes it easier to fall asleep and helps you sleep better. You want to skip exercise right before bed, however, as that will make falling asleep more difficult.
I hope these tips have helped you see how important sleep is for your overall health & give you practical ideas to start improving your sleep tonight! Which tip will you try first?