One of the ways I'm staying active this month is by participating in the 30 Days of Yoga Challenge, hosted by Lindsay of Cook.Vegan.Lover. I've committed to practicing yoga every day for the month of November for at least 15 minutes, with 3 x 30 minute sessions and 2 x 60 minute sessions. So far, however, I've actually been following the more intense plan of at least 20 minutes per day, with 3 x 60 minute sessions and 2 x 90 minute sessions.
I purposely under-committed this month, knowing how busy October was and that I didn't want to stress myself out with yoga (that's definitely not the purpose of yoga!). I've really enjoyed my practice so far, with most sessions happening in the morning, before work, in my PJs!
I only own 1 yoga DVD and I get bored easily, so I spent some time searching for online resources before the month started. That's how I found YogaDowload.com. This is a great online resource for the at-home Yogi (and Yogi-wanna-be, like me!) to be able to get interesting yoga classes anywhere. I plug my computer into our living room TV in the morning and try a new class almost every day!
They have very affordable subscription packages available on the site. They even offered a coupon for Halloween, so I picked up the Monthly Premium package at a discount. So far, I have been using the unlimited streaming feature, I'm still deciding which classes I want to download and keep for the future (I want to use those 6 downloads wisely).
I've tried so many different styles of yoga this way without even leaving the house. My favorites so far have been the Power Vinyasa (Baptiste Power Vinyasa Yoga #3 and Power Vinyasa Flow #5) and the Morning Flow. The Power Vinyasa sessions have been challenging and I've had to modify or take breaks on those, but I know I'm getting stronger and more flexible every day!
The best part? Even if you don't want to commit to a subscription, you can get FREE 10 minute classes (streaming or download) of many of the sessions!
I think tomorrow morning I'll try the Power Vinyasa Flow #2!
Lunch
On the lunch menu for the past few days is a basic version of the Black Bean and Butternut Squash Burritos I pinned from Oh She Glows a few weeks ago. Her pictures of this recipe look so much better than mine, but we didn't end up adding any of the "extras" that really look delicious in her version.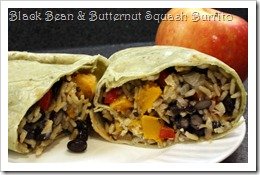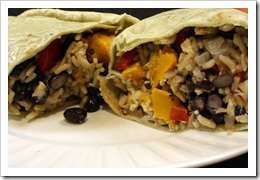 Basic or not, this burrito is filling and tasty – even if I am terrible at wrapping a burrito. I could never work at Moe's! 🙂
Question of the Day – Do you have any awesome yoga resources to share? What are you doing this month to get or stay active?
Don't wait until January to get back on track with your active lifestyle! Figure out what motivates you and get moving.