Welcome to another wonderful What I Ate Wednesday!! This is the last Wednesday in April, so it's our last week to focus on serve up an extra cup of veggies!!
Breakfast
Breakfast is always the more unusual meal to add veggies – right? You already know that I love to add veggies to a smoothie, but what are other ways to add veggies to breakfast? This week, I enjoyed a tofu scramble packed with veggie goodness!
Tofu scrambles are so easy and a great way to use veggies in a new way. Kind of like an omelet, but better! In this week's scramble, I added spinach, red peppers, garlic, onions, & mushrooms. I may have also added a nice sprinkling of mozzarella Diaya cheeze.
Served with a slice of toast with almond butter and marmite, it was the perfect breakfast!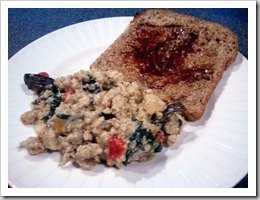 Lunch
I'll admit that I don't have a picture of lunch. Because it was a mess for us to make (since I forgot the oven was broken until I prepped dinner for about an hour!) and it didn't turn out near as pretty as it should. Suffice it to say, I never took pictures of dinner, or yesterday when I enjoyed it for lunch. But please check out these gorgeous photos and great recipe for Rustic Asparagus Quinoa Tart from Sunday Morning Banana Pancakes.
Snack
After work and before my workout, I had a snack of 3 dates, stuffed with almond butter, and topped with chia seeds. Excuse the recycled photo.
Snack time was followed by a 1:00 ride on the trainer, while catching up on my favorite Dr Who; we're making good progress and in the middle of season 4. I think I might be a little disappointed when we are caught up and have to wait for a new episode each week (like everyone else).

My #PROOF for Tuesday
Dinner
After our ride, I was really in the mood for an evening out. So we headed to the Mexican restaurant down the road, Chepe's Mexican. I enjoyed an evening hanging with my hubby and noshing on some yummy food.
What about the veggies in this dinner? How about the tomatoes in salsa? Well, fruit is almost a veggie, right? They have a warm roasted tomato salsa that is really the best salsa ever!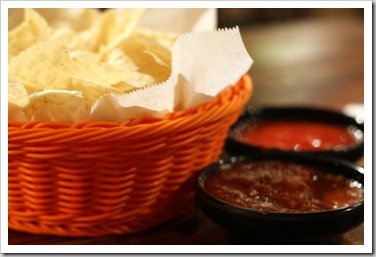 Followed by veggie fajitas – check out the grilled tomatoes, peppers, spinach , & onions in this delicious plate. Hmmm, we are growing all of those in the garden. Guess I like that combo. Topped with fresh diced onions, tomatoes, and guacamole – it was exactly what I was in the mood for!
All washed down with a margarita, of course!
That, my friends, is WIAW – a great day of food in my humble opinion.
********************
Questions for you:
What is your favorite dinner spot when you're ready for a quick, low-key dinner out?
What was your #PROOF yesterday?
Have you watched Dr. Who yet? Seriously, you HAVE to!! 😉