Okay, I admit it…this week's WIAW is actually from a meal I ate more than a week ago.

I have been meaning to share this meal for a while and time is getting away from me, so I hope you'll excuse this flash back to last Tuesday's
Atlanta Vegan Drinks
meetup at Wrecking Bar Brewpub.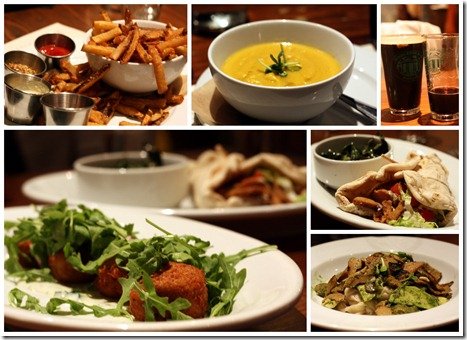 But first a little love to Jenn from
Peas & Crayons
.
I don't know about you, but I've been loving this month's "Love Your Veggies" theme. So many delicious veggie treats shared on the link-up this month. Make sure you hop over to today's party and check out a few new-to-you blogs joining in the fun!

What WIAW isn't about

Comparison – Judgement – Restriction – Guilt

What WIAW is about

Celebrating one of the glorious things we all have in common: We all eat!

WIAW is about food and fun! It's about making new friends, breaking out of a food rut, inspiring yourself & others, embracing fruit & vegetables, finding new ways to eat your favorite foods, and so much more <3

Celebrate blogging. Celebrate Food. Celebrate Individuality.
[Cause over here, we like to party!]
The Wrecking Bar Brewpub is right outside of Little 5 Points and in a historic home – you would never guess there is a brewpub in this building!
(source)
They offered a special vegan menu for our group, but have also added a vegetarian menu that is available every Tuesday night. Love it!
Kirk (hubby) and Malinda (friend & past guest blogger) joined me this month. The downside was only tables of four were set-up, so we didn't get to do as much mingling as I would have liked. I did snag a table next to Seth & Elena, so we did get to chat a bit through the evening.
Now on to the eats! We arrived pretty hungry, so we quickly ordered the Wreck Fries with a few dipping sauces. Just basic sauces here, nothing fancy that was veg-friendly.
Wreck Fries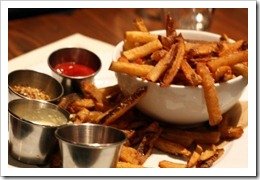 Malinda started with a soup, which she allowed me to photograph and taste. It was very flavorful and creamy, loved the combination of turnip & parsnip.
Turnip & parsnip soup
Did I mention it was a brewpub? I of course sampled a few beers, for research purpose only, of course. 😉 I had the Jemmy Dean Stout & "Never Go Back" India Black Ale.
They ran out of what I really wanted (Braised kale, mustard greens & apple strudel with chipotle-hop BBQ) before I ordered, so instead Kirk and I split two dishes:
Falafel with tzatziki sauce, arugula & radish salad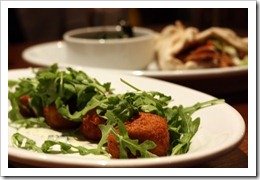 Seitan Veggie Gyro
The Gyro was actually off their regular menu and it was delicious – good to know there's something tasty that we could order here at any time! Malinda went with the Italian dish, which was good, but the pasta was a little mushy.
Vegetable pappardelle with pesto, baby turnips, dried cranberries and pine nuts and seitan
All-in-all, a good restaurant with tasty beer. I hope to see other pubs in the area follow their example and add good veggie offerings to their menu!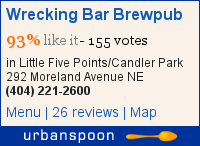 **************************
Questions for you:
Are you more likely to frequent a restaurant that offers veggie options on the menu?

When a restaurant runs out of a dish you had been planning on, is it hard for you to pick plan B? I get really in the mood for what I've decided on and it's tough to switch gears!

What's your favorite local brewpub?