It's the Wednesday before Christmas!!! How do you make the Wednesday before Christmas even more exciting than it already is? How about a GIVEAWAY?!?!
That's right folks – two giveaway weeks in a row! I must like you a lot (and I do!!).

As usual, let's start with a review of What I Ate yesterday, before getting to the goodies:
What WIAW isn't about

Comparison – Judgement – Restriction – Guilt

What WIAW is about

Celebrating one of the glorious things we all have in common: We all eat!

WIAW is about food and fun! It's about making new friends, breaking out of a food rut, inspiring yourself & others, embracing fruit & vegetables, finding new ways to eat your favorite foods, and so much more <3

Celebrate blogging. Celebrate Food. Celebrate Individuality.
Breakfast
I love breakfast leftovers, especially when I have a strength workout + early morning meeting at work! I enjoyed another Eggnog Spice Biscuit with Earth Balance, Almond Butter, and Maple Syrup this morning. Mmm…mm….m!
We also enjoyed a pre-workout shot of espresso, which I haven't had in a while.
Lunch
We pre-made today's lunch on Monday evening, Naughty & Nice Vegan Enchilada Casserole. No pretty picture to go with this one, it was a tupperware lunch after all, but the taste was delicious!
The downside? For some reason my tummy was not happy with this recipe (it's not even spicy!) and I could feel my stomach reacting toward the end of the work day. I could feel the acid – reflux I guess? – and it continued through my evening run. I really have no idea what triggered this, it's a very rare thing for me.
Snacks
I had a few too many snacks trying to absorb all that acidity going on before my run, which didn't really help. First my planned pre-run snack:
Then a few thin slices of marinated tofu (unpictured) – weird, but it sounded creamy.
Post-run, I had one more Eggnog Spice Biscuit while stretching and before making dinner.
Dinner
While cooking, I enjoyed a bourbon-spiked Earth Balance Nog. Still looking for that creaminess to calm my tummy (and I think this one finally helped).
Finally, it was time to make a new recipe with Gardein BBQ pulled shreds – Peppercream Pasta (recipe below). I was inspired from an old-favorite recipe from Cooking Light that I used to make quite often. For tonight's dinner, I wanted to make a creamier, plant-based version to enjoy.
And finally, a Chocolate-Peanut Butter Pillow from a batch I made over the weekend.
————————
I contacted Gardein a few weeks ago to review one of their products and they kindly sent me a coupon for a free product from my local store. One of the great things about this brand is it's available at a lot of locations – including Kroger!
I already had this recipe in mind, so I selected the BBQ Shreds to simulate the pork from the inspiration recipe. This dinner was fun, because although I had an idea in mind, I really made it up as I went along (and prayed it would taste good at the end)!
The end result doesn't really taste at all like the inspiration meal, but I love this light & creamy version!
Peppercream Pasta
Inspired by John's Hot-and-Hoppin' Cavatappi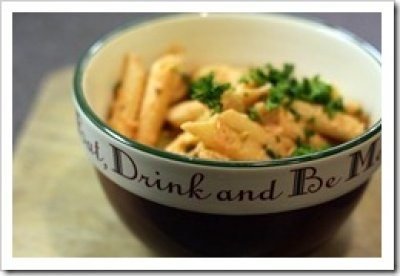 Keywords: entree vegan vegetarian pasta Italian
Ingredients (4 servings)
1/4 cup water
1 can cannellini beans
1 1/2 medium tomatoes, diced
2 cloves garlic, finely diced
1 shallot, diced
2 jalapenos, diced
1/2 teaspoon dried basil
1/2 teaspoon dried oregano
6 ounces uncooked pasta (I used penne)
3 ounces Gardein BBQ Shreds, chopped
1/2 cup cashews
5 tablespoons water
3 tablespoons nutritional yeast
1⁄4 cup hot pepper sauce, such as Cajun Chef
1⁄2 teaspoon dry mustard
2 tablespoons jalapenos, finely diced
1 avocado, diced
1/4 cup parsley, coarsely chopped
Instructions
1. Cook pasta according to package directions, omitting salt.
2. Combine 1/4 cup water, cannellini beans, tomatoes, garlic, shallots, 2 jalapenos, basil, and oregano in a medium saucepan. Crush lightly with a wooden spoon and heat over medium-high heat for 10-15 minutes, or until liquid is absorbed.
3. While bean mixture is cooking, add cashews to food processor or blender and mix until a course meal. Add nutritional yeast & 5 tablespoons of water until a smooth creamy mixture is formed. Add hot pepper sauce and dry mustard.
4. Combine cooked pasta, bean mixture, and sauce in a big bowl and toss to combine. Stir in avocado and jalapenos. Top with parsley for garnish.
This sauce is fabulous on it's own, so you'll want to clean that food processor or blender bowl. At least I did!
The pulled shreds were very flavorful in this meal. The BBQ sauce blended very well in the bean mix and the texture of the shreds was soft, but not mushy. I like that they've reduced the sodium in this variety, which I find a little high in many faux meats. A great product, one I would buy again when I want that meat-like flavor & texture.  There are many different products to choose from, including: chick'n filets, BBQ skewers, wings, & burgers. I'd love to try the wings next time!
And now it's time to share the love with you! Gardein provided 5 $1.00 coupons for their products – a great way for you to try several different varieties to find your new favorite.
This giveaway will run through midnight (EST) on Christmas Eve (Saturday, 12/24) – your last chance to win something before Christmas! The winner will be announced on Monday, 12/26. Good luck!!