What I'm about to say seems to be taboo in the "Healthy Living" blogworld, but I'm going to say it anyway.
I need to lose some weight. And I'm going to count calories to help me get there.
Yep, you heard me right. And I'm not going to be ashamed about it, but I will explain.
I've not been getting in my "usual" amount of training since my marathon in March. This actually seems to happen every couple of years, where my motivation lags a bit and I end up searching for something different to motivate me. I've enjoyed trying out HIIT workouts, tabatas, bootcamps, and other fun stuff – but with all the change going on in my life, I haven't gotten as much movement in as usual.
That would be okay had I altered my eating habits to fit my workout level, but I didn't. I'm absolutely terrible at that, which is why I tend to choose endurance events where I burn a lot more calories. And I am also terrible at estimating calories in what I eat, which adds to the problem.
So now, I've added some extra pounds to my petite frame that I don't need. I don't want to carry these through marathon training, so it's time to do something about it.
I know I need to increase my strength training to help rev up my metabolism and burn off more fat. So, when
Bobbie
started talking about
Making the Cut
last month,  I looked into it. I like Jillian Michael's no-nonsense style and the book focuses on those with less than 10 pounds to lose (that's me!) — so I downloaded the Kindle book.
Oh yea, and we have "free" access to 4 gyms here in Highlands Ranch. That's right – there are FOUR recreation centers that are included with our HOA, so I might as well take advantage!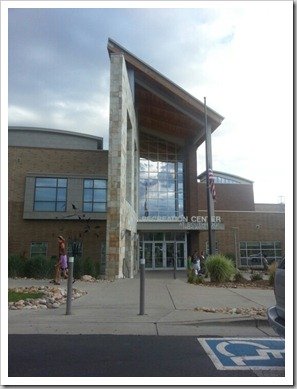 The workouts plan seems interesting & features many moves I'm not familiar with. Perfect!  I'm not doing the workouts as written, since I'm also training for a marathon right now. I've tweaked the workouts to remove most of the cardio moves, focusing on the strength exercises. With 4-5 days of running and 2 days of cycling, I think I'm getting plenty of cardio in right now and I don't want to overdo it. Time will tell if these modifications will still get me the results I'm hoping for.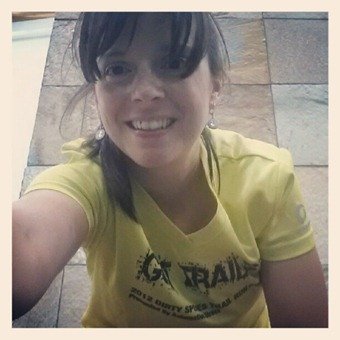 Reading through the book, the nutrition stuff really annoyed me. All the plans are very animal-centric & she glossed over the few vegetarian options.  It's a good think I wasn't looking for nutrition advice! Instead, I'm taking the principles and adapting them for my plant-based diet. This means I'm going to be counting calories – a pain in the butt, but I know it really helps me. My goal is to stay at my Resting Metabolic Rate (RMR -which I've had tested previously) plus about 200 calories.
The plan recommends just eating your RMR, but since my cardio is more than what is called for, I'm padding a bit extra. I'll be paying close attention to my body to make sure this is enough to fuel my workouts.
She also tells you to cut out alcohol for the month. Um…I just moved to Colorado and there is good beer here. So, I'm ignoring this advice for now and I'll re-evaluate in a month.

What I Ate
Wednesday

Tuesday!

So, if you made it through all my ramblings above, I think you deserve some fun photos!

Breakfast

Today's breakfast started with some V8 Fusion (2/3 cup) before heading out the door for a 4 mile run.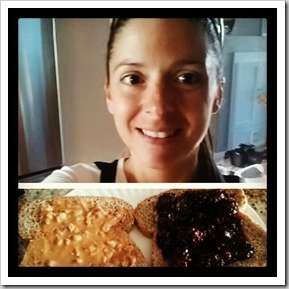 After my run, I had a breakfast sandwich with Coconut & Peanut Spread on one side and smashed Blackberries on the other. Yum!
Lunch
I brought leftover's from last night's Brinner (breakfast + dinner) for lunch at the office – a Mexican Scramble with a Whole Wheat Tortilla. If you still haven't tried a tofu scramble, or are looking for some new scramble ideas, make sure you come back tomorrow for a video demo and variations!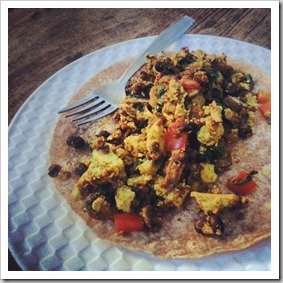 Snack
I had a late meeting, so a snack was necessary before our workout. Thankfully I got a care package from
The Simply Bar
this weekend, so I had this YUMMY
Cinnamon Almond Protein Bar
on the way into the gym.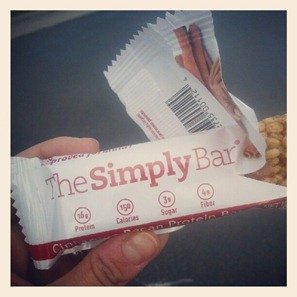 Dinner
Finally, while I blogged, Kirk made something new for dinner – Chicken Teriyaki on Udon noodles (made with soy curls). My original dinner plans fell through when I realized we didn't have any "normal" pasta, but Kirk had this idea when he saw the Soy Curls sitting next to the Udon noodles.
It turned out great, a light sauce and great flavor. And I love soy curls, so it was great to use them again!
********************
Questions for you:
Are you good at intuitive eating for maintaining your weight or do you need a more structured approach?

Have you tried Making the Cut or a similar workout program?

What was the best thing you ate today?