While I'm diving over the Great Barrier Reef, Stephanie offered to share a little of her story with her today. Enjoy!
—————————————–
Hello, Better With Veggies fans. My name is Stephanie and I blog over at Wholesome By Design.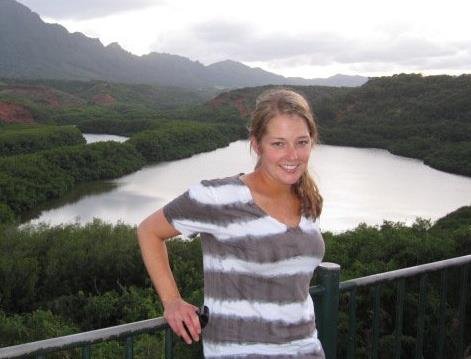 The inspiration for my blog came to me when I realized that humans were actually designed to thrive, not just survive. My goal is to help people live the lives they were designed to live. Besides being a part time blogger, I am also a full-time special education teacher and a certified holistic health coach.
Why I Became a Health Coach
Being a special education teacher really tests my patience on a daily basis. It's not because I don't love my job. I actually really enjoy it. However, I realized that a lot of my students were not performing to their maximum potential simply because they were not being fed the proper diets. Some were coming to school unfed. Some were coming to school with their stomachs full of diet coke and skittles. Some were even given only energy drinks full of chemicals and food dyes for breakfast.
Do you know how hard it is to teach a classroom of kids with tummies full of chemicals and additives?
It made me so angry that parents were not finding the time to feed their kids real food. How could parents do this to their children? I wanted to do something about it without getting fired. I knew I was capable of changing lives through teaching. But I desired to take that beyond the four walls of my classroom.
In 2010, I met a boy that would change my life. He was diagnosed with pervasive developmental disorder. If you want to get technical, this is very similar to autism. He was placed on the autism spectrum and was given the same supports that students with autism receive. But he clearly did not meet all of the symptoms of autism. He acted differently on a daily basis depending on what he ate. I noticed that he was the worst on days he had a lot of dairy. I suggested to his mother that she keep a food log so we could track his behaviors and parallel them to what he was eating. It was around this same time that a doctor told me to eliminate gluten and dairy from my diet. And so I reluctantly did. Giving up gluten was necessary. But giving up dairy was kind of optional (at least in my mind, even though it made me feel awful).
That trip to the doctor led me to do a lot of nutritional research on my own. I discovered that not everyone could eat everything. Some people react negatively to certain foods. What if children were the same way? What if eliminating certain foods from their diets could help them thrive?
Instinctively I told my student's mother to take him off all gluten, dairy, processed foods and dirty dozen fruits and veggies. I went home that day thinking, "Why should she listen to me? I'm not a doctor." I felt guilty that I had given dietary advice without any real credentials to back it up. But that mom still listened to me. She stuck with my suggestions. And to our surprise, her son was nearly cured within 3 weeks. Three weeks! That's all it took for him to go from being "autistic-like" to "typically functioning".
How I Became A Health Coach
I spent nearly a year dreaming about starting a company that helped children learn to their fullest potential. I knew that children could be the successful students that they were designed to be if only they were being fed the proper foods. I wanted to help them out, but I knew it wouldn't be an easy task. By some random chance I stumbled upon The Institute for Integrative Nutrition.
I was skeptical at first. I thought it was too good to be true. I thought it was a hoax or a scam. So I did my research. After about six months of debating whether or not I should enroll in their health coaching program, I finally did it.
I spent just under a year learning about over 100 dietary theories from some of the worlds top authorities on nutrition. It sounds cliché, but that year really did change my life. I thought I knew a lot about nutrition. I've always been interested in living a healthy lifestyle. But there were so many things to learn. There were dozens of topics I had never considered. I learned about veganism. I learned about traditional diets. I learned about diets that help with clearer skin. I learned about the dangers of sugars, GMOs, and pesticides. I absorbed so much information within that one year, so much more than I had even desired to know about. I was ready to share what I had learned with the world.
What I Do As A Health Coach
I started seeing clients even before finishing the program at IIN. I began working with a few families of students with special needs. They wanted to cut out gluten, dairy, sugar, etc. They wanted to learn how to make healthy meals for their children. People say that teaching special education is rewarding. And it is. But teaching families how to properly nourish their children so that they can thrive the way they were designed to in an educational setting is even more rewarding.
I took a boy with ADHD off all refined carbs ("the white stuff") and watched his performance in the classroom improve greatly. I took a child with autism off gluten and heard about him making intentional eye contact with a peer for the first time. I even work with individuals and families of children without special needs. A friend of mine has a teenage niece who wanted to get rid of her acne so I designed a "clear skin plan" for her to follow. Another friend of mine wanted to do a quick slim down for a big vacation so I designed a "beach ready in 5 days program" for her to use.
People started coming to me with all types of questions and requests. So I started designing all types of health plans to meet everyone's needs. The great thing is that each plan I design is individualized for the specific concern of each person and/or family. The thing I love the most about being a health coach is that I can coach so many people toward better health. I'm just getting started so I'm eager to see what the future holds for my health coaching career.
The Institute for Integrative Nutrition is not paying me to say any of this or to promote their school. I'm doing this because I truly believe that the world can use more health coaches. There are over 7 billion people in the world. About 66% of those people are unhealthy/overweight. That's a lot of people! Think about all those potential health coaching clients. If you are interested in becoming a health coach, you can contact me or contact a representative of IIN and tell them Stephanie Reiter sent you.
Heather was kind enough to invite me to post about something I am so passionate about so I hope you enjoyed reading what I had to share with you. Thank you so much, Heather, for this opportunity to be a guest blogger on Better With Veggies. Have fun on your vacation!