If you follow me on twitter, you know that Run Club at my gym was cancelled for 2012.
Quick back story, I have been the Run Club Coordinator/Coach at my gym for the past 3 years, since I joined this gym really. It was my first experience leading runners and it was SO much fun! Unfortunately, we have struggled to really grow the Run Club since it began and our recent average of 8-10 runners was not quite what the club was hoping to achieve.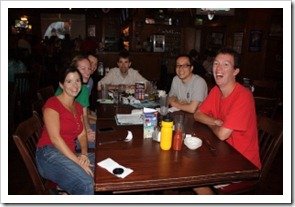 So, when I got the call on January 3rd I understood, but it was still disappointing.
…Another Door Opens
The SAME DAY, I got a call from Team 65 Roses to confirm my interest in coaching their group of runners for the Publix Georgia Half Marathon! Isn't God cool?!
The email went out to the team last night – so I'm famous official!
I'm really excited about the opportunity to work with this group. I had wanted to get involved a volunteer activity again and this is a great way to incorporate my love of running in the mix. Yay for new opportunities!
SeaSnax Giveaway Reminder
Don't forget to register for the SeaSnax giveaway – one of my favorite new snacks! Entries are open through Saturday (1/14) and you can get a bonus entry every day by tweeting about it.
What I Ate Wednesday

And since we're halfway through the workweek, it's also time for What I Ate Wednesday! I'm breaking tradition again this week and doing a quick recap of some of my favorite (photographed) eats from the last few weeks.
As a reminder:
What WIAW

isn't

about

Comparison – Judgement – Restriction – Guilt

What WIAW is about

Celebrating one of the glorious things we all have in common: We all eat!

WIAW is about food and fun! It's about making new friends, breaking out of a food rut, inspiring yourself & others, embracing fruit & vegetables, finding new ways to eat your favorite foods, and so much more <3

Celebrate blogging. Celebrate Food. Celebrate Individuality.
[Cause over here, we like to party!]
This was our brunch stop after getting off the cruise on New Years Eve, when nothing else seemed open. After asking the owner about vegan food option, he offered to make me dairy & egg-free blueberry pancakes – YUM! Topped with real maple syrup, this was a very filling stack of delicious pancake goodness!
————
Another road-trip restaurant** find was Happy Healthy Human in Indian Harbour Beach, FL, where we split the Lunch for Two.
This huge lunch included two of the salads pictured, two onion bread sandwiches with veggies, and two collard wraps. All raw, all vegan, all absolutely fantastic!! This was so filling, we saved the collard wraps for another meal (they were still delicious the next day) and still left stuffed.
Have you tried a raw food restaurant? What did you think?
————
Back at home, two more raw recipes to round out this week's post. First is Pine Nut-Shiitake Risotto with Peas from Ani's Raw Food Essentials.
The flavor of this is great, but we didn't find peas and I probably processed the mix just a little too long. The texture is a little creamier than risotto, but the flavor is good. I think it would be better with the peas, though. =)
Finally, an easy snack of Walnut-stuffed Dates. Simple and Tasty.
And that wraps up this week's What I Ate Wednesday! What was your favorite eat from the past week? Feel free to link up to your post in the comments!
**We found both restaurants using the
Happy Cow
app on my phone, just searching for nearby restaurants.