It's weird to think that even though we're having beautiful Spring weather this week, a week ago I was in the mountains for a snowboarding trip!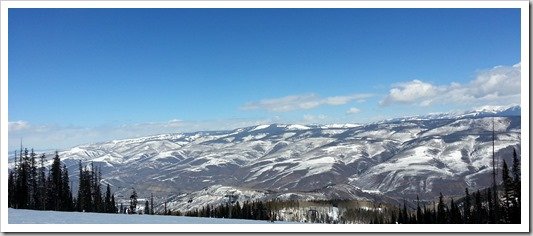 The weekend started with a TON of snow in the Denver area – something we hadn't expected. That meant amazing snow in the mountains too, so our first two days on the slopes were incredible.
We started in Breckenridge on Sunday and braved the frigid temps and blowing wind to enjoy the powder. It was so cold, my hand warmers might as well have been sandbags, they wouldn't produce any heat in that weather! We were spontaneous and booked the hotel when we arrived in town, we lucked out with a great rate at The Lodge & Spa at Breckenridge!
I was really working on my courage with snowboarding this week, trying to get more comfortable with steep runs and jumps. I was off to a good start at Breck, but Kirk was cool enough to get a photo off one of the jumps.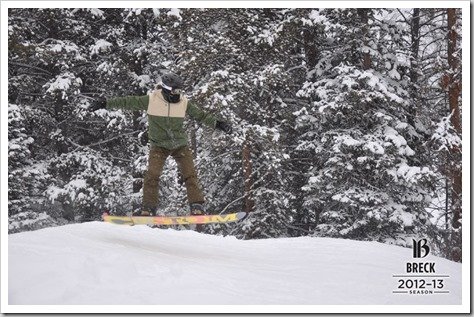 Okay – so we're obviously not amazing, crazy snowboarders yet, but we have an amazing time!
After Breck, we headed to Vail for the rest of the week. Vail is about 45 minutes past Breck & Keystone, so we didn't make it out there as often for daytrips during the season. That's the main reason we chose to stay out there, even though it was the more expensive option. Thank goodness for Priceline!
For the next 3 days, we rode hard at Vail – averaging about 6 hours per day. We spent most of our time in the back bowls, which had an amazing mix of fresh powder, wide open spaces, and fun trees. While I might be a wimp on steeps and jumps, I LOVE playing in the trees. Yes, I realize that doesn't make sense.
We also realized on this trip that we might be getting old. We were in bed every night before 10PM, sleeping 9-10 hours every night. It was amazing! Obviously we needed some sleep to recover from normal life.
On Wednesday morning, we woke up to much warmer temps and no new snow for a few days – not the ideal snowboarding conditions for our (snobby) Colorado snow requirements. After googling for about an hour, we decided that we should head west to go wine tasting! I know what you're thinking – wine in Colorado?
We drove a little over 2 hours toward Grand Junction, stopping just shy in Palisade.
The crazy thing is how different this part of Colorado looks than what we're used to! The Rockies are replaced with sandy mesas, looking very much like Arizona or New Mexico.
When we arrived in Palisade, the weather was gorgeous and warm! With very low expectations about what we were about to taste, we started at Grand River Vineyards.
Based on recommendations from our first stop, we visited Talon Winery, Palisade Brewery, and Peach Street Distillers. Although all the locations had good selections, the star of the trip was our final winery – Debeque Canyon Winery.
We had the honor of spending over an hour chatting with owner & winemaker, Bennett Price. He took us on a barrel tasting tour of his Fortified Wine (you know it as Port) creations, starting with the individual components and finishing with his blended Colorado Fortified Wine. It was an incredible tasting adventure for two wine geeks (that would be Kirk and I) and having the opportunity to hear about Bennett's experience bringing winemaking to Colorado. If you search for information on Bennett, you'll find that he's responsible for much of the wine industry in Colorado.
I wish I had great photos and information to share here, but I was so engrossed in our conversation and the incredible wine, I didn't pull out my phone once the entire time (if you know me in person, you know this is unheard of!).
To finish our week in the mountains, we spent Friday afternoon in Edwards at a few breweries, a movie, and then back to a brewery for Mountain VoodooGrass music.
I had never heard of this style before, but it was a ton of fun! Friday night at a brewery, listening to music, enjoying the mountain scenery – a wonderful ending to a great week of recharging right here in Colorado!
********************
Questions for you:
Any recent beer or wine discoveries to share?

What would your ideal Friday night look like?