If you read many blogs, you have probably seen What I Ate Wednesday popping up on several. This week, I decided to join the fun with my first official WIAW post!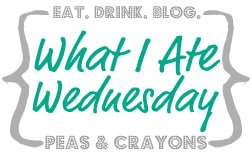 If you follow the link above, you can see even more WIAW posts from blogs around the interweb. 🙂
Breakfast
Chia Seed Breakfast Bowl. Recipe from Kathy on The Family Kitchen
Chrysanthemum Tea.
Lunch
Tamale Pie (leftovers). Recipe from Eat, Live, Run

Snack
Dinner
Avocado Salad. Built from Taco Mac Shrimp & Avocado Salad, without the shrimp & adding tomatoes.
New Belgian Super Cru Beer. I was craving salad tonight, so this was absolutely perfecto! The Super Cru beer is a high gravity beer, clear, fresh, and wonderful!
Marathon Update
Update on yesterday's post about my MCM plans. I think it was smart to write that down, although it felt a little more like complaining than I had planned. Having gotten it down and run today (without pain, but endurance is obviously lacking) I was able to make the smart decision I should have made a while ago...I officially deferred my registration. I'm not racing the half marathon this weekend, I'll play it by ear for a few weeks. Focusing on strength training and base training, looking for some fun shorter races to finish up the season with fun! I'll be back for another marathon before you know it!!
I'm not quite cool enough to have my own giveaway yet, but check out this awesome running gear giveaway on The Hungry Runner Girl blog. Everyone loves FREE stuff!!
Question of the Day – What fun races are on your calendar for the year, I love having goals to shoot for – just need something a little shorter for the rest of 2011! 🙂