If I counted correctly – this is the 13th week of What I Ate Wednesday on Better With Veggies!! I know that 13 is typically thought of as an unlucky number, but in China it's considered lucky. So I'm embracing the Chinese wisdom this week and declaring this a LUCKY day!

What WIAW isn't about

Comparison – Judgement – Restriction – Guilt

What WIAW is about

Celebrating one of the glorious things we all have in common: We all eat!

WIAW is about food and fun! It's about making new friends, breaking out of a food rut, inspiring yourself & others, embracing fruit & vegetables, finding new ways to eat your favorite foods, and so much more <3

Celebrate blogging. Celebrate Food. Celebrate Individuality.
[Cause over here, we like to party!]
This week I'm going back to featuring what I ate yesterday. It's a good reminder during the day to be aware of what I'm eating and my focus on nutrition.
Breakfast
Before hopping on the bike this morning, I had a walnut-stuffed date (unpictured). After an easy bike, I was in the mood for cereal. This morning I had a mix of Kashi, Panda Puffs, a scoop of PB, and almond milk.
Lunch
Lunch was also dinner from Monday night – West African Yam & Bean Patties from Thrive Foods. They looked really pretty while in the pan (on the left), but fall apart when you flip them (which the cookbook warns about). I was able to re-assemble a bit and sandwich between some bread. Kirk made a sauce from veganaise, sriracha, and lime juice. They aren't the prettiest meal, but the flavor is great and it's very filling!
Snacks
A few snacks today after I got home from work – 4 dates and a rice cake smothered in peanut butter & moonshine jelly (yes, Moonshine!!).
Dinner
Allie's (Colour Me Happy) Miso Broccoli Soup with Cheeze Sauce and Rainbow Rice & Beans from Vegan Yum Yum. These paired really well together, both AWESOME!! I really think the Cheeze Sauce contained a little crack or something – I could have just eaten the entire pan instead of adding it to the soup!
We also had a bottle of our homebrewed Kombucha (reusing old Kombucha bottles) – the first one I really loved! The base brew was made from Chai Tea and I added a cinnamon stick after bottling. The trick has been figuring out the flavors I like and this one was perfect! Thanks to Kaitlyn for the detailed Kombucha series on Tie Dye Files.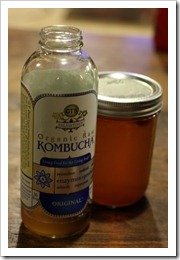 And that's What I Ate on Tuesday!!
Are you a fan of Kombucha? What's your favorite flavors – I'm looking for inspiration for our next batch!