It's What I Ate Wednesday again!! It's been a busy week, so this Wednesday has come very quickly, which isn't a bad thing. We're one day closer to the weekend – and this weekend is FoodBlog South!! I can't believe it's finally this weekend, I registered way back in September. I'm going solo – no one I really know yet – but I'm looking forward to making some new friends.
But it's Wednesday today, so let's get back to the food!!

What WIAW isn't about

Comparison – Judgement – Restriction – Guilt

What WIAW is about

Celebrating one of the glorious things we all have in common: We all eat!

WIAW is about food and fun! It's about making new friends, breaking out of a food rut, inspiring yourself & others, embracing fruit & vegetables, finding new ways to eat your favorite foods, and so much more <3

Celebrate blogging. Celebrate Food. Celebrate Individuality.
[Cause over here, we like to party!]
I sometimes enjoy the days where we haven't gone grocery shopping even more than the days where I have a meal plan all worked out. We've been so busy around here, I still haven't put together a plan or shopping list – so we're working with what we've got.
Breakfast
This photo may look familiar – it's the same breakfast I had last Tuesday, same picture. BUT, this morning I added a tablespoon of PB2 to the mix, instead of a scoop of peanut butter. Yes, that's the extent of my creativity before getting on the bike at 6:30AM when I'm sleepy. 🙂
I don't usually eat breakfast before shorter rides like this, but I was hungry this morning!
Lunch
Lunch was delicious!! This was a recipe I had pinned last week from Daily Garnish for Creamy Vegan Kale Stuffed Mushrooms. This was super-easy and so flavorful. I wasn't sure how the mushrooms would fare as leftovers, but today's lunch (Monday's dinner) was still fantastic after a quick reheat in the office microwave.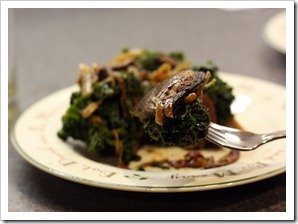 I also made a quick Mac N Kale salad before heading out the door this morning. Is there a Kale Salad Addicts meeting I should attend? 😉
Snack
Before my 7 mile run after work, I felt a little hungry – so I ate a yummy Vega Gel before getting started.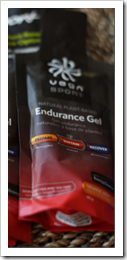 Dinner
Kirk and I brainstormed dinner ideas before my run, based on what we had left in the house. We have had 1/2 a box of lasagna noodles in the pantry for ages (I guess that's a little gross, if you think about it) and I knew we had a good number of random veggies in the fridge. Since I can always make a "cream" sauce from cashews (which we almost always have), veggie lasagna was planned.
I made this one up as I cooked and it wasn't perfect, but it has a LOT of potential. I need to make this one again with a few tweaks, then I can share the recipe.
Oh – and I made ANOTHER kale salad. This one was a little different, with nooch, avocado oil, apple cider vinegar, Bragg's Aminos, and hot sauce – yum! What….doesn't everyone eat two massaged kale salads in one day?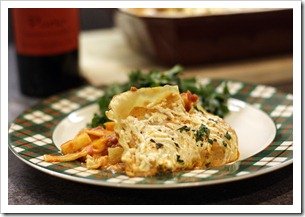 I'm pretty excited about this lasagna – the cream/cheeze sauce I threw together was fantastic & Kirk's tomato sauce was delicious too. We just want to work on the veggie mix to make it even better! We literally pulled out the veggies that were left in the crisper and roasted those. 🙂
Do you like the creativity challenge of having no planned meals or do you thrive on the structure of a plan? I think I'm a mix of the two, but only recently am I appreciating the challenge of coming up with an off-the-cuff dinner.
And that is What I Ate on Tuesday!! In case you missed it, make sure you check out these recent posts: