Fun Fact Friday two weeks in a row! This survey and last week's survey were both competing for attention last week, so instead of playing favorites I am completing them both. Plus it gives me a little more time to brainstorm my next Meatless Mondays from A-Z recipe.
1. Strength training or cardio?
Cardio – especially running! As much as I appreciate strength and am enjoying it, running is still my favorite activity (even when I don't always feel it).
2. Breakfast, lunch, or dinner?
I'd have to say dinner, because that's usually the more elaborate meal. Dinner is one of my favorite ways to celebrate, whether we are cooking at home or headed out to a fancy restaurant.

3. Dress up or workout clothes?
I love to dress up – it's so much fun! It's actually one of our favorite things about a cruise, formal night is something we look forward to. Any excuse to dress up and I'm all over it!
I don't really have many cute workout clothes anymore, everything is well-worn in my closet.
4. Wine or beer?

Why do I have to choose?! We love visiting wineries and breweries, really enjoy homebrewing our own beer, equally enjoy wine & beer pairing dinners… this is a really hard question. I'll spend more on wine than beer, so maybe that means I like it a little more?

5. Peanut butter or almond butter?
Almond butter is a little sweeter and typically my favorite, although I've been enjoying Coconut Peanut Butter spread recently.
6. Heels or flats?
For comfort, flats (usually in the form of flip-flops). For fashion, heels. I'm really noncommittal, aren't I?
7. The actual cake or the frosting?
Frosting – that's the best part! I don't really love cake, so I has to be a REALLY good cake to catch my attention.
8. Spring, summer, fall, or winter?
Fall rules! It has college football, outdoor fires, the beautiful colors of changing leaves, crisp weather, just so many reasons this is the best season ever!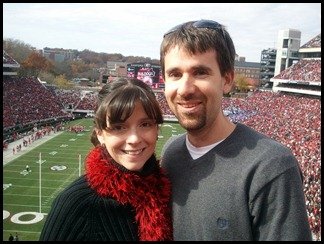 9. Real animal or stuffed animal?
My puppies can beat any stuffed animal! Well, they'd probably ignore it, since they aren't really into toys, but they are much cooler than the stuffed kind.
10. Bright or light?
Huh? I don't think I get this question…
********************
Have you been brainstorming your recipe for the third week of Meatless Monday from A-Z? Week 3's featured ingredient is Caper berries. If you absolutely can't find these little treats, I'll also accept Capers this week, even though they aren't the same.
If your new to #MMAZ, the short story is share your meatless recipe which includes the key ingredient. There's a link on Monday's post where you can add a link and a picture to your creation. It can be a new or old recipe, just remember to add the MMAZ image to your post.
You can see full details about the concept here and grab the image for your post on Monday on the right sidebar. The first two weeks have been fantastic – help me keep the excitement going strong by joining in the fun! Remember it doesn't have to be a fancy recipe – quick & easy snacks, lunches, etc. are encouraged!
********************
Questions for you:
Pick one of the questions above and share your answer (or link to your post with this survey, if you've already done it)!
What ingredients would you like to see for E, F & G on Meatless Mondays from A-Z?