Happy Monday! I hope you had an awesome weekend filled with fun, time to relax, and some active fun!
Weekend Running
It was an interesting weekend at our house, thanks to a not-so-tasty collard green salad that had some lasting effects on Saturday. I'm not sure if our bodies were simply not ready for raw collards or if there some type of bacteria on our leaves – but either way we were both a little uncomfortable on Saturday.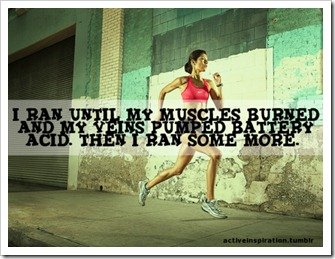 (source)
I attempted my 22 mile run on Saturday afternoon, but called Kirk to pick me up and only completed about 7.4 miles. #fail
After letting the icky-ness work it's way out of our bodies, I tried again on Sunday after church with much better results! I wore my running clothes under my church clothes (which are jeans and a shirt, so a little easier to hide) and actually ran home from the church parking lot – which is apparently 9 miles. It's a little weird getting out of the car in my running clothes and running straight from church – I did get a few interesting looks. =)
After a quick break to refill water bottles, I headed out for the next 13 miles with Kirk. The last 7 miles were not very enjoyable, but I finished. I don't think I refilled the tank enough after Saturday's ickiness and I felt myself run out of calories around 15 miles. I downed my last gel, but really needed something else. I need to get better at making sure I'm starting a run filled with the right calories before heading out.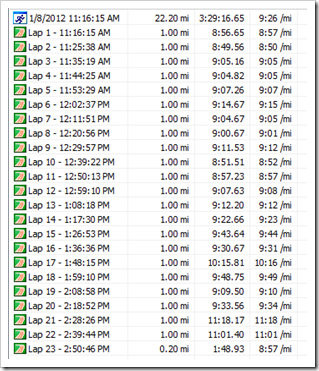 Can you tell when the run started to suck? =) It rained the for most of the final 13 miles, so I ran a little extra at the end to get back to the house quicker. A walking cool-down in cold rain isn't quite so much fun.
Review of Last Week Training
I hit 40 miles for the week (YAY!), but lots of moved workouts. I didn't meet my goal of two strength training session or 1 yoga session. Getting back into the groove of multiple workouts, but not quite committed yet. Next week will be better!
Monday – Rest Day
Tuesday – 30 Minute Bike
Wednesday – 3 Mile Run
Thursday – TRX + 8 Mile Run
Friday – 30 Minute Bike
Saturday – 7.4 Mile Run
Sunday – 22 Mile run
This Week's Training
This week I want to focus on consistency, I need to do more of my workouts when they are scheduled. Monday's bike is really the workout that was supposed to happen on Sunday. Saturday is also the kickoff of the 65 Roses team that I'm going to start coaching! More on this later.
Monday – 1 hour Bike + TRX
Tuesday – 30 Minute Bike + 8 Mile Run
Wednesday – 800 yard Swim + 5 Mile Run
Thursday – 40 Minute Bike + Yoga
Friday – 800 yard Swim + TRX
Saturday – 4 Mile Run + 1:00 Bike
Sunday – 24 Mile run + 30 Minute Bike (optional)
Atlanta Underground Market
On Saturday night, we had a mini-blogger meetup at the Atlanta Underground Market again. You'll remember our first visit last month, which was amazing! Kirk came with me this time and boyman came with Carol. We did our best to be normal and entertaining after a not-so-fun day on the couch, but I'm not sure either of us was the best of company.
Laura, Lee, Carol, and me – after a fun time at the AUM.
This month was still good, but a little less impressive as last month's offerings. There seemed to be less vegan-friendly options and many of the choices had the same offerings as last month. I was hoping for some more variety.
From Dr. Sweet's Cake Emporium, I had a coconut-lime cookie. It was a crunchy-style cookie and I felt the lime flavor was a little overwhelming. They offered me a few of their sauces to try with the cookie which were pretty tasty.
We found the Japanese Eggplant with Sweet-Miso again – tasty as it was last time. Would like a different filling option next time, I think there are so many things you could do with this!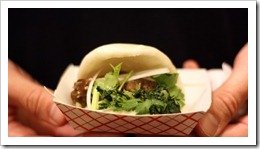 Kushina Catering had a brand-new menu (yes!) which was delicious. You get a little of everything on the menu, served over teff bread.
Ethiopian Yemeser Watt (Spicy) – Red lentils simmered with onions in a spicy homemade sauce.
Ethiopian Dinich Alicha – Potato cubes and carrots cooked in a mild sauce of onions, garlic, ginger and Ethiopian spices.
Ethiopian Tikel Gomen – Sliced cabbage and carrots cooked in a mild sauce, garlic and Ginger. Served with Injera.
I don't know which was my favorite – the entire plate was delicious and vegan. Well done!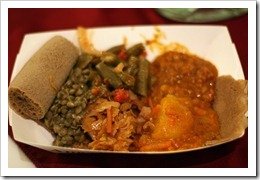 Lisa's Everyday Indulgence was the last food I ordered, a Saudi Arabian Kapsah. It was kind of bland, it really needed a sauce to pull it together and give it some flavor.
And finally, Sorrel Drink from the Jamaican Nice & Spicy. This combination of Hibiscus, Ginger, and other flavors was surprisingly delicious – not overly sweet, as I expected. It was little rich, so I was glad Kirk and I split this glass.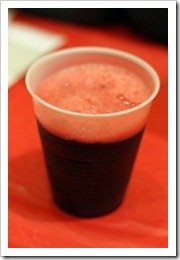 I left satisfied, definitely plenty of food, but it was just not the same as last month. The location was a little small for the huge crowd that arrived and the room was really HOT for a bit at the start. I hope they find a larger location for the next one and the vendors try something a little different for those of us who come every month!
Any good eats to share from this weekend? Do you have an underground market or something similar in your city?