Today is going to be a great day! Starting with a long run on the trails near Kennesaw Mountain, followed by an afternoon of football (Go Dawgs!), and finally reservations at a new (to us) restaurant in Athens, called Gymnopedie. Look for a review next week! For now, here's this week's Weekend Recap of posts you may have missed.
Weekend Recap
1.  Monday: Feelin' Fancy with Caviar, Blinis, and Crème Fraîche. After reading about vegan caviar on Angela's blog – I ordered a jar of my own to give it a try. Paired with spinach blinis made from Kristina's recipe, you have a delicious and sophisticated appetizer to impress! Even if it's just to enjoy some eye candy, I hope you'll check out this post. 🙂
2.  Tuesday: Tuesday Training: Resistance Bands & Cold-Weather Running Gear. This week's Tuesday Training features Resistance Band training (as part of Lindsay's Tuesday Trainer) and Cold Weather Running Gear! I included what I think are must-haves and a few other extras you might want to consider.
Resistance Bands – Overhead Press
3.  Wednesday:What I Ate Wednesday: 5th Edition. WIAW is a fun way to capture everything you eat on one day. This week's menu includes: Tofu Scramble with Avocado, Mushrooms, and Tomatoes, Gorilla Food Green Tacos, Kale Chips and Asian Noodle Bowl with Spaghetti and Almond Chili Sauce.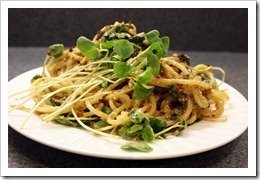 4.  Thursday: How To Make Treadmill Running More Fun. This packed-full post includes 2 treadmill workouts you can use to make your indoor runs more interesting, my new Champion sports bras, and "Steak" Salad. This is the first of a series of treadmill workout posts I plan to do this winter. Make sure you get started with these, as I plan on progressing the difficulty as we go!
5.  Friday: Review: Tuk Tuk Thai Food Loft & Guest Post. My first meet-up with a group of awesome Atlanta Bloggers at Tuk Tuk Thai Food Loft. A review of the food & drinks – all photos taken without having to explain the camera at dinner. 🙂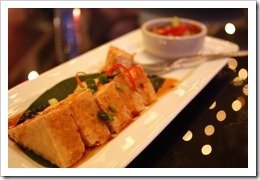 BONUS POST: My first guest post is on Cook. Vegan. Lover for Lindsay's Fitness Friday series. I hope you'll head over and read about my Journey to Ironman, including my tips on approaching a big race (of any type)! Leave a comment with your favorite tips to share.
That's all for this week's recap! What was your favorite post of the week? Anything you'd like to see more (or less) of on Better With Veggies?