How was your weekend? Mine included some of this: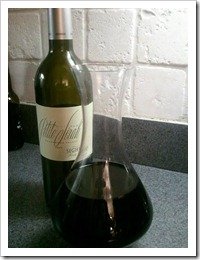 A little of this:
And a lot of this: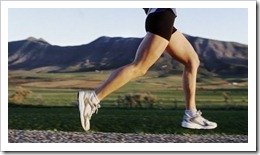 (source)
Ok, so my runs were not in that location – but it does look amazing!
Friday
Friday night was very low-key – some wine, lentil loaf leftovers, and relaxation. A great way to spend the night when Kirk flies back to town. The wine in the picture above was our drink of choice – delicious!
Saturday was the kickoff of the Team 65 Roses group – and it was cold!! It was still under 30 degrees when we started running a little after 9AM. We had a great little group of hard-core athletes who joined us for a 6 mile run from Big Peach in Brookhaven.
Saturday
The afternoon and evening was our first "official" date of the year (remember my 2012 goal?). I bought a set of monthly date ideas years ago (which we never used), where you open the card and do whatever is written on the card. This month's "idea" was "a stroll together".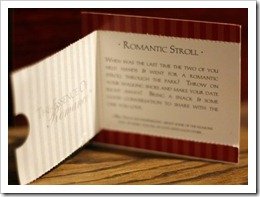 So, we packed up some sparkling wine, glasses, crackers & hummus and headed to a trail I usually run, which also has a lake. We bundled up in warm clothes, so we could sit by the lake, sip sparkling wine, and talk. Our appointments at Massage Envy happened to be the same day, so we timed our stroll so we went to our massages next.  Finally, made dinner and watched Cowboys & Aliens on demand at home.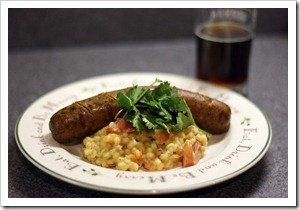 Dinner was Creamy Tomato Barley Risotto from Vegan Yum Yum. I left the diced tomatoes whole and added fresh oregano & cilantro to the mix. The results was amazing and tasted was so creamy I would have questioned if it had butter or cheese, had I not made it myself. It was so easy too – which is even better. On the top is the Italian Tofurkey sausage – good, but just not as good as FieldRoast. We paired our meal with a beer taste test – our holiday brew compared with Sweetwater Festive. I think it was a tie – both good, just different!
In summary, it really was a wonderful day and it felt like we were on vacation. =)
Have you planned a date night with your special someone this month? If not – please do! This was not an expensive event, it was all things we already had and a home cooked meal.
Sunday
Sunday morning was church, followed immediately by my 24 mile run – my longest training run (non-race) ever! I ran 10 miles between church and home, then picked up Kirk for the remaining 14. My goal for this run was to run "marathon pace", practice my fueling (tried ever 4.5 miles today), and finish strong (no walking up hills when I'm tired). I'd say today's run was a HUGE success: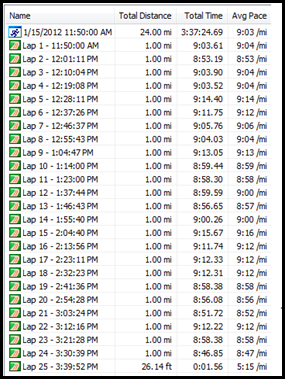 Check out that negative split! I can't believe that 5 out of the last 6 miles were sub 9:00 – and it was NOT downhill!

Review of Last Week Training
Second week of 40+ miles and feeling great. Lots of moved workouts again, but I did complete most planned activities except swimming. I have a hard time getting myself to the pool and with Kirk out of town it didn't happen. If I'm going to do a half ironman this spring, I need to get my booty in the water!
Monday – 1 hour Bike + Yoga
Tuesday – 30 Minute Bike
Wednesday – TRX + 8 Mile Run
Thursday – 5 Mile Run
Friday – TRX + BodyRock Workout
Saturday – 6 Mile Run + 1:00 Bike
Sunday – 24 Mile run + 30 Minute Bike (optional)
This Week's Training
This week I it's time to get back in the pool. I make a much better duathlete than triathlete (obviously), but I need to swim if I'm going to keep that Half Ironman on my schedule. Kirk is home this week, so that will help – he was a swimmer growing up and is a good motivator. 🙂
Monday – Yoga
Tuesday – 30 Minute Bike + 6 Mile Run
Wednesday – Swim + TRX
Thursday – 30 Minute Bike + 3 Mile Run
Friday – Swim + TRX
Saturday – 7 Mile Run + 1:30 Bike
Sunday – 26 Mile run (I think I'll probably add .2, just because) + 30 Minute Bike (optional)
Sea

Snax

Winner!!
Did you win last week's giveaway for the delicious SeaSnax? Click here to see if you won (the winner's name is on the giveaway widget)!! Didn't win this time? Stick around, I have more giveaways lined up for you guys! =)