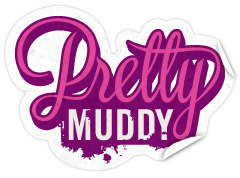 Have you heard of Pretty Muddy? It's one of the mud races that have started over the past few years, where you complete a 5K course covered with obstacles and get dirty! Some of the features they boast are:
5k Course (3.1 miles, run or walk)
Women Only (sorry, guys)
Mud (lots of it)
Architectural Obstacles (much better than shabby hay bales and shaky plywood)
Pretty Epic Finish Line Party (entertainment, music, drinks & celebration galore)
I am hoping they will add a Denver race this year (I heard they were considering it…) so I can join in the fun! Either way, I have a deal to share with YOU today.
The folks at Muddy Buddy are offering a ONE TIME $20 discount to past participants and YOU! The code is GIRLTIME and you'll get the best price of 2013 if you use it to register by the end of the month! You can see a list of all announced races here, which will click through to the registration links. There's one in my old stomping ground (Atlanta), but I'll have to keep stalking the page for a location near me!
This special expires at the end of January…after that the price will never be this low again (no groupons, living social, etc. this year). I hope this special helps you add another fun race to your 2013 season!
********************
Questions for you:
Have you done a muddy race or other fun themed race?

The Color Me Rad race is the only one I've done so far.

Do these type of adventure runs peak your interest or are you more of a serious races only person?