You guys probably know I'm a Meatless Monday Blogger (one of those badges in the footer of my website)! It's an organization I actually discovered after I started #MMAZ that helps encourage the Meatless Monday movement. Karen is a fellow Meatless Monday Blogger, so I thought today I'd give her a chance to introduce herself and share a recipe with you. Enjoy!
********************
Hi there! I'm Karen. I'm happy to meet you all today and to blog here at Better With Veggies! I'm a Southern Belle turned California girl who works as freelance writer and health coach. I also run the blog The Wellness Scientist | Your Formula For Good Health.
Like Heather, I am an official Meatless Monday blogger. Today, I'll be sharing a delicious veggie quiche recipe you can serve up for dinner that will have you reheating the leftovers (if there are any!) for breakfast.
When I was a kid, every once in a while the dinner hour snuck up on us and my mom would need to come up with something in a hurry. I can't remember a time when we didn't have eggs, milk, and cheese in the fridge. Those "Breakfast for Dinner" nights always seemed like SUCH a treat!
When I came up with this quiche recipe, it took me back to those days. I threw in a few stir-fried broccoli to make sure you were getting your greens, but it is completely optional! Here is what you will need to make one 9-inch quiche (approximately 6 servings).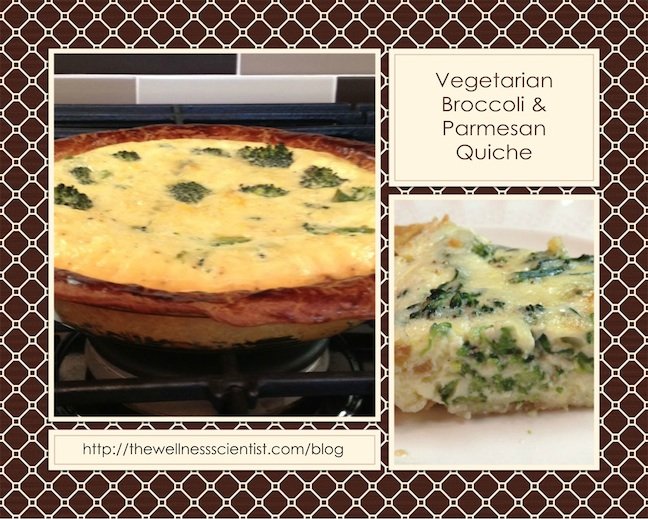 Equipment:
Small skillet
9-inch pie plate
Medium-sized mixing bowl
Fork or whisk
Aluminum foil
Ingredients:
1 All-Natural Ready-to-Bake pie crust (for a 9-inch pie – I used one from Immaculate Baking Co. that I purchased at Whole Foods)
1 tsp olive oil
2 cloves garlic, finely chopped
4 extra-large eggs, lightly beaten
1 egg yolk
1 cup heavy cream
1/2 cup 1% milk
1/2 tsp salt
1/4 freshly ground black pepper
Pinch of ground nutmeg
1 bunch of cut baby broccoli (can also use regular cut broccoli — baby broccoli or broccolini tends to be just a tad sweeter!)
3/4 cup of grated parmesan cheese
If you prefer to make your own pie crust, don't let me stop you! 🙂 Just make sure to let your dough come to room temperature and roll out into a pie plate that can accommodate a 9-inch pie crust.   Directions:
Preheat oven to 375 degrees F.
Lightly beat an egg yolk and brush the edges of the crust with it.
Heat the olive oil in a skillet over medium heat. When hot, saute the garlic for 1-2 minutes. Don't let it burn. Pour the garlic right into the pie crust.
In a medium-sized bowl, beat together 3 large eggs, add the cream & milk, salt, pepper, and nutmeg. Beat together until mixed.
Add the cut broccoli and parmesan cheese to the pie crust. Pour the egg mixture right on top.
Bake until the filling is browned & set (about 30 minutes). Check to make sure that the outer edges of the crust isn't burning. You may need to place aluminum foil around the edges if it starts to get overdone.
Serve warm.
That's all there is to it!
I really like the taste of the parmesan with this quiche, but I've also used white cheddar which is really tasty too.
It was a pleasure blogging here today! I'd love to have you stop by my blog and check out other recipes, fitness tips, and ways to get your happy fix! Thanks! Karen
| | | | | |
| --- | --- | --- | --- | --- |
| If you want to link up, you can find my blog here. I'm also on | | | | |
********************
Questions for you:
What's one recipe that reminds you of being a kid?