Yesterday I was in Michigan, today I am back in Atlanta. Although I enjoy eating out, I have to say that I was ready for a home-cooked meal when returning home! I immediately dove into Sunday's Espresso-Chili Tempeh with Grilled Banana leftovers and enjoyed every minute of it!
Moving on to today, I headed home from work and a Fall-weather run to make a warm, comforting soup: Clam-free Chowdah, created by Allison Rivers Samson and originally published in her (2011 Award winning) VegNews Magazine column, "VeganizeIt!".
The preparation is fairly straight-forward, making cashew cream sauce (which tasted delicious licked from a spatula), cooking veggies, and blending the mixture into a smooth base. After simmering the creamy base with chopped potatoes for about 40 minutes, I mixed in the chopped, sautéed oyster mushrooms, liquid smoke, and spices.
I wanted to love this recipe – I have enjoyed all the other recipes so much I assumed it was a sure-thing – but I can't say that I did. The soup was good, but it didn't really give me a Clam Chowder feeling.  I still ate the entire bowl and don't expect the soup to go to waste! It was just more of a good potato soup to me.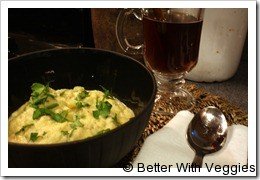 The drink in the background? A Hot Maple-Nut Bourbon that Kirk whipped up while I cooked. Isn't he a great mixologist?!
Hot Maple-Nut Bourbon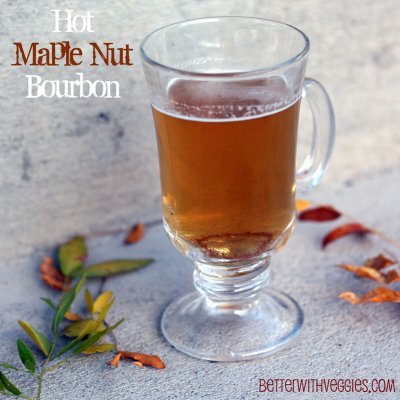 Keywords: beverage vegan vegetarian bourbon fall winter
Ingredients
2 oz. Bourbon
1 oz. Amaretto
1.5 tsp Maple Syrup (or Agave Nectar + splash of maple extract)
A dash of Cinnamon
1-2 oz. Hot Water
Instructions
Combine all ingredients, except hot water. Add hot water to glass slowly and mix. Serve & Enjoy!
————–
Have you entered this week's giveaway to win a  subscription to VegNews Magazine. Click here for all the details and instructions on entering today! Entries are open through this Friday at midnight.