This past weekend was St Patrick's Day. If I was an organized blogger, I probably would have thought of a holiday-appropriate recipe weeks in advance, tested and photographed, and shared the amazing creation with you to enjoy on the big day.
Well, that didn't happen…but I did think of this idea on Saturday night and make it for our St Patrick's Day dinner at home. And you'll be happy to know that this fondue is not overly-holiday-specific, so you can feel good about making it this weekend instead!
I started with my original Molten Cheese Fondue recipe and only made a few modifications. You might notice I used silken tofu instead of cream cheese in this variation, which I think contributed for the extra creamy texture.
The original version was already fantastic – but this one is even better. If you don't tell your guests it's vegan, I doubt they will notice the difference. That comment originally came from my hubby who does still eat dairy cheese!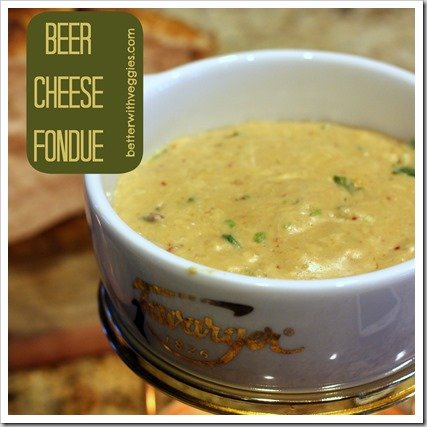 We used our homebrew Taddy Porter for our version, but you can use any good dark beer (I recommend one with good malty flavor).
Beer Cheese Fondue
Ingredients (serves 4)
1/4 cup cashews
1 tablespoon nutritional yeast
1/2 cup dark beer, divided (we used Taddy Porter)
1/4 cup firm silken tofu
1 teaspoon grated onion
1 package Daiya cheddar shreds
1/2 package Daiya Havarti wedge, crumbled
2 jalapenos, finely diced
1/2 bread boule, such as sourdough
Assorted veggies: broccoli, grape tomatoes, sweet peppers, etc
Optional: More Beer for sipping while eating
Instructions
Blend cashews in food processor until finely ground. Add nutritional yeast and pulse until combined.
Slowly add 3 tablespoons of beer until a paste begins to form. Add silken tofu and grated onion, pulsing until combined.
Transfer mixture to saute pot and add Daiya shreds and wedge. Heat over medium heat, stirring frequently until melted. Add jalapenos and stir until fully integrated. Add remaining beer and stir until smooth and creamy.
Transfer to fondue pot to keep cheese warm while eating. Dip bread and/or veggies into cheese with a pint of dark beer to drink! Enjoy!
I highly recommend enjoying this fondue with a pint of the same beer you used to make the cheese.
********************
Questions for you:
What was your favorite dish (or drink) from St Patrick's Day this weekend?

Do you Fondue?