Hey guys!! I am taking some time off this week to recharge, but I have some great FitFluential friends lined up for you to meet throughout the week. First up is Debbie, an awesome plant-strong athlete who has conquered over 35 marathons – how amazing is that?! She's sharing TWO delicious recipes that you might want to add to your dinner list this year – stuffing & pumpkin.
********************
As we approach the holiday season I am frequently asked by friends about how I celebrate Thanksgiving without roasting a turkey. Since I like to share and maybe give a few more turkeys a reason to be thankful, I usually answer, "very easily."
Think about for a moment. What are the most delicious parts of the Thanksgiving meal? If you answer the stuffing, the yams, the mashed potatoes, the pumpkin pie, you are already appreciating vegetarian side dishes.
It is pretty simple to make all of these dishes vegan. Basically, take your favorite side dish, use non-dairy milk, vegetable broth, and vegan butter (or skip butter altogether for a healthier meal, but, hey, it is Thanksgiving).
To give you a head start, here are three of my favorite vegan versions of traditional Thanksgiving dishes.
Vegan and Gluten-Free Stuffing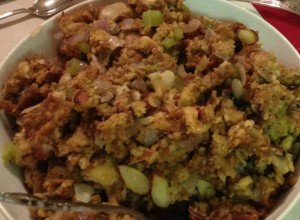 10 cups gluten-free/vegan bread, cut into 1/2 inch cubes.
Cooking Spray
2 tablespoons olive oil
1 cup onions, chopped
1 cup celery, chopped
2 cloves garlic
3/4 cup mushrooms, sliced
1/2 cup sliced almonds
1/2 cup fresh parsley, minced
1 teaspoon poultry seasoning
1 teaspoon dried sage
1 teaspoon thyme
1/2 teaspoon salt
1/2 teaspoon pepper
2-3 cups vegetable broth
Preheat oven to 400. Spray a large casserole dish with cooking spray.
Toast the bread cubes on a large baking sheet until golden brown. Place in a large bowl and set aside.
Turn the oven down to 350.
Heat the oil over medium heat. Sauté the onions, garlic, celery for about 5 minutes. Add the mushrooms and continue to cook until the vegetable are soft. Transfer the mixture into the bowl of bread crumbs.
Add the seasonings, almonds, and parsley and stir the mixture until well mixed.
Add two cups of the vegetable broth and stir until it is absorbed. Add more if needed so that the mixture is moist, but not soggy.
Pour mixture into the casserole dish. Cover and bake 25 minutes. Remove the cover and bake another 10-15 minutes.
Gravy
3 cups vegetable broth
1 cup water
1/2 cup mushrooms chopped
1/2 onion chopped
2 tablespoons nutritional yeast
1 teaspoon garlic powder
1 tablespoon soy sauce
1/2 cup flour
Preheat the oil over medium heat in a large saucepan. Add the onion and sauté until soft. Add the mushrooms and cook for 5 more minutes. Add the broth, water, garlic powder, nutritional yeast, and soy sauce. Bring to a boil then reduce heat to low. Gradually add the flour, stirring to avoid lumps. Simmer until the gravy is thickened.
(To make this gluten-free, substitute tamari for the soy sauce and use rice flour.)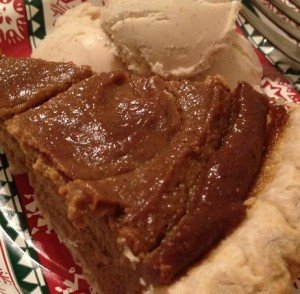 Easy Maple Pumpkin Pie
3/4 lb. silken tofu
1 15 oz. can pumpkin purée
1 teaspoon cinnamon
1/2 teaspoon nutmeg
1/2 teaspoon salt
2 tablespoons maple syrup
1/2 cup brown sugar
1 tablespoon molasses
1/3 cup sunflower oil
1 pre-made vegan pie crust
Combine all the ingredients except the pie crust in a blender or food processor. Blend until creamy. Pour into pie crust. Bake at 425 for 15 minutes and 350 for 45 minutes.
Chill and serve with vegan whipped cream or ice cream.
I have more recipes on my blog, Live from La Quinta, where in addition to vegan recipes I write about my life as a runner, coach, trainer, and dog-mom.
I hope you enjoy it!
Debbie
Live from La Quinta
Debbie is a plant-powered athlete who has run 35 marathons, over a dozen century bike rides, and numerous races of other distances. She loves to cook and enjoys creating and sharing her recipes. Because, like most people, she's a busy woman, her recipes tend to be quick and easy. Debbie is a personal trainer, and coaches cross country at a local high school.
*******************
Questions for you:
What's your favorite Thanksgiving side?