A few months ago, Vega sent me a sample pack of their new Vega Sport like to test out and review. The box itself was pretty creative – opening to review tons of goodies when you removed the top!
There was a little bit of everything in this box, from pre-workout to recovery. I was really excited to give it a try during my training. I had been in the market for a new nutrition system one that would sit a little better in my stomach. Vega is 100% plant-based and all-natural, which fits in perfectly with my food philosophy.
Keep reading – there's an awesome Vega Giveaway at the end of today's review!!
Pre-Workout Energizer
According to the product information, the pre-workout energizer has three main benefits:
Provide immediate and sustained energy
Increase endurance, aerobic and anaerobic capacity
Enhance mental focus and recovery
All I know is this stuff gives me a good burst of energy and my long runs just feel better when I have a serving about 20 minutes before I start. It doesn't look pretty in a glass, but it mixes up pretty well in a water bottle and tastes okay. There are two flavors: lemon-lime & acai berry. I don't really like lemon-lime flavors in general, but the acai berry takes decent.
I love this product and have bought a tub of my own after finishing the samples. I used this before my 10K in December (where I PR'd) and this weekend's 50K. The tub isn't cheap, but at just one scoop per serving & 30 servings per container, it will last me a while.
Endurance Gels
If I could only buy one Vega Sport product, this would be the one! Reading the ingredients is so much better than most other gels – you actually recognize the ingredients! I'm trying to avoid fructose, maltodextrin, and similar ingredients, as they can upset your stomach (and I don't need that).
The Orange-Zest is my favorite, but the Raspberry is also good. I love that these gels have a little texture (I think from the dates), instead of just being that thick goopy gel consistency. Kirk doesn't like the texture like I do, so it's personal preference.
I used these gels for my race this weekend, taking one every 4.5 – 5 miles.
Electrolyte Hydrator
The electrolyte hydrator is the same concept as Nuun – no calories, just electrolytes. I originally tried this out at my December 10K and thought it was a bit sweet. As usual I liked the pom-berry flavor and not the lemon-lime; I think this really is a flavor preference.
I brought a few of these packets to the race this weekend and was glad I did. When the weather started warming up, I added these to my water bottles to top off the electrolytes.
Endurance Bar
The endurance bars are unattractive and closer in texture a PowerBar, but certainly more texture. They taste very natural, certainly not a sugary-sweet bar, but not a bad flavor.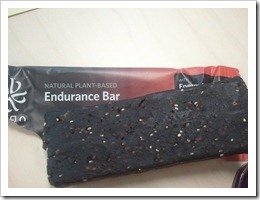 I've had these as a snack at work, while riding the bike, and after a run – they do the trick in all three situations. I'd like to try these out a little more – I'm thinking these and the electrolyte hydrator might work well on longer bike rides.
Performance Protein
The performance protein is a great mix of high-quality protein (yellow pea, savisead sachi inchi, sprouted whole grain brown rice, hemp, & alfalfa proteins) and very little else – which I like. The chocolate is my favorite flavor and tastes great in my post-run smoothies. We compared Vega to our other favorite protein and it blends a little better in water or almond-milk, if you like that sort of thing (I don't – I just like mind in smoothies).
Recovery Accelerator
The Recovery Accelerator is intended to help your body recharge immediately after workouts:
Vega Sport Recovery Accelerator also features a 4:1 ratio of carbohydrates to protein, a combination shown to increase muscle glycogen re-synthesis—a crucial component of post-workout recovery.
I really liked the Apple-Berry flavor, very smooth and tasty! I was impressed how easily this one mixed with water. To be honest, I can't afford to add this and protein to my post-workout routine, so I choose to make recovery shakes with the protein instead.
Protein Bar
And finally, the protein bars – delicious! The Chocolate Coconut was my favorite and I honestly wished I had more in the same pack, they were great treats. 🙂 I guess I ate these up so quickly I didn't capture a picture of this one.
Summary
After sampling the Vega Sport line, I've purchased several of these for as part of my normal nutrition: pre-workout energizer, endurance gels, electrolyte hydrator, and endurance bars. I love the Vega products and recommend them to everyone! Even if you don't eat a plant-based diet, they are all-natural and clean products that are excellent fuel for endurance athletes!
Vega Giveaway Time!!
Now that I've told you how much I love Vega, it's your turn to give them a try! Vega is offering one lucky winner a tub of the Pre-Workout Energizer (your choice of flavor!) – one of their most popular Vega Sport products and one that I personally use before my long workouts too!
Follow the directions on the widget below to enter:
Congratulations to Stefanie @ TheNewHealthy!! Contact me with your address & desired flavor of Pre-Workout Energizer so you can give this awesome Vega Sport product a try!!