Another week of training is in the bag – a mix of good & bad this week. Half Ironman training is a lot lighter than Ironman training!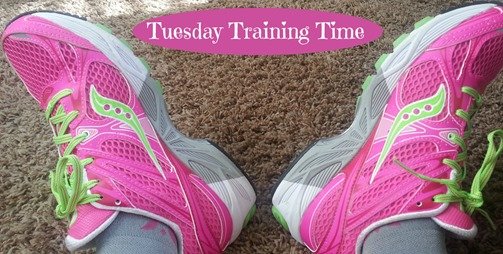 My goal for this week was getting all my workouts done and with quality. Things didn't quite go as planned, but I'm making a little progress each week!
Monday 3/11: Long Run (makeup day) + Back/Bicep Strength
Things started off well with a long run, determined to jump in and get it done after the weekend. I hoped to run outside, but it was COLD and windy, which I was unprepared for. I hit the treadmill instead for a pretty successful run!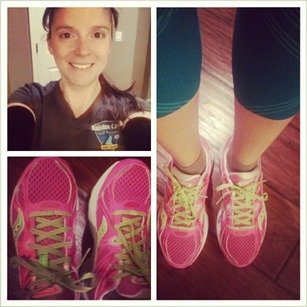 After my run, I hit the weights at my work gym. Very convenient, as always!
Tuesday 3/12: FTP Interval Bike + Full Body Functional Strength
We started Tuesday with some fun FTP Intervals on the bike. One of the perks of not Ironman training, is I was finished before Kirk. 🙂 Good effort this morning!
Wednesday: 2400 yard Swim
Had intended to swim after work, but ended up with meetings until almost 7 and postponed until Thursday. With a rest day already scheduled for Thursday, it seemed to make sense.
Thursday: Off Day
My planned off day was supposed to be a swim day after missing yesterday's workout. Another late night at the office caused me to skip my swim. No good excuse here, but I planned to make it up on Friday now.
Friday: 1350 Swim + Chest/Triceps Strength
Got up to swim on Friday morning, but it took us longer than planned to get to the pool. Short on time, I switched to a 30M workout in my swim book. This swim started out feeling blah, but I ended up feeling great as the intervals got faster and I set a new 50 yard PR for this season. 🙂
Saturday: 9 mile Run
Saturday morning I woke up with heartburn, which is unusual for me. I was going to do a swim to help make up for the distance, but shelved that idea. Midday I finally made time for a bike fit at a local shop – a long process using the Retül system. For a data junkie like me – this was a great data-based method for fitting using 3D motion capture!
After my fit, I was walking my bike down to the basement when I rolled my ankle and ended up on the landing of the stairs very painfully. Kirk made me sit on the couch with ice (on and off) for the rest of day – no run allowed. 🙁
Sunday: 2:15 AeT Bike + 2 4 mile T-run
Finally my first brick in ages – a trainer ride and outdoors run! We watched "Life of Pi" for much of the ride and then I headed outdoors (while Kirk kept riding) for my 4 mile run. Originally scheduled for 2 miles, but I was stressing about another chunk of missed miles and Kirk okay'd a longer transition run.
I was antsy on the bike, but made it through and out to a pretty-g00d run! No ankle pain, just a twist on Saturday.
Weekly Totals:
Swim: 1850 yards
Bike: 39.9 miles
Run: 11 miles
This week is going to be better! More consistent, high quality efforts, I got this!
********************
Questions for you:
How was your training last week?
What workout are you looking forward to this week?