Last weekend, Kirk and I attended the inaugural Training Peaks University in Boulder. It was a small group of around 20 coaches from around the country, come together to learn how to maximize Training Peaks as a coach, utilize advanced tracking and charts within the tool, and expand our knowledge on Advanced Power & Pacing Metrics from Joe Friel.
Planning, Tracking, & Analyzing
The first portion of the workshop was focused on best practices for using Training Peaks. Some of the highlights from this section include: recommendations for organizing workout libraries for planning, the most efficient way for athletes to enter their data, using plans, and dashboards for better analysis.
At the end of this section I realized that although I knew a great deal about using Training peaks with my athletes, there was a whole level of functionality that I didn't even know about! I was able to immediately apply things I learned in this session with an athlete call on Sunday night, which shows how relevant the information really was.
Coaching Business
In the coaching business section, we learned more about tool that Training Peaks provides to support coaches. A key takeaway for me was learning about the library of help videos that are on the Training Peaks YouTube Channel. There are some great resources for both coaches and athletes that I plan to utilize.
We also learned more about the Training Peaks Coaching Certification Program, which qualifies coaches for the Athlete –Coach Matching Program and for Coach-led Webinar opportunities.
Advanced Power & Pacing Metrics
This portion of the workshop was led by Joe Friel, a legend in endurance training & coaching! He has trained endurance athletes since 1980 and has written the definitive training bibles for cycling and triathlon. He's also recently released a Power Meter Handbook (and I now have a signed copy!), to help simplify training with power. I admit this was the portion of the workshop I was most looking forward to.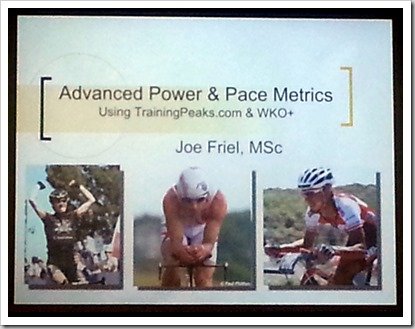 The 4 hours we spent on these topics Sunday morning flew by – although we were covering some heavy topics (and LOTS of acronyms). We started with the basics:
Functional Threshold Power (FTP), Normalized Power (NP), and Training Stress Score (TSS). Although I was familiar with the concepts of TSS, Joe did an excellent job of bringing it to life and illustrating real-life applications for coaching with this metric.
We moved on to more advanced concepts including: Intensity Factor (IF), Variability Index (VI), Matches, Peak Power, Efficiency Factor, and Decoupling. The last two concepts really connected with me, convincing me that Heart Rate is still a beneficial metric when used alongside other training measures. I stopped training with Heart Rate years ago, but left this session with an appreciation of how this can help me be a better coach (and athlete!). In fact, I dug out my HR strap on Sunday afternoon for my own workouts – and one of my athletes is now wearing hers again.
I recognized I've glazed over these topics, but there's no way I could do any of these metrics justice in just one post. This is one of those times that you don't need to understand it all, if you have a coach. 🙂
Performance Management
Finally, a way to pull all of this data together in a meaningful format for coaching – the performance management graph. This is a tool I admit I didn't know existed previously, but allows you to chart Fatigue, Fitness, and Form for an athlete using the data they upload for each workout. This reinforces the importance of getting that data every day, so we (as coaches) can monitor progress and indicators as we develop and refine training plans throughout the training cycles.
In summary, this was the best coaching workshop I have attended. The level of interaction and hands-on experience during the session was excellent. I commend the Training Peaks team for developing and hosting such a high caliber workshop from the start (remember this was the inaugural event). The expertise of the presenters, availability of the team to answer questions throughout the weekend, and willingness (and encouragement) to keep in contact for follow-up questions was truly impressive.
And for all BWV athletes – watch out! – we've got some great things planned for you based on what I learned this weekend. Just remember to LOG YOUR DATA after every workout, so that you can get the most out of your coaching experience. 🙂
********************
While we're talking about coaching, we just revamped the coaching section to include a new logo, more information, and more coaching options. I'm still refining this section, which will ultimately include a testimonials page, as well. As always, feel free to send me any questions or comments!
********************
Questions for you:
When it comes to training, what do you measure: Heart Rate, Pace, Power, Time, Distance, something else?

What's the best educational class you've ever attended?