This has been a crazy, busy week! I'm proud that I was able to fit in all my workouts, although we are doing a little juggling this weekend to make sure our long run and long bike go well. The only miss in my normal schedule was yesterday's Fitness Friday post. Not bad for a week filled with work conferences and evening plans on two nights!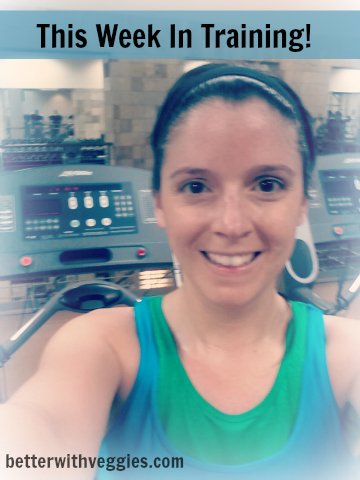 This week is the first of 2 "up" weeks, following last week's recovery. It's also the week we switched up the strength training workouts to challenge our muscles differently. That left me extra sore (started with just a bit too much weight I think), which made the swims and two runs a little…interesting. 🙂
Saturday 1/14: Rest Day (Snowboarding at Beaver Creek)
It was a cold day at the mountain last weekend – single digits! Do you know we've spent a day on the slopes every weekend since early December?
Sunday 1/14: 10 mile Run
Even back in Denver, it was COLD! Below 15 degrees meant Kirk and I headed to the treadmill for our longest indoor run in ages (maybe years!). I listened to Shadow & Bone on audiobook for a bit and watched the pilot episode of Nashville on my phone for a while. I'm not saying it was "fun", but it was much better than I expected for 10 indoor miles!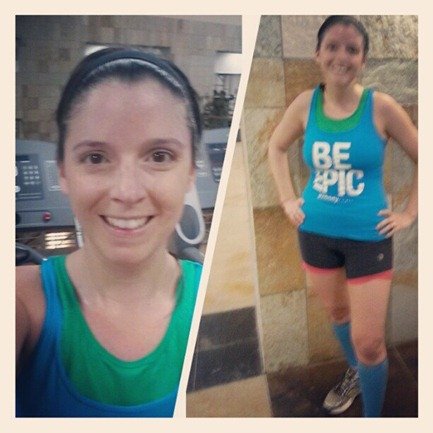 Monday 1/14: 1800 yard Swim + chest/tri strength
We headed to the gym in the morning today, because I had a conference at work with an early start-time. It was a great workout, but the first day of switching up the exercises always seems to take little longer. We ran out of time for core and legs today, but I think the soreness of our upper bodies made up for it. 🙂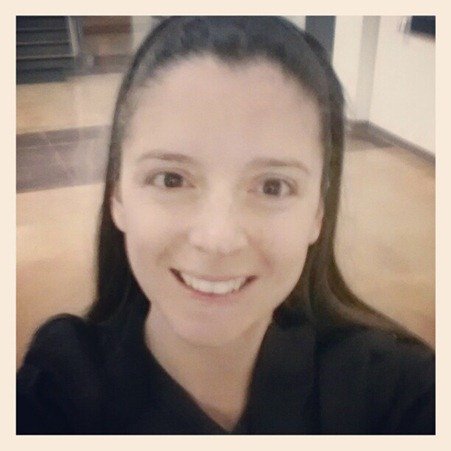 After work we headed to the pool for a swim. After my normal delay-tactics, I forced myself into the water for a tough workout – not because it was a hard workout, but because I was already sore from the morning strength session! Ouch! I put on my comfy clothes after the pool and we restocked groceries for the week.
Tuesday 1/14: Brick – 30 minute Bike + 5 mile Run
A brick is a combination of two triathlon sports done back-to-back, typically a bike followed by a run. We haven't done too many of those so far this year, but it's a regular staple on our training schedule now.
The bike was in the basement on the trainer, just an easy spin. We then headed straight to the gym for the run – so it was a longer break than normal. But really…dark and in the teens outdoor weather was not going to happen! 🙂
Wednesday 1/14: 1800 yard Swim + 5 mile 5K/10K Intervals Run
We started today with the run intervals (shorter overall time because the pool is a little farther from our house) and I was nervous about how my legs would feel. After the brick the night before I expected heavy legs, but things actually felt good. Both the 5K and 10K paced intervals felt good and the workout flew by – on the treadmill again.  Much better than this picture looks!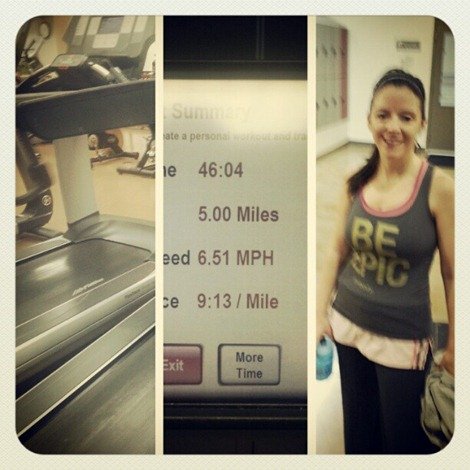 After work (and the last day of the conference), we headed back to the pool. We timed our pool session to start after one swim team and before another swim team, but we got there a little later than normal and the end was a little rushed. I ended up swimming the last 600 yards straight and the immediately jumped out – just before the team took the lane. Talk about motivation!
Thursday 1/14: 1 hour 45 minute FTP Intervals Bike
This workout almost didn't happen! I hadn't had a chance to download my info from the FTP test last week, so of course I was doing that at 6AM. Then the software wasn't working and I spent the next 45 minutes trying to make it work. When I finally had my updated power zones, I was much later getting on the bike than normal and almost gave up. Kirk convinced me to get my butt on the bike and I'm so glad I did. Great FTP Intervals – felt strong!
Friday 1/14: Rest Day
We had dinner plans with friends on Thursday night…which turned into a 12:30AM arrival home…WAY past my bedtime. Luckily, we realized that with evening plans on Thursday and an early meeting for me on Friday, our normal long workout would never happen. So Friday turned into a Rest Day and we'll fit both long workouts in this weekend.
******************
Question for you:
How was your training over the past week?
Which is your favorite – swim, bike or run?