Another week of training is behind us – less than 5 months until Ironman Cairns! 🙂 This week was a recovery week and we took is REALLY easy. Since our typical rest day activity includes snowboarding right now, we made this adjustment to be sure that our bodies had plenty of time to recovery.
This rest week was also the first time we did some benchmark tests for the training season, a swim and bike test. We like to use actual races for run tests, so that will come later. I'm sharing the swim test at the end of this post – so stick with me! 🙂
Saturday 1/5: Off Day/Snowboarding
Active recovery on the snow! We spent the day helping a friend snowboard, although I can't say either of us are great snowboarding instructors. 🙂 I think next time will be with a professional.
Sunday 1/6: 2:30 Bike
After church, it was time to for our long ride. Kirk rode outside for the first hour, but I'm a wuss with the cold on the bike. I enjoyed the ride on my new ISM Adamo Prologue seat – really excited about the comfort so far! I watched more of the the second season of Downton Abby for the first hour. We did a structured hill workout that Kirk wrote last year, which always helps the time go by faster.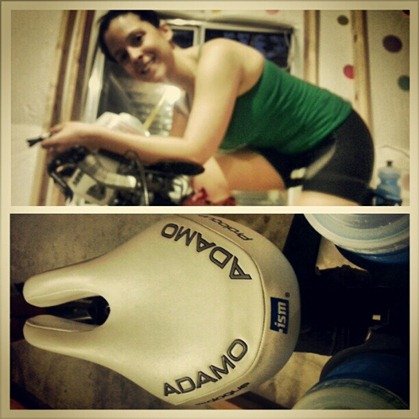 Monday 1/7: Off Day
No workouts, no nothing (other than work). Relaxing and awesome!
Tuesday 1/8: 4 mile run + chest/tri strength
Back to workouts today, I ran on the treadmill after work while listening to Shadow & Bone on audiobook. It was nice to see the work gym filled with new faces!
Headed home to pick up Kirk before we headed to the gym for strength. I noticed that I was lifting easier and heavier tonight – a great feeling! Finally seeing progress in the weight room.
Wednesday 1/9: 1800 Swim (Test) + 4 mile run
A bright & early start to the day with a swim test (see workout at bottom). I haven't done a swim test in almost 2 years, so I was nervous. It was HARD, but I finished all three within 1 second of each other. Slower than where I was (of course), but I have a starting point to measure progress! T-pace: 1:54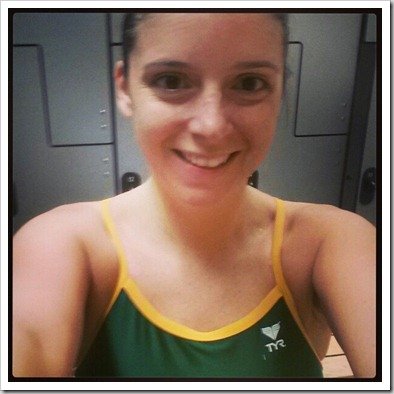 After work, I headed back to the work gym for another 4 miles on the treadmill. The run went by quickly, which is always a good sign as I get back into a groove with running.
Thursday 1/10: 1:00 Bike + back/bi strength
A nice start to the day with an easy spin on the bike in the basement before work. Although I never like getting up early, I swear you feel so awesome after and have so much energy to face the day!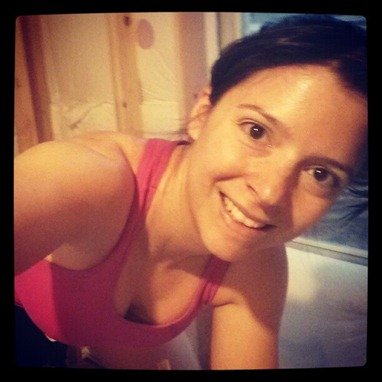 After work, we headed to the gym for weights. Recovery week is doing its job as I killed it in the gym. The weight I couldn't do without assistance last week on preacher curls – I did 10 reps, then 8 reps! I love these kinds of workouts!
Friday 1/11: 2:00 1:45 Bike (Test)
Last workout of the week! And one that always suck – Functional Threshold Power (FTP) test on the bike. The purpose of the FTP test is used to set our power zones for the bike and is always a painful experience, but necessary! Neither Kirk or I felt it was our best effort this morning, but it's a start.
******************
And now the workout for you. I don't think I've shared a swim workout here before, so I'm anxious to hear if this is something you like or not!
This swim test is intended for long-course athletes: half ironman and ironman triathletes or long distance swimmers. I usually wait at least a month after I get back in the pool to do this benchmark test, as you want the endurance to finish the distance and give it your all on the main set test.
Make sure you track your times for the main sets, which you will average to determine your T-pace (training pace) for future swims. Retest every month or so to measure progress.
******************
Question for you:
How was your training over the past week?
What do you think about swim workouts on the blog – interesting or not?