Disclosure: Last week I had the opportunity to participate in a preview event at The Body Barre courtesy of Barefoot PR. This post is a recap of that experience.
********************
Last week, I had the pleasure of attending a preview at a new barre studio in Highlands Ranch. I've always wanted to try a barre workout, as it is based in dance moves (did you know I was a dancer growing up?) and looks so different than other group fitness classes. When I was invited to attend a preview evening at the new Highlands Ranch location of The Body Barre, I was finally able to try it out!
The studio is owned by two longtime friends – Jen Rehm & Nadia Walker-Arnold. They were hooked on barre after their first class and opened their own studio in June 2012. The location I visited their second and features the only Barre X (barre + TRX) workout in Colorado and the region!. During the evening, we were able to try three mini-classes: Pole, Barre, and Barre X.
Introduction to Pole
I had no idea we were going to learn to pole dance during this event, but why not?! I don't think I was very graceful, but it was sure was fun to try! We learned the basic movements: where to put your hands, what to do with your feet, and how to use your momentum to spin. It's a lot harder than it looks & I got a little "pole burn" in the process.
I thought my training for bikini might have helped me be a little sexier spinning around the pole, but it takes a lot of focus and I don't think there was much sexy in my movements. I think I need a LOT more practice.
When we finished our intro, our two instructors for the evening gave us a preview of some advance pole movements. Holy cow these ladies are strong AND talented!
The Body Barre
Our next session was the signature barre class – simply called "The Body Barre". The one reminds me of a very long warm-up in ballet, but with a lot more (good) pain. Small movements repeated over and over and over until your muscles are quivering. When I took a break to take photos, it was strange to see how easy it looks and knowing how hard it is!
Of the three classes, this one is most similar to a dance class; however, you wouldn't need any dance experience to participate. And don't let the simple movements fool you – this is a tough workout!
Barre X
Finally, we got to try the exclusive Barre X class. In fact, this was THE first Barre X class taught in Colorado – we made history in this preview night! The first thing you see when you enter this room is all the TRX straps hanging from the ceiling.
The combination of TRX moves that I know & love and new barre movements were really unique. At times the TRX was used for stability (like the relevé plies on the left below), other times we were on the floor working on TRX hamstring curls. These two go together so well, as they work so many body parts in each move. This was my favorite class of the evening!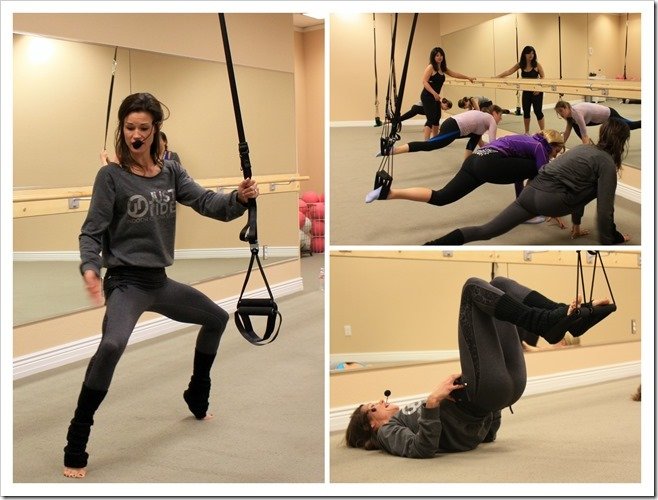 The class also took the most instruction, as learning to use the TRX can be a little tricky.  This is my first time seeing TRX in a group environment and it was interesting to see others learning how it works. I loved watching others discovering how awesome this tool can be!
Overall, I had a great evening at The Body Barre! It was a great experience and I hope to have many more classes in my future. After my fitness competition, I hope to go back and try a full-length class. Especially on a day when I haven't already done 2 other workouts (my darn training can get in the way of fun sometimes!). 🙂 If you haven't had a chance to try barre yet, I highly recommend it. And if you're in the Denver or Highlands Ranch area, give The Body Barre a try!
********************
Questions for you:
Have you tried barre before?

Which of these classes would you want to try first?