I love reading everyone's answers to this Christmas Survey that's been floating around, it's a fun way to learn a little more about people. For example – did you know that Lindsay still believes in Santa, Janeetha used to go sledding by attaching a rope to her dad's car, or Carol's favorite Christmas song is sung by N'Sync?
— By the way, have you entered my Gardein Giveaway giveaway yet?! —
Now it's my turn to share, since Christmas is almost here!
Eggnog or hot chocolate?
Eggnog. I'm loving the Earth Balance and So Delicious brands of dairy-free Nog this year. We've had both in the fridge since the beginning of December and I love it!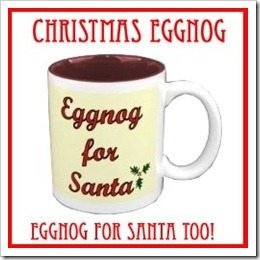 source
Does Santa wrap presents or just sit them under the tree?
Wrapped, although I think it's a cute idea to not wrap them too.
Colored lights on tree/house or white?
I'm a Christmas light snob – all white. I like them to match! I have gotten a lot more "tolerant" of the multi-colored varieties too and I appreciate that they still look festive, but I think they would always look better in white. =)
Do you hang mistletoe?
No, I don't think I've even seen mistletoe around for a few years. That doesn't stop me from kissing my hubby, so don't you worry about that!
When do you hang your decorations up?
Ideally, the day after Thanksgiving. I like to get them up to enjoy for as long as possible while spices simmer on the stove filling the house with Christmas smells and Christmas songs fill the air.
What is your favorite holiday dish (excluding dessert)?
We have never really done a traditional Christmas dinner, so I don't really have a favorite holiday dish. I guess sweet potato casserole is fairly common this time of year, so we'll go with that.
Favorite holiday memory as a child?
Candlelight services at church – trying to stay up past midnight and listen to the Christmas Story while holding onto a light candle and seeing all the lights in the church. It's so pretty and calming. Source
What is on your Christmas wish list?
It's a long list, but I know there's cookbooks, boots, purse, yoga mat & clothes. We give detailed lists in our family, so much easier to get someone a gift they will actually like.
Do you open a gifts on Christmas Eve?
Just one – Christmas PJs! I don't remember when the tradition started, but we always open new PJs on Christmas Eve that we wear that nights and for our present-opening extravaganza in the morning.
How do you decorate your Christmas tree?
When we decorate the tree, we have a Christmas movie on TV and a bottle of sparkling wine (preferably with Caviar!). Our tree is a mix of traditional & decorator-style. Kirk has ornaments from every year since he was born, a few traditional ornaments I have, and we usually get a new ornament from our parents each year to add to the collection). I grew up with more "decorator-style", where everything matches and it looks like it came out of a catalog. We add red & white ornaments to the traditional ones and it pulls the tree together!
Snow? Love it or dread it?
Love it!! I have only lived in a snowy place for 4 years (3rd grade through 6th grade), so snow is special! I wish it would snow more in Atlanta – I guess we could move somewhere that has more. Last year was awesome because it snowed at least 3 time, INCLUDING Christmas!! It was fantastic!
Real tree or fake tree?
Real tree, no question. My parents always have fake trees (yes, multiple), but I love getting a real tree – no fake stuff for me!
Do you remember your favorite gift?
The one that sticks out was this Super Mario Bros. watch, really dorky and a little big, but it had a little game on the watch. I'm pretty sure it was late 80s, early 90s, so it was pretty high tech for that time.
What's the most important thing about Christmas for you?
Keeping Jesus in Christmas, He is the reason for the season after all. It's so easy to get busy and forget that celebrating the birth of my Savior is the reason we celebrate Christmas, so that's very important to me.
What is your favorite holiday dessert?
Cookies! Small enough that you can have several different kinds and try something new.
What is your favorite tradition?
Our tree decorating tradition is my favorite. 🙂
What tops your tree?
A silver star, that never sits quite straight, but I like it!
Do you prefer giving or receiving?
I know the right answer here is giving, but I like both giving and receiving. I still feel like a kid on Christmas and I love the overall gift experience. I love watching everyone open what I got them, but I also like opening what they got me. 🙂
What is your favorite Christmas song?
When our tree lights turn on every day, we have an ornament that plays Little Saint Nick – love it!
Candy canes, yuck or yum?
Yum! I found these amazing organic, all-natural ones at Whole Foods that tasted exactly like regular candy canes, but the colors weren't as vibrant. These were even colored with natural products like beets – very cool!
Favorite Christmas movie?
Elf!! "SAAAANNNNTTTTAAAAA!!!!!! I know him!" Will Ferrell is hysterical. And a runner. He's cool.
What do you leave for Santa?
Nothing anymore, but we used to leave cookies & lactose-free milk for Santa and a plate of sugar for the reindeer (What? You didn't know Santa was lactose intolerant?). The sugar had a paw print in the middle on Christmas morning. Very cool!
Do you have a Christmas morning tradition?
You have to stay in your PJs – even if my parents come over for Christmas morning, PJs are still required. And we open presents one at a time, which means we start around 9AM and usually are still opening after 12PM. We do stop in the middle for breakfast – which is always something homemade like strata or french toast or pancakes covered in whipped cream or something "fancy" like that. Stocking gifts used to be a free-for-all, but everyone like to do those almost one-at-a-time now too. It's fun and makes Christmas last a LOOOONNNGGG time.
Do you prefer to shop on-line or at the mall?
Always online – I don't really like to shop at the mall ever. I am much happier buying gifts from the comfort of my couch in pajamas. Why does anyone shop at real stores? =)
Christmas letter or Christmas card?
Both!! We send a Christmas card with a Christmas letter ever year, because my parents always did. Kirk wrote a really awesome Christmas letter last night for our 2011 cards. I always like to read other people's letters too!
Now it's your turn – pick and question or two and share your own answer in the comments!!