When I first started the LiveFit Trainer, I wanted to find a snack that was easy to cook in bulk, tasted good, and was loaded with protein. One of the snacks I saw all over was meatloaf or turkey muffins, which don't fit with my mostly plant-based diet. So I decided to create something better….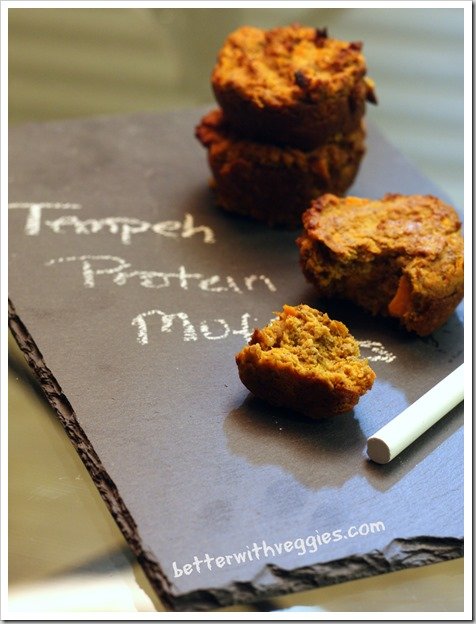 I've been on a bit of a tempeh kick recently. It's a soy-based protein that is lightly fermented and very delicious. It can be a bit bitter raw, but if you steam prior to eating it mellows to a great flavor. Depending on the brand, it also packs 18+ grams of protein per serving!
I started with a recipe I found on Oxygen magazine and adapted over a few batches. It's been my afternoon snack for most of the past month and now that I've got this one down, I have several more varieties in mind!
I typically eat one for my afternoon snack, but depending on your goals you could easy enjoy 2 at a time. They travel well (great for on the goal snacking!) and can be enjoyed at room temperature or warm.
It's been fun creating new snacks like this to fuel my workouts. Like this, I try to stick with real foods, with only one scoop of protein each day. Even with a higher protein focus, I want my nutrition to come from whole plant-based foods as much as possible. That's the way my body like it best! 🙂
Tempeh Protein Muffins
Author:
Ingredients
16 ounces tempeh
½ cup ground flaxseed
¼ cup nutritional yeast
4 cloves garlic crushed or minced
1 medium sweet potato quartered and cooked (I microwave for 5 minutes)
¼ teaspoon coarse sea salt
Cooking spray
¼ cup low sodium bbq sauce divided
1 teaspoon liquid smoke
1 teaspoon sage
1 teaspoon oregano
Instructions
Steam tempeh for 10-15 minutes. If you have time, cover tempeh in 1 tbl BBQ sauce and marinate for at least 1 hour.
Preheat oven to 375 degrees. Coat muffin pan with cooking spray & set aside.
After marinated (or if you don't have time, just skip the marinated step), combine tempeh & cooked sweet potato in a food processor and pulse. Once combined, add all remaining ingredients and pulse until integrated.
Divide muffin mix evenly between 12 muffin containers. Bake for 20 minutes or until browned and firmly set. Remove from oven and allow to cool thoroughly.
Once cooled, use butter knife to loosen the muffin edges from the pan and transfer to wire rack or plate. Can be stored in tupperware for up to 1 week.
As a bonus this week, Laura assures me this fits firmly in the #strangebutgood category, which means I get to join the fun on her blog today! Make sure you head over and check out this fun link-up, which features recipes with ingredients are not something most people would consider normal, but are actually really yummy!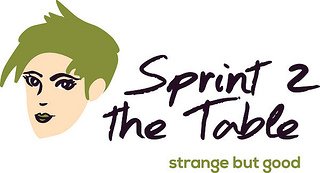 ******************
Questions for you:
Do you have a favorite savory muffin?

Are you a fan of tempeh?

What's your favorite afternoon snack recently?