If you have been reading FITaspire for any period of time, you have likely heard me talk about the importance of strength training for running and triathlon. It often falls into the category of "I should", instead of being a consistent part of a training program. To be honest, it's an area that I neglected myself for many years in my own running & triathlon career.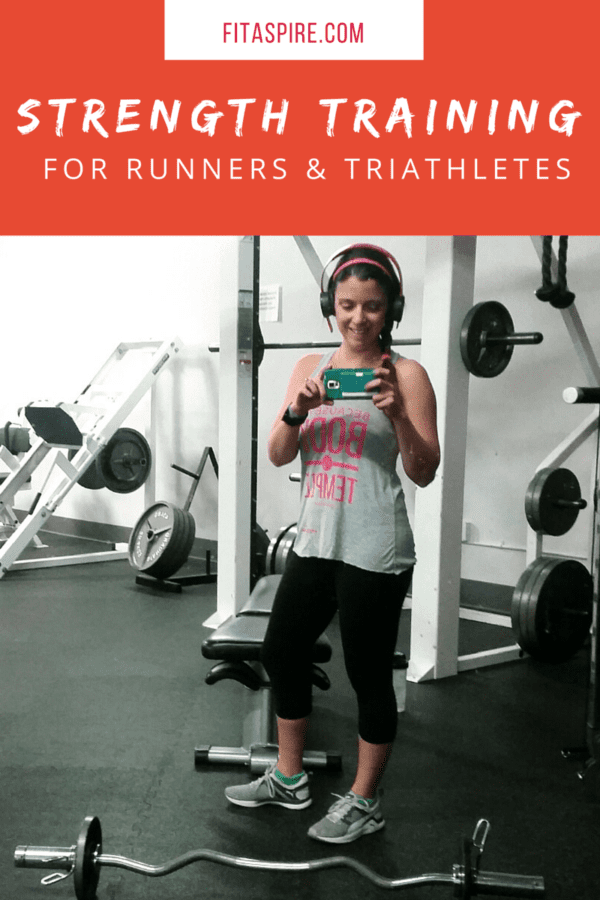 There are two common reasons that you may skip strength training:
Not sure WHY you need to do it (and you are already balancing so many)
Unsure WHAT strength training program to follow (to benefit your endurance goals)
Why Include Strength Training
There are several reasons that you should include strength training in your training program as a runner or triathlete. The core reason is for injury prevention, especially if you have battled injuries in the past. Strength training will help you avoid (or correct) muscle imbalances that are common.
Hip strength is a great example of one area that needs regular attention for endurance athletes. Including hip strength exercises in your training can help avoid a number of common running injuries, including: IT band pain, runner's knee, and piriformis syndrome.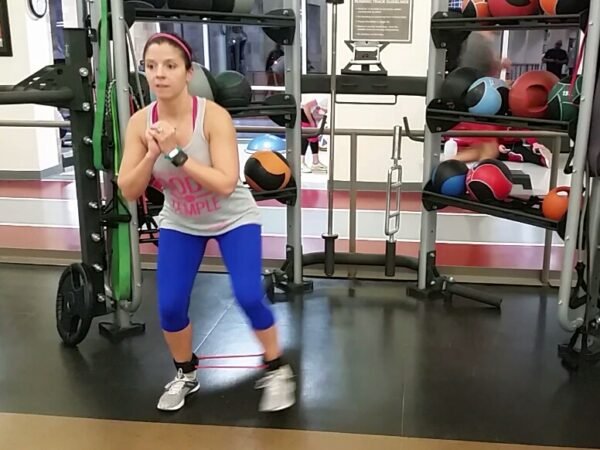 If injury prevention isn't enough, strength training also helps you build strength for improved performance and improved form for running, cycling, and swimming. It's a delicate balance sometimes, as you don't want to lift so heavy that your other training is negatively impacted. You can adjust your strength training approach throughout the season to match your training focus.
I have seen great progress in my own performance from incorporating strength training in my plan. Regular focus on increasing leg strength translates very well to increased power on the bike when climbing. With very limited cycling over the past few years, I am seeing increases in my FTP from the additional strength I've gained in the gym.
[Tweet "Why strength training is important for #running and #triathlon. [+FREE workouts]"]
Nothing replaces putting in the miles (or kilometers) in training, but you can enhance the result by also putting in time building your strength in the gym.
What Strength Training Program?
Now that you understand why you should including strength training in your running or triathlon plan, the next question is what exercises should you do? This was the question I struggled with most, as I didn't want to waste time in the gym on exercises that didn't apply to my goals. You also don't want to do the same program every week, as eventually your body adapts and becomes efficient at those movements. Efficiency isn't a good thing, in this case, as you want to challenge your body to continue seeing results.
I recommend that you include strength training in your plan at least twice a week. Three is even better, but it can be hard to fit that into your schedule if you are training for a marathon or triathlon. To minimize any negative training impact, plan most of the lower body exercises early in the week – ideally the same day or day after your speed workouts.
Make sure you include exercises that target any areas of past injuries or known weaknesses. For example, if you've had shoulder issues in the past with increased swim volume, look to include exercises to strengthen the shoulder and surrounding areas. If you have a history of IT band issues, make sure you're including hip and glute strength (and stretching) in your routine to keep that area healthy.
Download 2 Free Workouts
If you're ready to make strength training an important part of your training plan, I would love to help you! The Strength for Endurance Athletes program gives you access to new workouts every 4 weeks — designed to complement your running or triathlon training program, reduce injuries, get faster, and stronger!
As a member, you get access to the #TeamFITaspire app (right on your smartphone), with detailed workouts & demo videos that you can follow anywhere in the world.
You can get access to TWO workouts created for the Strength for Endurance Athletes (SEA) program & try it for yourself.
Home & Gym workout options
[thrive_leads id='28025′]
I've been working with endurance athletes for over 8 years and my PROVEN approach consistently reduces injuries & increases performance. Membership is only $14.99 per month & you can cancel anytime. My 30-day, 100% money-back guarantee removes the risk, you'll love the program or I'll refund your payment!
 When you join the SEA program, you'll get:

4-week strength training plan with 2 strength & 1 (optional) metabolic circuit each week

Guidance on how to fit strength workouts into your own running or triathlon training plan, so you don't sacrifice your training

Access to the #TeamFITaspire app, which guides you through each workout and tracks your progress — all from your smartphone. (take a peak at the features here)

Quick & effective workouts (less than 45 minutes each)​

Choose gym or home workouts (dumbbells, resistance bands, and stability ball recommended)

Weekly emails with healthy living challenges, training tips

Personal support from ME! (certified personal trainer, running, and triathlon coach)