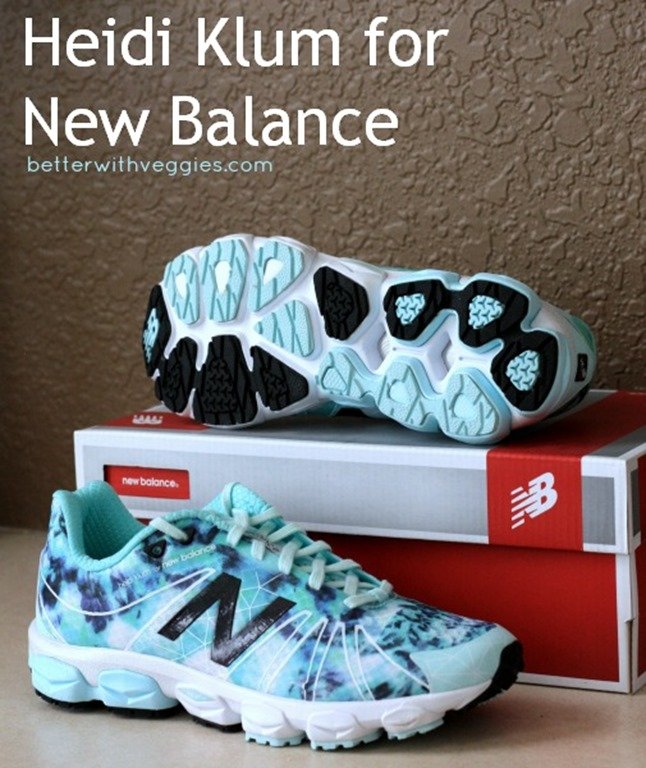 If you want to get stronger, you have work out in a smelly gym, wear ratty clothes, and look like you just crawled out of bed when you hit the running path or the gym. Thank goodness that is NOT true!! While you may not be able to control the smell of your gym, there are so many options to look good while you're getting in a good #movehappy workout!
Disclosure: This post was sponsored by Heidi Klum for New Balance through their partnership with POPSUGAR Select. While I was compensated to write a post about Heidi Klum for New Balance, all opinions are my own. You can read my disclosure policy here.
I think Heidi Klum agrees with me, since she has partnered with New Balance to create HBNB (Heidi Klum for New Balance). I was excited to have the chance to try out one of the items from the Spring 2014 line – the HKNB 890V4 running shoes. These shoes have such a fun and unique pattern that is perfect for my love of bright and fun gear.
I tested these shoes out in the gym and on the treadmill, so I'll share my thoughts for each.
At the Gym
While these are really running shoes, I was excited to test them out and started in the gym. The overall fit is very comfortable and the light weight is comparable to my other gym shoes.
About halfway through my workout, I realized that the shoes were likely a bit small. I could occasionally feel my toe touching the front on the shoe and the left shoe also pinched slightly when I did lunges. This is the downside of not trying on shoes before you order. I'm exchanging mine for a half size larger, which I think will fix the problem!
On the Treadmill
I have a slight pronation, so I reserve neutral shoes for short runs and speedwork. When I have a choice, I really like rotating between two different shoes. It helps keep my legs fresher and also helps prevent injuries.
I noticed the cushioning on these shoes most of the run, it's exactly the style I prefer. The cushion is noticeable and seems to rebound when you push off with each step. The overall shape of the shoe fits my foot so well and I can't wait to run in these more often with a slightly larger size!
Strength is Stunning
I spend a lot of time in the gym, so you know I love gear like this that helps me look good while sweating. It's funny how my workout clothes have gone from boring to fun over the past year. If you're looking to expand your own choices,
Pick a few bold colors that will match things you already have.
Find headwear to keep the sweat off your face that looks good on you. Try headbands, visors, and hats.
Look for pieces you can use for multiple purposes: running, weights, cycling.
Looking for even more ideas? Check out my latest pinterest board inspired by Heidi Klum for New Balance.
*****************
Questions for you:
How do you stay fit without sacrificing your look?