With all the bikini competition expenses, it's been a little while since I indulged in a Stick Fix box. I made a choice between a new bikini and a new box back in June…the bikini won that time. I rescheduled my box for August and I was so excited to see it show up on my doorstep!
I have to admit that I almost postponed it one more time, but decided I was ready for some new items. I'm glad I did because this turned out to be a good box!
What makes a good box for me? If I keep more than one item and at least one is something I wouldn't have even tried on by myself – that's a good box. As long as I keep one item, each box is still worth it (and that has happened every time). Occasionally I keep everything (5 items), but that doesn't happen often and I don't expect it.
What did I keep?
As soon as I tried them on, I knew I was keeping two of these three items. The white jeans fit perfectly and are even the right length! That means I don't have to take them for alterations (which rarely actually happens). I have never owned white jeans before and I've been eying them this year.
The blue and white polka dot shirt was also an instant keeper. I love the flowy fit and the cross detail on the back. Don't they look great with the white jeans? Instant new outfit!

The third tank was the one I debated the longest. I loved the fit as soon as I put it on, but wasn't sure about the colors. I can tell you for sure, I would have never even tried this on! To help me decide, I posted this picture on Instagram and Facebook to get your help. There were mixed opinions, but more people said they liked or loved it. The more I looked at the picture, the more it grew on me, so I decided to keep it!
I wore it to a festival the next day with a new pair of matching sandals (I picked those up at Target for $15 to finish the outfit) and am so glad I decided to keep this top. I also wore it to work last week and got several complements!
What did I send back?
There were two items in my box that weren't even up for discussion. The first was the purse. Um…I had that same purse in elementary school, but in purple. I know the 80s are back, but I'm not THAT on board with the trend. Chain purses should stay in the 80s.
The second item is the dress pictured below. I like the green color, but the dress just didn't do a thing for me. Maybe that style just doesn't fit my body type? These two were immediately placed back in the pre-paid return envelope and dropped in the mailbox.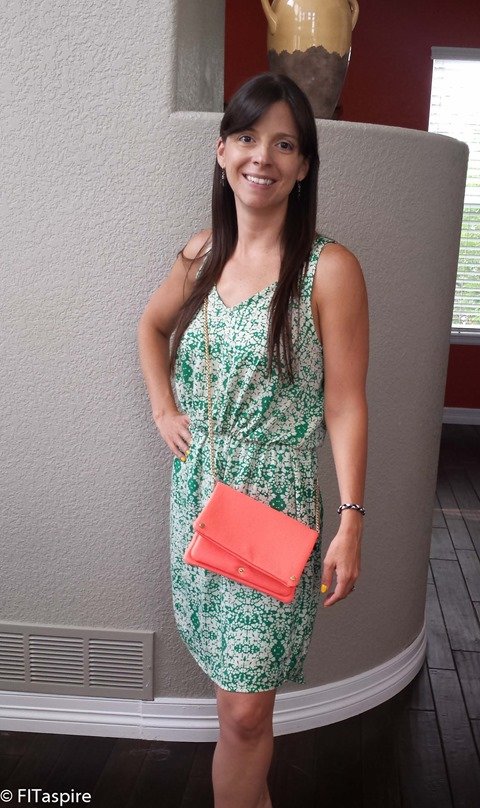 [Tweet "A peak inside @FITaspire's latest @stitchfix box. It's like window shopping! #fashion"]
Why do I consistently get great Stitch Fix boxes?
I think it's the extensive feedback I provide with each box. I leave VERY detailed notes when I checkout, explaining  why I liked or returned each piece (both the good and the bad). I also try to pin things I like throughout the month, to give a visual example of what catches my eye. In fact, the note from my stylist mentioned that she out the white jeans after I pinned something similar on my pinterest board!

I can't remember exactly how many boxes I have ordered through Stitch Fix, but I think it's been about 10 at this point. A good portion of my wardrobe is styled by Stitch Fix at this point and that makes me smile!
If you're ready to try Stitch Fix, I hope you'll use my referral link for your first order. I get a $25 credit if you do, which I always appreciate to help with my next order. There always seems to be a next order for me. 🙂
Interested in seeing more about my other Stitch Fix boxes? You can browse all my reveals here.
******************
Questions for you:
What's your favorite item in your closet right now?
Are you an 80s fashion fan?