I am not the most patient shopper. In fact, going to a store is not something I enjoy in most situations. When I think of shopping, the picture that comes to mind is racks of clothes pushed together in a tight configuration that you can barely squeeze through. Discarded items cast aside and often mixed in with other items. It's not the best picture, but it's what I remember from one too many shopping experiences.
With that in mind, you may find it interesting that I'm partnering with Dick's Sporting Goods in the launch of their newly designed women's department! And there's a $25 giveaway for YOU at the end of this post.
Disclosure: This post was sponsored by Vocalpoint and DICK's Sporting Goods. While I was compensated for this campaign, all opinions are my own. You can read my disclosure policy here.
What I liked about this campaign, is that Dick's Sporting Goods recognized that the shopping experience can be improved AND they did something about it. They talked to women about how to improve the experience and redesigned the women's department based on that feedback!
Things looked a little different in-store than my initial description – more space between racks and outfit inspiration in each area. The outfits are something I really like when I'm shopping online, to give me an idea of how different pieces look together, so I appreciated seeing more of this in-store, as well!
As part of this campaign, I had a gift card to spend on an outfit for myself. With my recent backpacking adventures, I decided to focus on what I needed for my next backpacking trip. We had almost everything we really needed on the first trip, but with the changing temps here in Colorado, there were just a few things I knew would make it even better.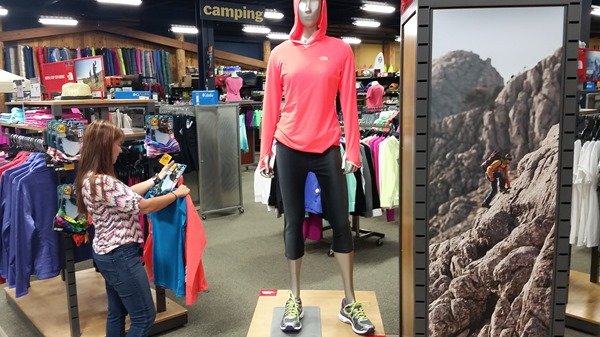 There were two staples I had on my list: a waterproof jacket and a short sleeve shirt for hiking (not sleeveless). Being a fan of colorful gear, I found my way to the bright jacket options. There were plenty of great outdoor brands to choose from – I settled on a Columbia jacket and North Face shirt.
From the "nice-to-have" side of my wish list, I picked up a multi-use hair band (hope this works as well as it appears!) and wicking underwear.
We have plans to test these out next weekend on our second backpacking trip. Another overnight excursion, because we couldn't fit 2 nights in our schedule quite yet (but it's coming very soon!). I'll let you know how these perform after the trip!
Win a $25 Gift Card
Want a chance to check out Dick's Sporting Goods for yourself? How about a little cash to get you started? One winner will get a $25 gift card to enjoy shopping either online or offline. The giveaway will be open for just one week – so enter now!
Good luck!