Disclosure: I was not compensated for this review, but the giveaway prize is being provided by Ellie. As an Ambassador, I do make a small commission from each person that signs up using my link. As always, all opinions are my own.
********************
So today it's official – Better With Veggies is TWO YEARS OLD!! Although I always hoped this site would last, I had no idea that it would develop to where it is today. Your support, comments, encouragement, and feedback is always amazing and I wish I could fully express how much I appreciate every one of you. Hopefully these giveaways give you a taste of my appreciation!
Today I'm excited to be sharing with you another of my favorite fitness brands – Ellie!
I've been working with Ellie since January and love the chance to see a new line of workout clothing options every month! When they send out the teaser videos, I can't help but watch and get excited. And I rush to place my order as soon as it's released. And to be clear, I purchase my outfits each month. 🙂
In my most recent shipment, I wanted something different. I have a great collection of capris at this point, so I knew immediately these shorts were what I was looking for.
The top is my second cover-up style that I got from Ellie and LOVE IT!! My first cover-up top was a layering piece I wore for my first 14er. This one made it's debut on our rafting trip on the Arkansas River (more about that next week). This is one of the things I look for in workout gear – options I can wear outside of the gym!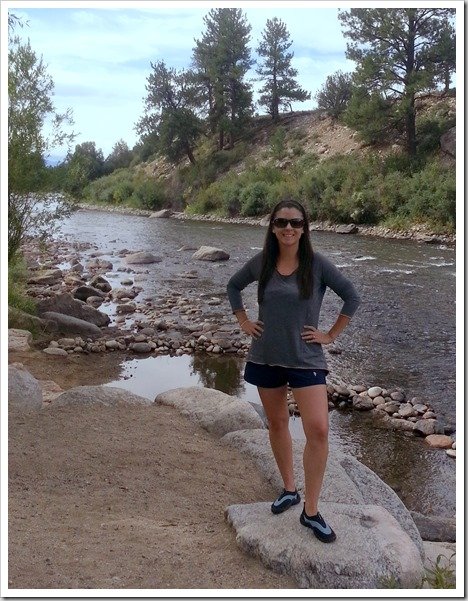 The surprising thing about this outfit is how quickly it dried on the river. I guess I should have known that since they are meant to wick sweat, but I was pretty impressed!
Ellie Giveaway
So are you ready for your chance to try out Ellie for the first time (or again)?! I'm so excited for you to have the chance to win 2 pieces (excluding the signature collection) of your very own.
This giveaway is open through Sunday! Good luck!
******************
Don't forget to enter every giveaway this week – you can tweet daily for extra entries!