I hope the answer is a resounding YES! Even with the last week of hard workouts leading up to my competition, I focused on my attitude toward each workout and it's amazing how much that can change the way things go. Hard can still be FUN!!
On those days that it was harder to get going, I loved  scrolling through the hashtag on Instagram and getting my inspiration from the you. It's such a great way to get started! Here's just a few of the photos I loved from the past week:
Go follow these ladies for inspiration: Heather  (hriacobacci), Annette (fitnessperks), laynehellman, Alissa (alisue2), Lindsay (Lindsays_List), Stephanie (stephwbd)
And the Week 2 Winner is…
…announced over on Laura's blog today, since her post was the official entry last week –> Head over now to find out I you are the winner? You can check out last week's post for all the details on how the winner was selected.
Week 3 Sponsors
Are you ready for next week of the challenge and another chance to win some amazing prizes?! This week's prizes are from Vega and Quest Nutrition.
[Tweet "I'm ready to #MoveHappy and win @Vega_Team and @QuestNutrition from @FITaspire @Sprint2theTable"]
#FuelYourBetter with Vega
I'm so happy to share more of my favorite protein powder with you this week! I talk about Vega quite a lot and it's often featured in my protein-enriched recipes. This was one of the first brands I worked with when I started my blog and it's been a staple in my kitchen since then. Vega helps me fuel my adventures and I was recently featured on their blog sharing some of the ways I use their products in training.

I use Vega Performance Protein daily for my post-workout recovery – usually a smoothie, but sometimes I make a pudding (like my Peanut Butter Cup Protein Pudding). I think it's even better in baked treats, like my vanilla frosted protein donut, double chocolate protein pudding, or chia pudding.
While their protein products are the ones I use most frequently. I also use their Pre-Workout Energizer & Electrolyte Hydrator to fuel my endurance activities. I haven't tried a product of theirs I didn't like, honestly. And my favorite part is they are all high-quality plant-based nutrition options. The only complaint I ever hear from people is that they are a little more expensive, but I have found that you get what you pay for! This is one of those areas that I am perfectly willing to pay a little extra for the quality.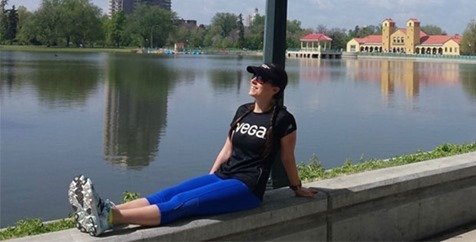 To help you #fuelyourbetter in all your #MoveHappy adventures, Vega will be sending this week's winner a package filled with my personal favorites: Pre-Workout Energizer, Electrolyte Hydrator, Performance Protein, Protein Smoothie, and a Tshirt! I hand-picked these items for you, so I know you're going to love it!
Quest Nutrition
I had my last Quest Nutrition bar before the competition on Saturday! I chose the Peanut Butter Cup bar, broiled for a few minutes in the toaster oven to warm it up and give it a light crisp. I have to keep things pretty simple this week leading up to Saturday's competition, but I can't wait to have a bar after the show is over.
Lucky for you, there's no reason you have to join me in my break this week! And Quest isn't taking a break from supporting the #MoveHappy challenge!
f you haven't had a chance to try these yet, you can usually find them at your local nutrition store, online at Amazon
(affiliate link), or by winning this week's challenge! My favorite flavor right now is Chocolate Chip Cookie Dough, so that's a great one to try for your first one. I recommend heating that one on parchment paper in the microwave for a10-15 seconds. It's like a warm cookie!!
Ready to #MoveHappy?
I hope you're as excited about this week's prizes as I am and that they will be extra motivation to ENJOY YOUR FITNESS!! Remember that this challenge is NOT about slogging out miles or grinding out another workout. It IS about finding something gets you moving AND makes you smile in the process! If your workouts aren't making you smile right now – try something new! And don't forget the sidebar image to show your support, if you're a blogger.
THIS IS THE OFFICIAL POST for the week, so remember to leave a comment below after each of your #MoveHappy workouts. 3 comments qualifies you for this week's prizes. After that, you can get EXTRA entries by sharing your workouts on Instagram and including #MoveHappy, plus tagging @sprint2thetable and @FITaspire. After you post a #MoveHappy photo, click on the hashtag and encourage a few others and make a few new friends!!