Welcome to the all-new FITaspire!! This change has been in the works for a few months now and I'm so excited to reveal the new name and website to you today! If you've been a long-time reader, thanks for sticking with me and I can't wait to hear your thoughts on the new look. If you're new around here, I'm so glad you've decided to stop by today.
Are you ready for the 2nd #MoveHappy Challenge?!
In case you missed the announcement last week, you'll want to read all about the free challenge that Laura (Sprint2theTable) and I are co-hosting for the month of July. I wanted a FUN way to celebrate the launch of FITaspire and I thought this was the perfect way to get things started! And of course, there are lots of prizes and 5 chances to win something awesome!

OFFICIAL WEEK 1 #MOVEHAPPY POST!!
How To Enter?
This time around, there's no need to sign up – you can get started right now! You can join at any time, but you will want to record at least 3 #MoveHappy workouts on the official post for the week. This week, that means commenting on THIS POST each time you finish a #MoveHappy workout.
You can also get BONUS ENTRIES by sharing your progress on Instagram. After you have recorded your 3 workouts on THIS POST, you get extra entries each time you share a #MoveHappy photos on Instagram, including the hashtag (#MoveHappy) and tagging @sprint2thetable and @FITaspire (that's me!). You'll want to actually share your #MoveHappy workouts to be counted, not a picture of you lounging by the pool. Although you should do that too just because you can.
Remember, 3 comments on THIS POST is the key for this week. Any extra comments and instagram photos are bonus!!
[Tweet "Time to kick off the #MoveHappy Challenge with @sprint2thetable and @FITaspire!"]
This Week's Sponsors
Are you ready to hear about the first week's prizes?! This first package includes prizes from Fabletics and Quest Nutrition!
Fabletics
I found Fabletics a few months ago and have been loving their clothes! I first reviewed their apparel in early June and will be sharing an update on my latest outfit very soon (Hint: I love it!!).
What I love about Fabletics, is they create new looks every month, but you're also not locked into having to buy a new outfit every month! If you want to take a month off, you can just update your account for the month! That flexibility combined with classic pieces, fashion-forward pieces, and affordable prices has my vote. I have found that every piece I've tried is so comfortable and I've been loving their shorts in the warmer weather.
If you've been wanting to try Fabletics for yourself, you're going to LOVE this prize – they have really gone all out on this one! This week, the winner will receive a lightweight Fabletics True gym bag, filled with all your essentials for a workout: a gift card for a complete outfit, a stainless steel water bottle, no-tangle hair ties, and a 3-pack of no-show socks!
Quest Nutrition
When I was training for my first bikini competition last year, I did some digging to find a protein bar that was high in protein, low in carbs, and actually tasted good. There really isn't anything I found that comes close to Quest Nutrition bars. I am obsessed! We go through several boxes every month in our house, because both Kirk and I love them so much. When I finally got to meet a few of their reps at Blend Retreat, I confessed my love to them in person!
When I chose the brands I wanted to feature on #MoveHappy this round, I knew I wanted to share some #cheatclean snacks with you! Thankfully, they were also excited to share these amazing treats with you and EVERY winner will get a variety box of 12 Quest Bars.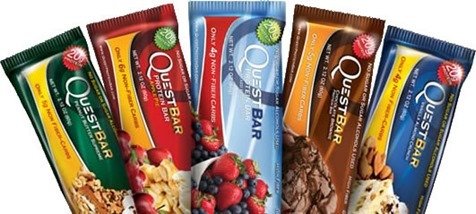 Ready to #MoveHappy?
Now that you know what the prizes are, I hope you're even more excited to kick of a month of FUN and FITNESS!! Remember that this challenge is NOT about slogging out miles or grinding out another workout. It IS about finding something gets you moving AND makes you smile in the process! If your workouts aren't making you smile right now – try something new! And don't forget the sidebar image to show your support, if you're a blogger.
Then come back to THIS POST and comment with what you did to #MoveHappy. Remember, you need 3 comments to be elibigle for this week's prizes. Then you can get EXTRA entries by sharing Instagram #MoveHappy photos with the hashtag and tagging @sprint2thetable and @FITaspire (my new name!). I also encourage you to search the hashtag, encourage other, and make a few new friends!!
Week 1 is complete!! Head to the Week 2 post to find the winner and how to enter for this week!
*********************
Questions for you:
What's one way you're planning to #MoveHappy this week?