There's are TWO exciting things happening on July 1st. And one of those things is the 2nd Edition of the #MoveHappy Challenge! The challenge is back to help celebrate some big changes that are planned around here. I'm not ready to let the cat out of the bag quite yet, so I'll just say it's going to be even better than veggies.
What is the #MoveHappy Challenge?
It's been 6 months since the first challenge and I want to encourage you to keep it up all year long. And this time, it's bigger than ever. Laura, from Sprint 2 the Table, is joining the challenge as my co-host and we're challenging you to ENJOY fitness this month. Doing something that makes you smile and gets you moving, that's what the hashtag #MoveHappy is all about!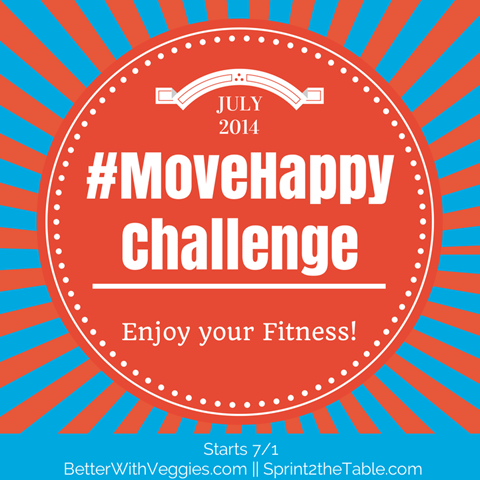 Instead of viewing fitness as a chore and something you "have to do", we want you to focus on how it makes you feel. Use this challenge to find what gets you moving AND makes you smile. It's about making fitness fun – which we think is the key to making it a part of  your lifestyle.
To keep you motivated all month long, we will choose a winner each week for some awesome prizes. The challenge starts July 1st and ends August 2nd.
[Tweet "Are you up for the #MoveHappy Challenge? Get all the details today from @FITaspire & @sprint2thetable. #FitFluential"]
How to Participate
To be eligible for each week's prizes, you will want to record at least 3 #MoveHappy workouts on the official #MoveHappy post of the week. The first week, that will be my post — the second week, that will be Laura's post — and it will continue alternating like that throughout the month. Don't worry, we'll remind you where to record your progress each week! You can check out these ideas to get moving.
This time, you can also earn BONUS ENTRIES by sharing your progress on Instagram. After you have recorded your 3 workouts on the official blog post, you get extra entries each time you share a #MoveHappy photos on Instagram, including the hashtag and tagging @sprint2thetable and me. You'll want to actually share your #MoveHappy workouts to be counted, not a picture of you lounging by the pool. Although you should do that too just because you can.
Remember, 3 comments on the official blog posts are the key. Any extra comments and instagram photos are bonus!!
PRIZES!!!
Each week, we'll randomly select a winner from all participants who have shared at least THREE #MoveHappy workouts on the official post of the week. The winner will get some amazing prizes to encourage you to keep moving and smiling. I'll share the details at the start of each week, but here's a little sneak peak of what is up for grabs:
Week 1 (July 1 – 6): prizes from Fabletics & Quest Nutrition
Week 2 (July 7 – 13): prizes from Nutrex Hawaii & Quest Nutrition
Week 3 (July 14 – 20): prizes from Vega & Quest Nutrition
Week 4 (July 21 – 27): prizes from Growing Naturals & Quest Nutrition
Week 5 (July 28 – August 2): prizes from Sizzlefish (affiliate) & Quest Nutrition
Are You Ready to Take the #MoveHappy Challenge?
You don't need to sign up this time around, but we'd love your help to spread the word! Share your excitement by sharing this post with your family & friends on Facebook, Pinterest, Twitter, Instagram, Email or wherever makes sense for you.
[Tweet "I'm in!! Excited to join the #MoveHappy challenge in July and make fitness fun w/ @FITaspire and @sprint2thetable!"]
If you're a blogger, I encourage you to add this logo to your sidebar to join the #MoveHappy movement:
Let's spread the word and make Fitness Happier this summer with #MoveHappy!!
*******************
Questions for you:
Are you up to the challenge?
What does #MoveHappy say to you?