One of the barriers for runners trying to increase their mileage, no matter what distance that is, is the mental aspect. At times, it can feel like you've been running forever – only to find out it's only been 10 minutes. Ugh!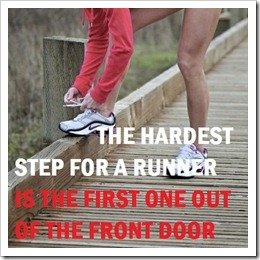 (source)
Running Distractions
Luckily, there are some tricks you can use to occupy your mind and help make runs fly by, or at least go by a little faster.
1. Music: This one is pretty common, but that's because it works. Grab a pair of headphones and a mp3 player and add a soundtrack to your run. In this day of smartphones, you probably don't even need a separate device! If you forget your headphones and aren't in an area with lots of pedestrian traffic, you can even use your smartphone speakers to blast your favorite tunes.
I really have used my phone speakers for music on several recent runs, but do be careful that you don't annoy others around you. I run on residential streets where there aren't a lot of other runners, so just use your best judgement. 🙂
2. Audiobooks: I LOVE listening to audiobooks on runs. This is particularly awesome when you are going through a low-motivation period in running. Pick a really good audiobook and make a deal with yourself that you'll ONLY listen to it when you're running. You'll be amazed how much easier it is to lace up your shoes and get back to your book!
I am a member at Audible and adjust my membership to get more or less credits, depending on my planned running mileage for the month. I also use audiobooks on my drive to & from work, so I'm able to "read" a lot more often than I used to!
3. A baggie (or pocket) of small treats: For those with higher mileage, a good trick is to have a baggie full of small treats – one for each mile you are running. You get to eat one treat for each mile, which helps count down the miles as you go! I've heard of people doing this most often with half marathons & marathons, but it could work for whatever distance is long for you.
4. Interval Workout: I use this trick most often on the treadmill, but it works indoors and out. Going out for a straight run can sound long, but if you have a workout that breaks the run into smaller steps, you can focus just on the next thing you're going to do. For example, instead of running for 30 minutes, try this quick interval run:
5. Friends: When the tricks above still aren't working for me, it's time to recruit a friend! Ask around at work, the gym, school, anywhere! You can always run part of the distance together, if your running buddy has more or less miles on their schedule. Having someone to chat with along the way will help make the journey more fun and motivate you!
6. Cheerleading: This last tip is one I use to make the miles go by faster at races. When I'm starting to struggle, it's better to take the focus off myself and onto someone else. Make it your job to cheer on others running around you. If it's an out-and-back course, cheer on the runners coming toward your (whether they are ahead or behind you). I know this sounds weird when you're already tired, but it really helps to focus on others!
I'd love to put together a series of posts answering your running questions – what do you guys want to learn about? Send me your questions or ideas via email or in the comments!
Tuesday Trainer
It's Tuesday Trainer time again – hosted by Lindsay of Lindsay's List! This week's theme is "My Go-To Vanity Move" and there's sure to be a great workout created from moves from trainers across the web.
This week, I shared my latest killer move – and I mean the move that's been killing me – called the Body Saw. This one is easiest performed with a TRX, but I think you could also use a Bosu Ball or something similar that sits above 3-4 inches above the floor. If you are using something stationary, you'll want to have socks on, so your feet can slide.
Be sure to head over to Lindsay's List by clicking the Tuesday Trainer button above for the full workout!!
Any good audiobook recommendations to share? I think I'm going to need a good book for this weekend's 50K craziness!