I realized it has been a week since I shared my struggles with training consistently. I promised to keep you in the loop and then didn't mention it for a week – oops!!
So how have things been going? Pretty well! Not perfect, but I've been moving more and getting in most of my workouts every day. The good? I haven't skipped any workouts! The bad? I've had to cut a few workouts short! I have good excuses for the shortened workouts, but I don't want excuses – I want commitment and better planning. That being said, I'm not beating myself up about it, because I am getting workouts done and I'm doing what I can instead of skipping them when I know I can't fit everything in. I think that's progress and certainly better than nothing!
A few #PROOF pictures from the past week!
I also found a goal that inspired me on Monday – the Runner's World Summer Run Streak! I've been super-crazy recently, so I haven't been as connected online as normal, but I did see someone mention it on twitter while we were at the airport on Monday. The challenge is to run every day (at least one mile) starting Memorial Day & finishing the Fourth of July. Since I'm not really training for a race right now, this really sounded intriguing and a great way to get a workout in even when life is crazy – I always have time for a mile!
So far, I know Linz and Becky (and her hubby) are also participating. Anyone else joining the fun with us?
Question — I've been considering doing a workout recap & planned training post on Sundays – is that something you guys are interested in reading?
********************
And now it's time for this month's Foodie PenPal reveal!! This month I received a box of goodies from Kim, who sent me some goodies from for eating on the go. 🙂
Kim must have known about all the travel that was coming up, because she sent some great airplane snacks for munching on the plane!! Let's start with popcorn, a classic snack but with a flavorful twist: jalapeno & sea salt/cracked pepper. Guess which bag I opened first? If you didn't automatically think Jalapeno, you must be a new reader – Welcome!! 
The Jalapeno has a surprising kick and not too salty! I haven't tried the salt & pepper yet, that sounds like a good one to bring on the plane next week (for my first week of work in Colorado!!).
Next is two different packages of dried fruit. Everyone loves banana chips, right? How about a variety of dried fruit? Both are great snacks for a sweet treat without the chocolate and something I wouldn't have bought myself (so great to receive!).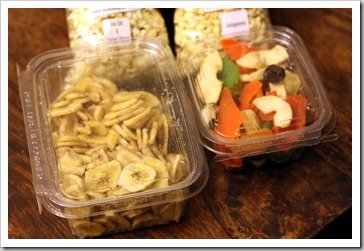 And that's this month's Food PenPal review! I'm going to sit out for at least next month with all the move craziness, but I'll be back as soon as I have a new mailing address! But that doesn't mean you have to miss out on the action – you should sign up for June:
Here are the basics you'll want to know about the program:
On the 5th of the month, you will receive your penpal pairing via email.
You will have until the 15th of the month to put your box of goodies in the mail. On the last day of the month, you will post about the goodies you received from your penpal!
The boxes are to be filled with fun foodie things, local food items or even homemade treats! The spending limit is $15. The box must also include something written.
You are responsible for figuring out the best way to ship your items depending on their size and how fragile they are. (Don't forget about flat rate boxes!)
Foodie Penpals is open to blog readers as well as bloggers.
Foodie Penpals is open to US, Canadian residents & UK residents.
Ready to sign up? Visit Lindsay @ The Lean Green Bean to sign up from US & Cananda. Email Carol Anne from This Is Rock Salt at to get involved!
*******************
Questions for you:
How are your workouts going this week?

What is your favorite airplane snack?