This week's recipe was inspired by the VeganMoFo Iron Chef Challenge of the week: coffee & bananas. Kirk is really the brains behind this creation, it's a good thing I keep him around for things like this! 🙂
This recipe is heavily influenced by Cuban flavors, with smoky black beans, caramelized onions, and grilled bananas (think black beans grilled plantains). The outcome was delicious in my opinion – the espresso is a subtle flavor in the tempeh, the grilled bananas are really the star. I love the way the smoky/spicy flavors complement the sweet grilled bananas and caramelized onions.
The presentation looks better layered, but I would suggest mixing everything together and really letting all the flavors combine to eat – YUM!
Espresso-Chili Tempeh with Grilled Bananas
Cuisine:
vegan, vegetarian
Author:
Ingredients
1 package tempeh
1 cayenne pepper, chopped (ours was fresh from the garden)
2 tsp dark roast espresso, ground
2 tsp chipotle chili powder
2 1/2 tsp smoked paprika
3 tbl agave nectar
1 cup rice
1/2 cup onion, thinly sliced
1 tbl olive oil
1 cup black beans, from can, rinsed
1/2 tsp cumin
Instructions
Prepare rice according to package directions, omitting salt and butter. Line grill with foil and pre-heat for at least 10 minutes
Heat 1 tablespoon olive oil in small sauté pan over low heat. Add sliced onions and cover. Allow onions to caramelize for 30-45 minutes, stirring occasionally.
Combine the cayenne pepper, espresso, chili powder, & paprika in food processor (or spice grinder) and grind to a powder. **If you don't have fresh cayenne, you could replace with cayenne powder.
Slice tempeh into 6 slices. Drizzle 1 to 1 1/2 tablespoons agave nectar over tempeh and rub in to coat. Rub in spice mixture from above and set aside for about 15 minutes.
Slice two ripe bananas in half and lengthwise. Drizzle 1 to 1 1/2 tablespoons agave nectar over sliced bananas and set aside for 5 to 10 minutes
Once onions are caramelized, add black beans, cumin, and 1/2 tsp smoked paprika. Cook for 5-10 minutes, slightly mashing the beans as they cook.
Grill tempeh for 5 minutes each side, allowing tempeh to thoroughly heat and brown. Remove from grill.
Spray grill with cooking spray. Grill bananas for 3 minutes each side, allowing bananas to get slightly browned.
Add 1/2 cup cooked rice and 1/2 cup black bean mixture to plate. Top with 2 prepared tempeh slices and two slices bananas.
Marinating Tempeh – overflowing with Agave Nectar
More pictures of the finished product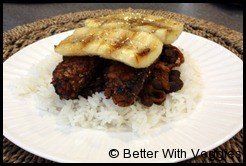 It's obviously time to invest is non-white plates, so the white rice doesn't blend right in. 🙂