One of the appeals of running is the simplicity — just grab a pair of shoes and go, right? For many of us, following the simple start comes a long list of questions to help become a better runner and reach new goals.
How do you improve as a runner on limited time?What do I need to know about Ragnar?
How do I increase my speed?
Do I need to worry about skin cancer?
If you have running goals in 2017, then the Real Runners Virtual Summit will help you tackle those goals in a safe and strategic way. And I'm thrilled to be one of 23 expert speakers covering topics from hot & cold weather running, injury prevention, strength training for runners, nutrition, and so many more.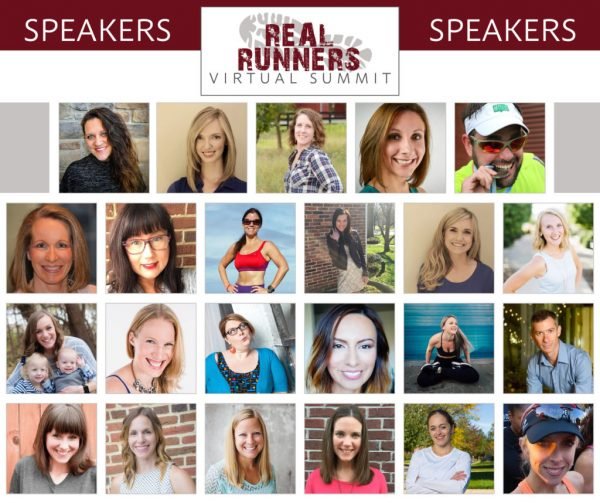 This is going to be a great way to learn how to improve yourself as a runner, with so many experts ready to help you learn how to improve all aspects of your running. I am really looking forward to learning from the other speakers, because we can all learn something new!
How Does the Summit Work?
The summit officially beings on February 20th and lasts 10 days. Each day, you will receive an email with links to 2-3 videos/mp4s to view or download. You'll also connect in the private Real Runners group with questions and further discussion on each topic. I love that there is a download option to listen on the go. 

What's Included?
Access to 26 master sessions. (over $2600 value)
Mp4 downloads of each session. ($260 value)
A private Facebook community for our Real Runner Speakers and Real Runner Participants to engage and connect.
Bonus #1: Glenneth Reed's Beginner Basics
Bonus #2: Lauren Boldizar's Time Management Tips
Bonus #3: Jasmin Niemiec's Fitness Business Checklist
Bonus #4: Katie Heddleston's Food/Mood Worksheet
Lifetime to Access all Master Sessions (Priceless)
[Tweet "Learn how to improve as a #runner this year for less than $100! #fitfluential"]
Did you notice that the speakers will also be part of the community? You'll get the chance to talk directly with speakers (including me!) to get all your questions answered through the summit.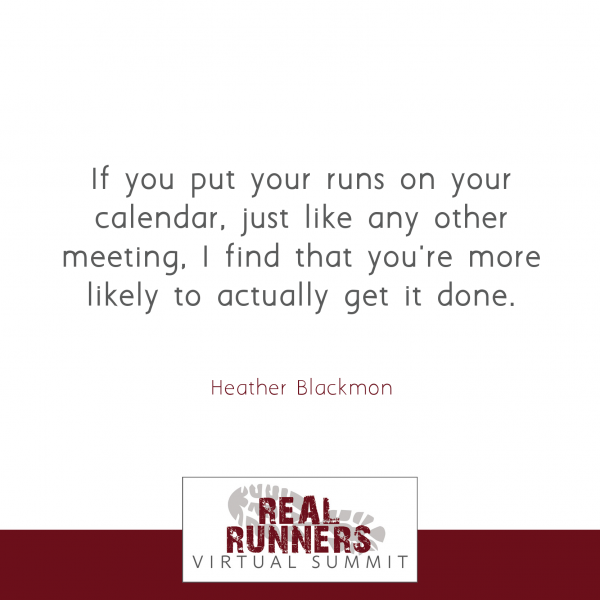 Here's a list of the speakers & topics included in the summit this year:
Lauren Boldizar: Strength Training for Runners, The Benefits of a Run Community
Jill Grunenwald: Advice from the Back of the Pack: Stories and Inspiration
Lauren Bailey: Choosing the Right Race for You and the High's and Lo's of Racing
Kristen Van Horn: Fostering the Younger Runner
Heather Blackmon: The Benefits of Essential Oils for Runners <– That's me!
Katie Heddleston MS, RD: Host/Conversation Facilitator Nutrition for Runners
Dr. Jason Karp: Common Injuries & Prevention How to Increase Speed
Jenna Carelli: Tips for Building Your Run Coaching Business
Jamie King: Community with #Sweatpink Co-Founder | Ultrarunning
Jessica Lucana: Running Post Childbirth: Common Complaints and What to Do
Amanda Marks: Ragnar Relay Expert: Relay Racing, What to Expect, How to Prepare
Glenneth Reed: It's Okay to Walk! What to Expect at Your First Race
Jasmin Niemiec: From Runner to Run Coach: How to Know You're Ready
David Hylton: Community and Brand Basics with #RunChat Co-Founder
Debbie Casola: Running through the Decades, Skin Cancer Awareness
Abby Land: Overcoming Obstacles and Setbacks & How to Keep Going
Alyse Mason: Community & Working with Brands with #Sweatpink Co-Founder
Hollie LOLZ: Running Shoes: What to Expect at a Running Store, Getting Fitted, Socks
Rachel Frutkin: Tips for Cold and Hot Weather Running
Lora Johnson: Benefits of Working with a Run Coach Coaches Corner Information
Susie Lemmer: Running is Free… but is it? Gear and Race Talk
Annie Powell: A Journey w/ Mental Illness & Fitness #OwnitDaily Movement
Mindy Bobe: Personal Journey of Weight Loss, Maintenance, and Run Streak
I'm super excited about this summit and I hope that you are able to join me (and the other amazing speakers) for 10 days of fun, learning, and community!
What do you want to improve or learn as a runner this year?
[Tweet "Join me at the virtual #running summit & reach your goals! #sweatpink"]