A few weeks ago, I was able to run the Ragnar Relay Colorado with 11 other amazing women. I didn't know much about the race before (and didn't even know many people on our team), but this turned out to be one of the best running event experiences I have had! 
To help you decide if a Ragnar Relay is something to add to your schedule, I'm going to cover everything you need to know about this unique running event.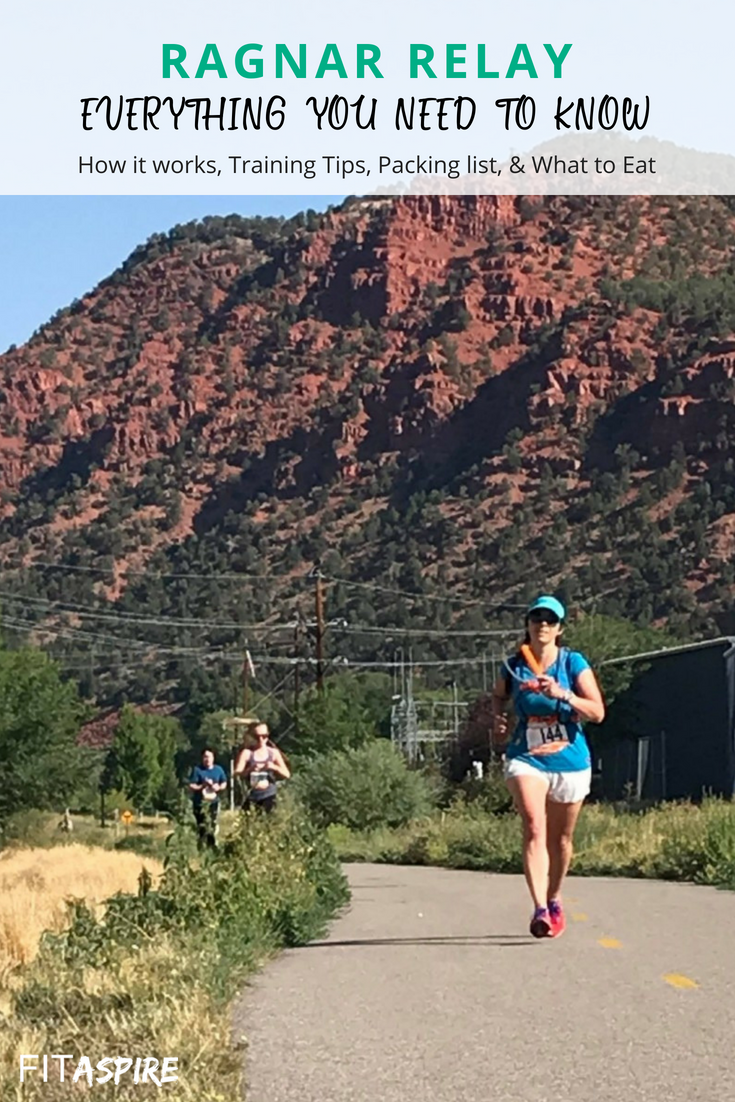 How does it work?
Ragnar is a relay race, which means teams of 6 or 12 runners take turns running the full 200+ mile course. Typically, each runner is assigned a number (corresponding to a leg of the race) and the team rotates through in that order until you reach the finish. Each leg is a different distance and difficulty, so each runner may need to train differently based on the runs they are assigned.
For Ragnar Relay Colorado, we had a team of 12 women split into 2 group (each in their own van). I was runner #3, so I was in the first van with the first 6 runners. All 3 of my runs were around 5 miles, mostly flat to downhill with some rolling hills. The runs happen around the clock from the start to finish, so my second run was in the dark (finishing around midnight).
As the relay starts, each van will take turns following their runners from point to point. As one runner finishes, they hand off the baton (or slap bracelet for Ragnar) to the next runner. Then everyone piles back into the van and drives to the next handoff point. After the 6th runner, both vans meet for the handoff to the next van. 
As the team splits into 2 vans, the downside is that you don't spend much time with half your team. You really only see the other van at hand-off points, until the end of the race. When your van isn't running, you'll want to eat or sleep. We were lucky and our mountain condo happened to be along the course, so we also had a chance to shower between legs and sleep in a real bed! This isn't a normal perk, but honestly I would consider renting a condo along the course to allow for showers/beds in the future.
What to Expect (+ Training Tips)
A relay race has a few important differences as compared to other running races. Knowing what to expect will help make your relay a fun experience, instead of a frustrating one. Here are my tips on what to expect, so you'll be ready for the best Ragnar Relay experience:
You'll be running multiple times over a 2-day period. Remember this during training and make sure to plan multiple runs in a similar period. I planned 3 runs within 24 hours — AM + PM Run on Day 1; AM Run on Day 2
Living out of a van with 5 other people can be close quarters. I recommend packing conservatively (smaller bag) and keeping your things together. The van will feel pretty small if it's covered in stuff between legs.
You probably won't smell great after your run, so bring wipes to clean up between legs. I also brought a car diffuser and On Guard oil to clean the air in the van — this made a HUGE difference!
Switch out of your sweaty & smelly clothes as soon as you can after the race. You'll feel better and it will cut down on the van funk. You can seal your clothes in gallon zip-lock bags after each leg to keep the smell very contained.
There will be a night run. I have never trained for a night run, but you could practice this if it's something that makes you nervous.
Keep a positive attitude. Stuff will go wrong. In our case, we had a van breakdown and a replacement didn't arrive until after the second van had to start! It's a long story, but if we hadn't stayed positive and laughed through the frustration it could have easily ruined the experience.
Cheer on your runners as often as you can. Even better — bring cowbells!! It's an amazing mood boost when your van passes you along the course & everyone is cheering and ringing cowbells as loud as possible. And don't forget to cheer on all the runners you pass along the way, not just your own team
PRO TIP! Use google maps to track runners along the course (this works for both android & iPhone users). I didn't realize this was an option until the race, but you can share your real-time location with your team. This makes it easy to track exactly where they are on the course and prepare for the next hand-off.
Looking for more help training for your Ragnar Relay? Check out our online coaching and training plan options.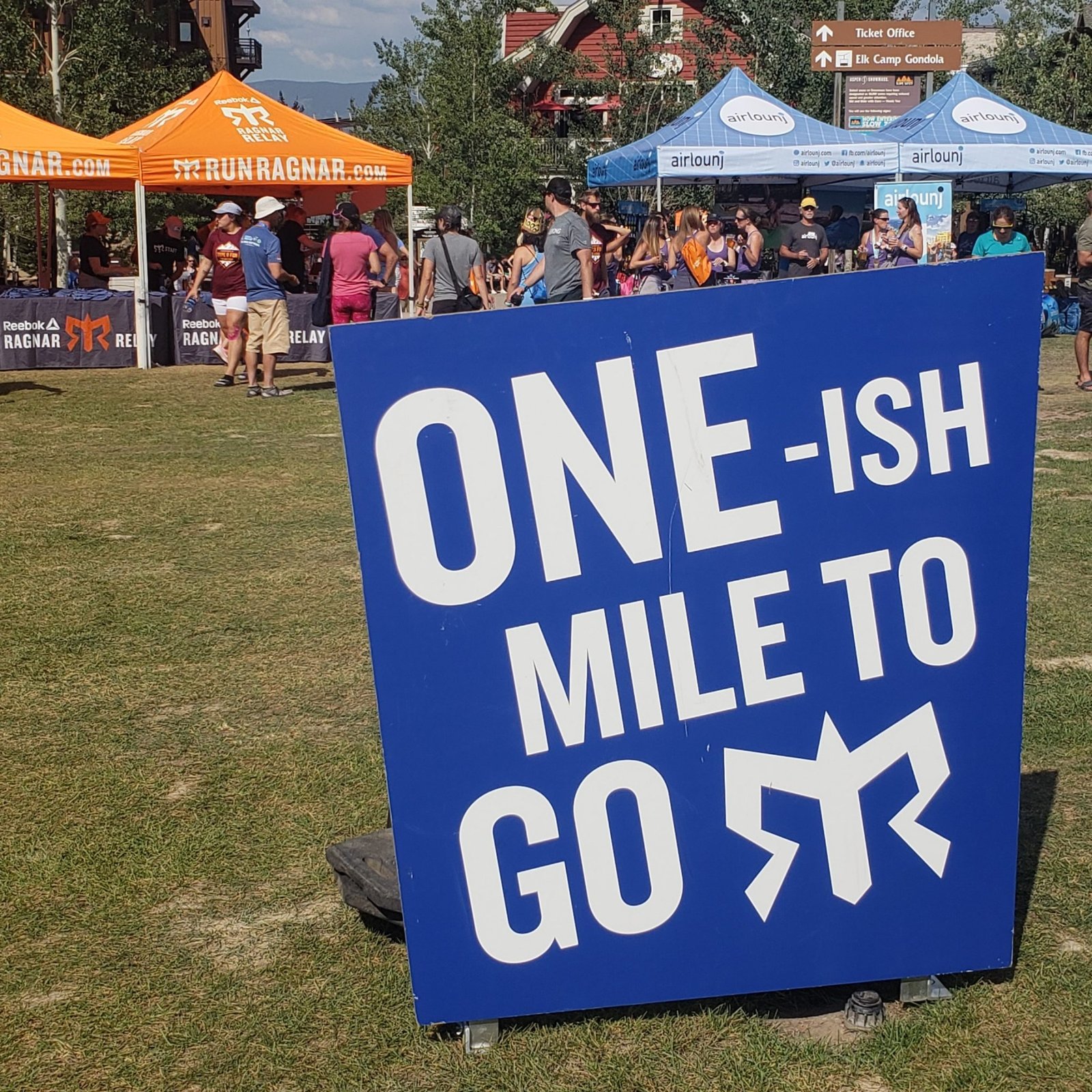 Relay Packing List
You'll be living from your bag/suitcase for the 30+ hours of the race, but since you'll be spending most of your time in a van – you want to pack efficiently. I asked other runners who had done relay races in the past to share their packing list and then customized it to fit my needs.
Here's my final packing list that you can use and customize for your own Ragnar Relay race:
Running Gear
3 complete running outfits, each packed in a gallon Ziploc bag.
Headlamp (can be shared among the team)
Running hat or visor (in case it is raining or sunny)
Sunglasses
Sunscreen
Hydration backpack
2 pair of running shoes (it's good to have a backup just in case one pair gets wet.)
Running jacket (and/or rain jacket)

Not Running Stuff
Towel
Shower kit/Shower wipes
Sleeping bag or blanket
Flip flops
Sweatshirt (to wear while in the van or outside cheering on your teammates)
Sweatpants/PJ Bottoms (see above)
Hair Brush
Hair ties and/or headband
Toothbrush/toothpaste/mouthwash
Phone + Phone plug
Running Watch + Watch plug
Cash/Credit or Debit card
ID (for adult beverages after the race)
Sore Muscle relief: Deep Blue Rub + Oil
Eye Mask
Earplugs
Deodorant
Food/Drinks
Snacks (think you are used to eating around running)
Electrolyte drink/Coconut water
What to Eat
Running nutrition is individual, so my exact approach may not work for you. The main thing here is to stick with the basic race rule: Nothing new on race day!! If you don't normally eat a certain food around running, don't start during the relay. Stick with foods you know how your stomach will handle on the run — even when you have a few hours until your next leg.
I took a very different approach, as compared to the other runners on my team. I've struggled quite a bit with GI issues in the past, which led me to research this topic (and nutrition certifications) over the past several years. What I have found works best is a low carb/high fat (LCHF) approach, with a focus on metabolic efficiency for endurance training & racing.
As I rarely eat packaged snacks or drinks, I brought homemade snacks that fit my low carb/high fat approach and skipped the packaged stuff. This worked out great & I didn't deal with stomach issues during the event. If you typically deal with GI issues on longer races, it may be time to consider Metabolic Efficiency and adjusting your nutrition plan to find an approach that works for you.
Here are the snacks I made for the van, which got some pretty great reviews:
A Ragnar Relay race is very different than a normal race, but I would recommend it to anyone who enjoys running. You likely won't be running any PRs during this event, but you'll make memories that will last quite a while. I hope these tips help get your excited and prepared to sign for one!