I know that my anniversary was over a week ago now, but I finally have a chance to share the full details of our whitewater rafting trip today! Nothing like dragging it out, right?!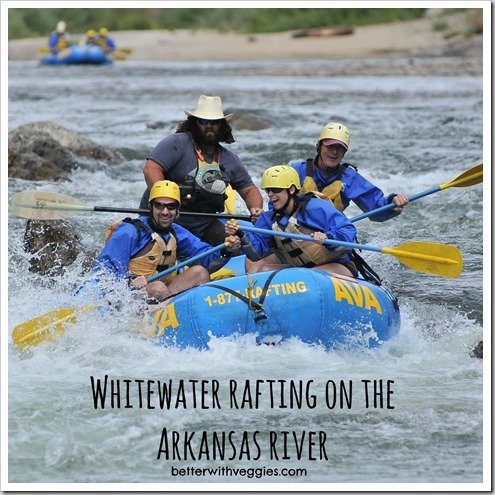 Our original plans for the weekend were to hike a 14er (taking after the tradition of Lauren & Greg), but on Friday night I admitted I was exhausted and really wanted to sleep! We avoided the hike on Sunday, because traffic can be really bad with the construction on Sundays.
After sleeping in on Saturday, we started thinking about ideas for Sunday. When I came up with Rafting, I knew we HAD to do it. We could start our own adventurous anniversary tradition!!
We booked a 3/4 day rafting adventure on the Arkansas River with Arkansas Valley Adventures (AVA). We met at their location in Buena Vista, Colorado at 9AM before getting our gear and taking a drive down the street to load in at the river. I don't listen to directions well, so when they advised we leave all cell phones behind, I just dropped mine in a Ziploc bag and brought it along. 🙂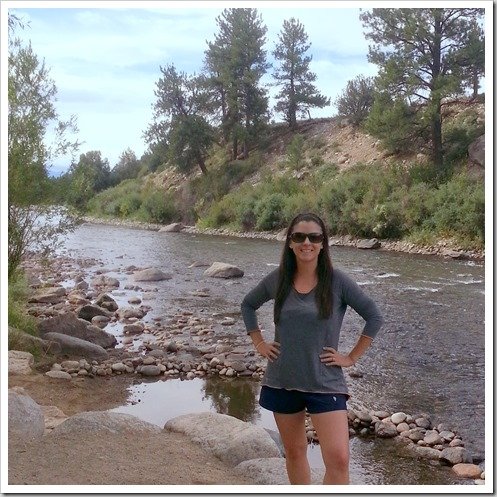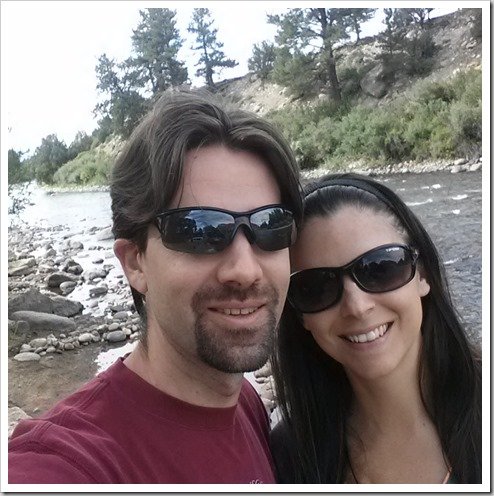 On the drive over they prepped us with all the necessary safety instructions, so when we arrived at the river we just had to learn how to paddle. Kirk and I had both gone rafting years ago, but the refresher was very helpful! We learned how to sit in the boat (so we don't fall out), how to paddle (digging in deeply to really move the water), and the signals (forward one, reverse two, etc.).
The water flow was lower than normal, as they closed the dam the week before our trip, but it was still a great day. We paddled and enjoyed the gorgeous scenery for a few hours (which flew by!) and it was time for our lunch stop before we knew it! While our guides set up and prepared lunch, we took photos and rested our arms & abs.
I was shocked at how much you use your core to paddle, as opposed to your arms. It was one of their tips when we started the day, since your arms would wear out quickly if you didn't engage your core for each stroke. It was an amazing core workout!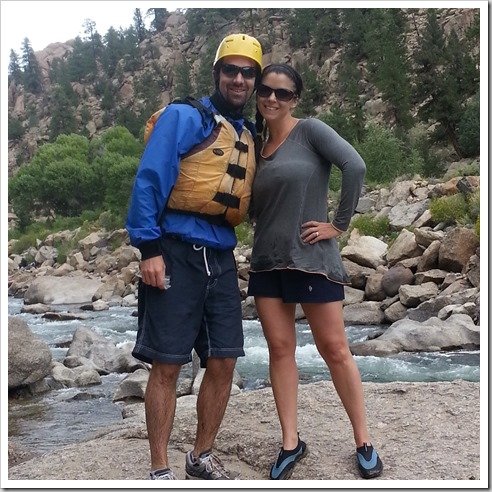 Although I brought snacks for before & after the trip, I didn't pack my own lunch. I planned this as my cheat meal just in case, but the vegetarian fajitas they prepared for us (they had chicken for the meat eaters) were actually fairly easy to stay on diet.
I may have also had a bite of Kirk's brownie that he topped with peanut butter. It was delicious.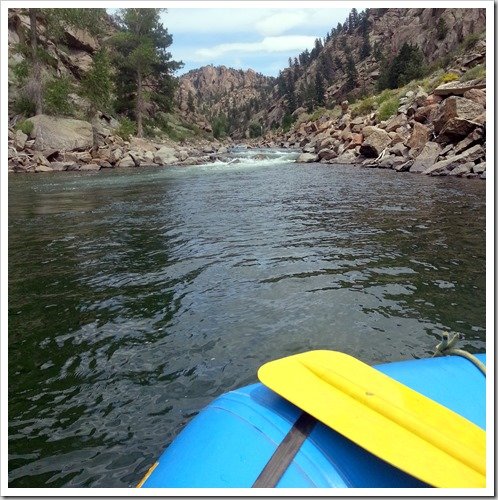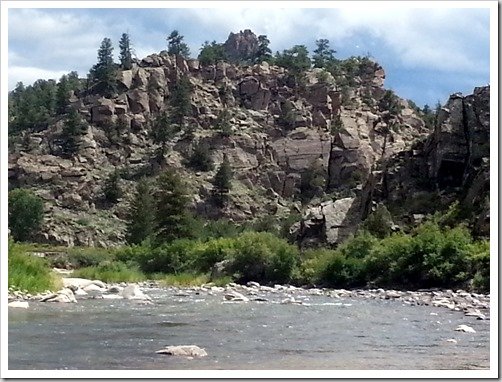 After lunch we got back on the river and got back to business. We hit some of the "bigger" rapids on this half of the trip. It was so much fun when we really bumped around and the water started flying – I can't wait to try this again when the river is at full strength next year! There was one small section that was so low that we actually walked around while the guide maneuvered through the low water (less weight in the boat).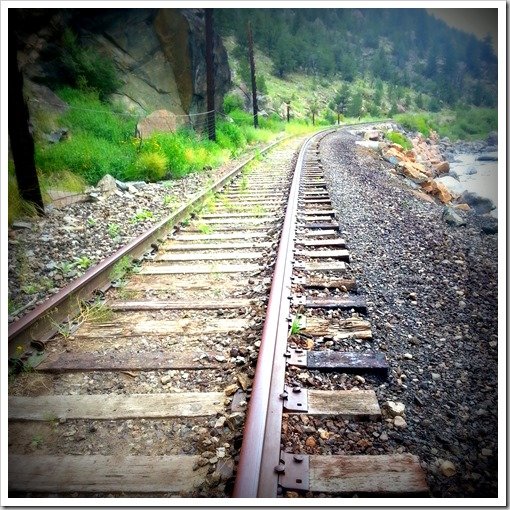 We finished our trip around 2:30 and headed back to AVA in Buena Vista to return the gear and get our cars. We were wet, but not soaked. I switched into a dry shirt for the drive and we headed home after a great day on the river.
My only regret is that we waited until the end of the season to give this a try. It's a good thing we're not leaving Colorado any time soon, so we have plenty of time to hit more rapids next season!
*******************
Silk & Ellie Giveaway Winners!
I forgot to announce a giveaway winner yesterday, so today there's two chances that you might be the winner! If you won either one of these giveaways, please email me within one week with your address & phone number this week to claim your prize.
First up is the winner of the Silk giveaway! This person will get 10 Silk Cartons (in coupon form). That a lot of recipes to enjoy. 🙂
Next is the winner of the Ellie giveaway! This person get's two choose any two pieces from Ellie (excluding the Signature Collection).
If you didn't win this time, I hope you'll check out these brands in the future. I love them both and use them all the time!
********************
Questions for you:
Have you been whitewater rafting?

If you had to choose one – food or adventure – what would you do for your anniversary?