For a few years, I've toyed with the idea of an ultra-marathon. I love running new distances and after having completed 6 marathons (including Ironman), I was really ready for a new challenge. I may not be the fastest runner, but I am a patient runner and generally enjoy running long. The thought of a 50K sounded crazy, but at a little less than 5 miles more than a marathon, it should be possible. This weekend, I put that theory to the test.
Video Recap
For this race, I created a video recap of my race experience. It's a little long (15 minutes), so you might want to bookmark this post and come back when you've got some time.
Race Splits
You can see where things started to slip and where things got a little better. Miles 23 and 25 were the worst, I think that's where we stopped to try to stretch out my knee. The total time shown here does not include me changing clothes or 1 potty break, my official time is 5:11:31!!

I originally thought I won my Age Group, but I must have done something wrong when filtering the results. It looks like my AG was 30-39 and I actually came in 5th out of 7. I was the 10th female, out of 24 females and the 44th out of 81 runners. I think this is pretty good for first attempt at this distance. 🙂
Written Recap
In case you can't watch the video (or don't like videos), here's a written recap. It's not exactly the same as what I covered in the video, but I'm giving you a couple of options this time!
I got dressed in lots of layers, so I would be prepared for the temperature swings in the forecast. The starting temps were in the mid-40s, with the finish temps projected for the low-60s. I wore my Zensah calf sleeves, running skirt, lightweight running tights, sports bra, short sleeve shirt, arm sleeves, and vest – I was prepared! Even Stuft Mama's Flat Kitty (see left picture below) was ready to go!
This was a low-key, small race – only 150 racers across the distances (50M, 50K, and 30K). The 50M distance started at 7:30, 50K at 8:30, and 30K at 9:30. All races were run on the same 4.88 mile loop, which a little extra out-and-back at the start to get the extra mileage necessary for each distance. We parked near the start, right on the race course – which made it easy to have my own personal aid station at the car.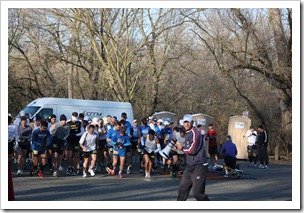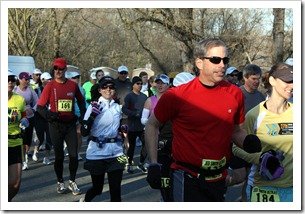 The out-and-back distance for the 50K was almost exactly 2 miles on a well-groomed, wide "trail". I fell into a comfortable pace with two other girls and listened to them chat about other Ultras they had done and had scheduled for the year. I realized how inexperienced I was with this group – it's humbling to realize that you are so new and a "short-distance" runner in this crazy/awesome pack. I know many of you think I run a long ways, but I was seriously outclassed here. Many around me had done at least one 100M race – this was a short distance to them!
Flat Kitty enjoying the scenery
I kept a sharp eye on my pace the entire race. My plan was to run "easy" – no faster than a 9:15. I did a pretty good job at this and settled into the pace with little thought after the first few miles. I was able to keep this average consistently through about 20 miles, which I was really happy about.
As I finished the first loop, Kirk was there with camera in hand and cheering me on! I was getting warm, so I pointed toward the car and stripped off my tights and vest, grabbed two fresh bottles of water (I wore my FuelBelt with just 2 bottles), a gel, and headed off again.
The second lap went by really fast, although I did start to feel a little pulling on the inside of my left knee. I hadn't had that problem in training (of course), but it was just a dull ache and nothing to worry about. I passed Kirk my arm warmers after this loop and asked him to fill one of my next bottles with the Vega electrolytes. It was really starting to warm up and I wanted to try to manage the "heat" as much as possible.
The third lap was good and coming down the hill on this lap was exciting – I as over halfway done! Yikes I've run 16 miles and I'm just over halfway done? Wait – stop thinking about that and just run! I grabbed my refill bottles and gel from the car and took off again – only 3 laps to go! Hey…if I keep this pace up I'll finish in under 5 hours!
Right before I hit that 20 mile mark, I realized the knee pain was getting a little worse and I allowed a short walk break. I came down the hill of lap 4 just a little off my pace, but not too bad. Then I saw Kirk in his running clothes – YAY!
Kirk ran with me for the last two laps, which was awesome. It was an open course, so it didn't interfere with any other runners. Shortly after he joined me, I started a little more walking – up the hills to manage the knee discomfort. Then I tried to stop and stretch it out, even laying on the ground and trying to figure out how to twist to stretch out that spot. I realized later, that stopping was a bad idea. It made my knee really lock up and getting going again was difficult. We walked and stopped and stretched a lot on this loop, but I worked at keeping a good attitude and doing what I could. No time goals, let's just get through this. Even with all that mess of the 5th lap, I was just about at my PR pace for the marathon. Wow!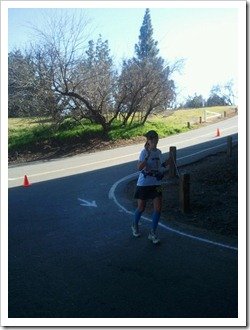 The last lap was much better, I was able to push through and get my knee moving manageable, with far less walking this lap. I was tired, I'll admit it, but with each step I got closer to finishing my first Ultra! My watch beeps every mile, so with every beep we celebrated. Only 4 miles left…Only 3 miles left….2 miles left…On my gosh – only 1 mile left!!!
Coming down the last stretch, there are a lot of people (spectators and runners who have already finished) hanging out. I "encouraged" them to make some noise – this was my first 50K and I was almost done! =)
Crossing the finish line is very low-key, no medals, no screaming fans packing the chute (other than Kirk!), but it was still awesome! I was so happy to sit down (yea, you're supposed to keep moving, but I wanted to sit for a second) and Flat Kitty joined in the finish line celebration with me.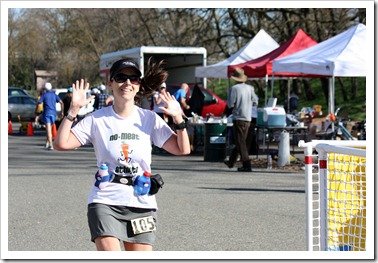 Overall, this was a fabulous race experience. As much as I complained about a 6 loop course, it was actually great! Being able to carry very little on each loop, change wardrobes as the temp changed, and breaking the distance down into smaller segments was great! The volunteers and spectators along the course were GREAT, even those that were out doing their own workout took a few seconds to cheer us on along the way. The course was more rolling that I expected, but in a good way. Too flat can start to wear on your legs in different ways. I could have done without the steep downhill at the end of each lap, but it was okay.
—————
Okay – what did you think? Video or written? I really would love to hear your opinions on this one!
What's the longest race you have done so far? Any long-term aspirations for running races to share?
Do you like to travel for races or do you prefer races near home?