Note: PV Body relaunched as Ellie in February 2013. You can still take advantage of the 20% discount off your first order using the link below. You can also read my review & details about the new Ellie program here, including a discount link. 
********************
Do you remember me complaining about my lack of cute workout gear? If not, I'm glad you didn't notice that I complained. I always have plenty of stuff to run in, but it's usually old race shirts and shorts or pants I've owned for years. For some reason, I never found time (or money) to buy cute stuff for training.
Well, today I want to tell you about a new company I'm excited is going to help me fix that problem….PV Body!
What's the Deal?
If you haven't heard of them before, PV Body is a monthly subscription box (a Fit Box) that sends you a fitness outfit that fits your style. For $49.95 a month, each Fit Box contains a top and bottom that is customized to your profile and is valued at over $100! So basically, it's a new outfit that's at least 50% off every month!! For someone like me who is in need of cute fitness clothes, this sounds amazing and I jumped at the opportunity to give it a try!!
How do they know your style? You take an online quiz to describe your workout style. The questions are things like:
What is your favorite way to stay in shape? I love to run/ I love the gym/ I love yoga/ I love being comfy

What style of tops do you like? Racerback/ Fitted/ Cami/ Short Sleeve/ Long Sleeve/ Loose Fitting

What color palette do you like? Neutral/ Pastel/ Black-White-Grey/ Bold/ Bright/ Conservative

etc….
Once you've filled out your profile, you'll get your first Fit Box customized to your preferences! And if you want to change your preferences every month, you can edit them at any time.
My Experience
My first box came in November and contained long tights by American Apparel and a green cami from Nux. I'm weird about top sizing and the one I got was a little too snug for my liking. . The fun "Be Epic" logo'd shirt fit well though!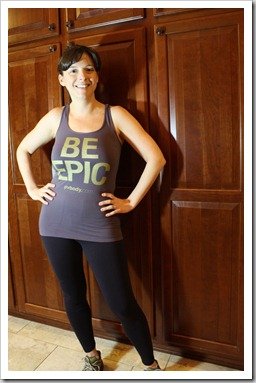 This is where things got off to a rocky start. I needed to exchange my top for a larger size, but after numerous emails was getting nowhere. I was ready to give up and move on with life, because I would never endorse a product here that I feel uncomfortable with or wouldn't buy with my own money.
Then things turned around and I received a special package with a letter of apology, another full bonus outfit, and a Lululemon gift card. Obviously, I would have preferred if everything had gone smoothly from the start, but to see a company admit their mistakes and really make it right is AWESOME! I know that mistakes will happen – it's how a company deals with them that shows their true nature. PV Body won me over here!
So what was in my second package? A pair of crop tights and racerback top, both from Nux! The tights are something I don't think I would have picked out myself, but I'm so glad they were picked out for me. The bottom of the pants are finished with ruching, with a wide waistband at the top. My tummy is my least favorite body part and the waistband has a bit of control, which is very flattering!
Both outfits are actually comfortable, cute, and go easily with other things I have!
The Verdict
You'll notice a new logo in my sidebar for PV Body, because I've decided to sign on as a Ambassador! I'm happy to represent a company that not only delivers a quality product that fits me, but also backs it up when mistakes are made. I'm signing up with my own money in January and I'm excited to see what I get next. I'm going to update my profile, just to get more variety in my workouts clothes.
Now here's the part where you're going to care…

As an ambassador, I can offer you 20% off your own Fit Box from PV Body!! Just use this link (or any link on my page) to sign up and take advantage of 20% off your first month! You can cancel at any time, so don't worry if you only really want one box.
But if you're anything like me, you probably won't want to stop after just one box.
And if that wasn't enough – there's a special January promotion you're really going to love even more!  You can sign up for the 30 Day Challenge to kick start your resolutions!  This is available for both new and current members (or pv.body babes, as they like to call it).
The 30 day challenge provides you with your own personal dietitian and trainer to help you meet your fitness and health goals.  Everyday, the pv.body babes will be given a new challenge that they can share with friends!  Challenges include workouts, recipes, meal plans, group activities and more!  As a challenge participant, you can document your progress through Tweets, Intagrams and Pins with the #pv30daychallenge hashtag.
Follow these steps to join PV Body and the 30 Day Challenge:
Sign up here through my link and receive 20% off.
IMPORTANT: Please note that you will not receive the discount though the challenge link; make sure you click the link in step 1 to receive the 20% off.
I hope you'll join me on the 30 Day Challenge – be on the lookout for my #pv30daychallenge tags on twitter & instragam!. 🙂
*DISCLAIMER: PV Body provided me with the products shown above and, as an ambassador, I make a small commission off of each person that signs up using my link. As always, all thoughts and opinions expressed are my own and I was not compensate for this post in any way other than free product.
******************
Questions for you:
Do you like to workout in cute clothes?

What is your favorite piece of workout clothes right now?