Yesterday I shared my latest group of workouts in training for my first fitness competition. As I mentioned, I'm moving into the "cutting" phase of my training and that includes new nutrition! Today it's time to share my nutrition plan – and a new recipe if you stick around. 🙂
Nutrition Plan Overview
Eat every 2-3 hours, for a total of 7 meals per day (yep, back to 7 meals!)
Each meal is assigned a specific number of grams for protein, carbs, & fat
Unlimited greens, including in at least 3 meals
High Carb & Low Carb Days (hello carb cycling!)
One small piece of fruit each day
One tablespoon of MCT Oil with several meals per day
1 cheat meal per week, 1 glass of alcohol per week (still haven't been told to stop – yay!)
MCT Oil is a new addition to my supplement list, so I did a little research on WebMD.
Medium chain triglycerides (MCTs) are partially man-made fats. The name refers to the way the carbon atoms are arranged in their chemical structure. MCTs are generally made by processing coconut and palm kernel oils in the laboratory. Usual dietary fats, by comparison, are long-chain triglycerides.

Athletes sometimes use MCTs for nutritional support during training, as well as for decreasing body fat and increasing lean muscle mass.
As with most supplements, it says the effectiveness is inconclusive. We'll see from my personal use if it seems to be helpful. I know Ashley has loved the effects in her own use, so her personal endorsement makes it worth a shot!
Now that you have the 50,000 foot view of my nutrition, it's time to see what this looked like yesterday in meals. Yesterday was a high carb day, so my food reflects those macros:
What I Ate Yesterday
Meal 1: Egg white Oats & MCT oil
I started out the morning with my daily supplements and some overnight egg white oats. I'm still figuring out a flavor combo I really like, but yesterday mornings included egg whites, almond milk, rolled oats, vanilla stevia, pumpkin pie spice, and cocoa! Not quite the right proportions for the best flavor yet.
Post-Workout: Green Smoothie
After my workout, I come home & immediately drink my protein shake. Just the basics right now with Vega Sport Protein (vanilla), almond milk, and a huge handful of spinach.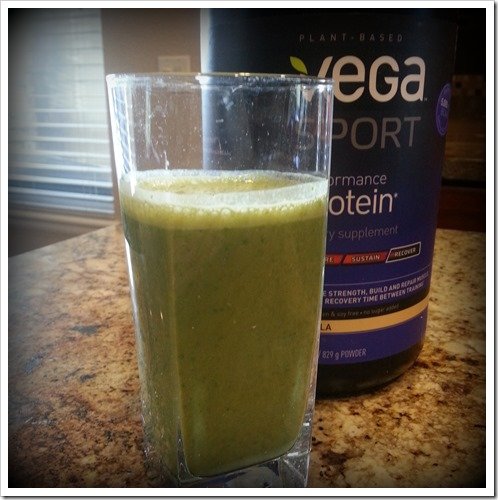 Meal 2: Sweet Tofu & Potatoes
This is going to sound weird, but it's so good! I sprinkled pressed tofu squares & sweet potato wedges with cinnamon, pumpkin pie spice, and vanilla stevia before baking for a while. Perfect little morning snack to munch on during meetings or while working at my desk.
Meal 3: Big Salad
There is no fancy name for this mess of goodness, but there's lots of stuff in this bowl! Filled with spinach, kuri squash, heirloom tomatoes, hemp seeds, seitan, and covered in a citrus vinaigrette (using my MCT Oil). Fantastic – much better than I expected, honestly!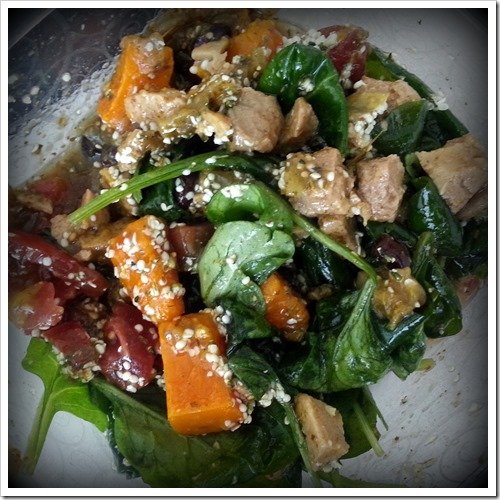 Meal 4: Pumpkin Pudding (recipe at end of post)
Next is my latest tofu creation, a Fall variation of my (vegan) lime yogurt that I have been happily enjoying as my afternoon snack this week! I think silken tofu is my favorite ingredient right now – I've had so much fun with it recently!
Meal 5: Vega One Smoothie + Almond Milk
An easy meal that was really planned when I was out of ideas this weekend, but I forgot how much I liked it! I got reminded of the Vega One shakes last week when I got a box of goodies from my friends at Vega. I bring the single-serving pouches with a blender bottle to work. I have been keeping a container of almond milk in the work fridge, so I just add that to the bottle & shake. Perfect for my drive home!
Meal 6: Fish & Greens
Last on my menu for the day is my nightly fish and greens! Kirk made a tequila-lime tilapia with a cajun kick. He even added a smidge of ghost pepper salt to the greens. Um…yum!
*******************
Ready for that recipe? After making my 3 Ingredient Lime Yogurt last week, I knew this one had to be next. It's easy to adapt to fit your nutritional needs and is super simple! And I think the pumpkin plays nicely into Jenn's most recent spooky theme – a Healthy Halloween Treat! Pumpkin and Halloween are tight, after all. Make sure you head over to her place to check out all the spooky goodies after getting this recipe!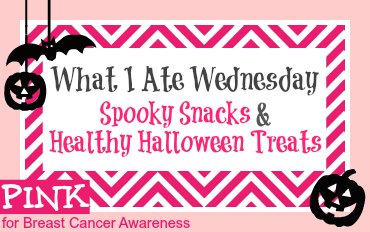 Pumpkin Pudding (WIAW)
Recipe Type
:
dessert, snack
Cuisine:
gluten free, low carb, vegan, vegetarian
Author:
Simple, easy, and clean snack or dessert!
Ingredients
18 ounces silken tofu
1 1/2 cup pumpkin puree
2 tablespoon pumpkin puree
1/4 teaspoon drops liquid stevia
1 teaspoon pumpkin pie spice
1/4 teaspoon. almond extract
1/4 teaspoon maple extract
Instructions
Add tofu to food processor and process until smooth. Add remaining ingredients and process until pumpkin color progresses throughout mousse. That's it – enjoy!
Sarah also shared a version of this recipe if you're looking for other options.
If you like the sound of this recipe, you should check out the #strangebutgood creations over at Laura's blog every Friday. Strange is subjective, but I always get some great ideas from others on this link-up each week. Don't miss it!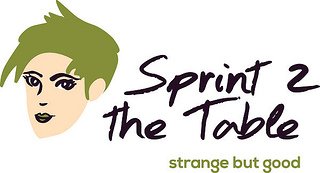 ******************
Questions for you;
Will you keep drinking smoothies through the fall & winter? I will!
What is your favorite ingredient recently?