When I started focusing on my nutrition a few years ago, I learned how effective eating the right balance of macronutrients (protein, carbs, and fat) is to achieving my goals. As I gained more experience in this style of nutrition, I learned that the easiest way to hit my goals each day is to focus on choosing protein-rich foods as the center of each meal or snack.
That's why I was excited to participate in this campaign for the "Protein Pantry" at The Vitamin Shoppe, because having 40 protein-packed foods to choose from makes finding treats you like easy! I had the chance to try a sampling of products from D's Natural, P28 Foods, Buff Bake, Mancakes, FlapJacked, & AboutTime over the last few weeks and found a few new favorites I'll be ordering again!
Why all the protein? It's one of the keys in building muscle, keeping you satisfied, and helps fuel your body with the nutrients it needs!
High-Protein Meal Ideas
One of my favorite ways to start the day is with protein waffles! I know many people make protein pancakes, but there's more cleanup involved when I have to get out a pan. My preference is to use the waffle maker – minimal cleanup required!
From the #ProteinPantry, the P28 White Chocolate Pancake mix was the best consistency for the waffle iron. And the pieces of white chocolate were a sweet addition to each bite (and I don't usually like white chocolate!).
You can make the waffle even more amazing by topping with a runny egg or a protein-packed nut butter.  The D's Natural Fluffbutter was my favorite for waffle-topping, it tastes like dessert (although much healthier)! Or drizzle with Mancakes High-Fiber Maple Syrup for a sweeter toppping.
[Tweet "Meal ideas to help pack protein into your day! #proteinpantry @vitaminshoppe #fitfluential"]
The Flapjacked Probiotic Mighty Muffin Double Chocolate is a snack I'll be stocking up on for my desk drawer. I love have healthy snacks stashed at work for those crazy days when I am stuck at my desk – or when I'm craving something sweet in the afternoon. Just add a little water and microwave – and it tastes amazing!
Another snack staple for me is a cinnamon raisin rice cake topped with nut butter (and maybe a square or two of dark chocolate). There are several protein-packed nut butters in the #ProteinPantry that are delicious (like this P28 High Protein White Chocolate Spread) which makes these healthy fats a better source of protein than usual!
I hope this gives you a few ideas of how to pump up the protein in your meals!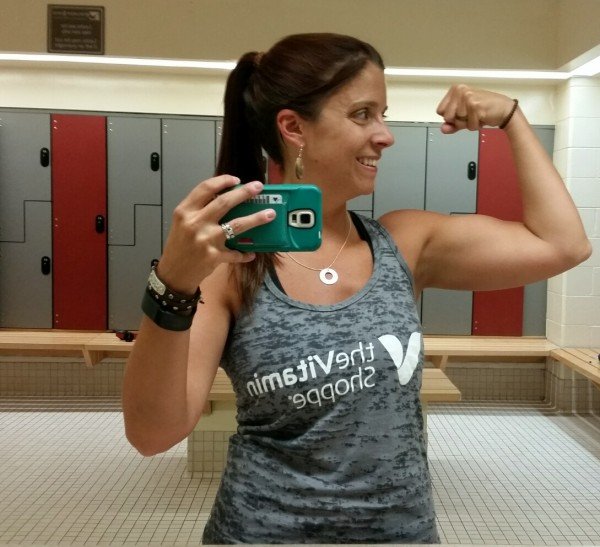 Win a $100 Gift Card
Now that I've shared a few ideas of how to pack extra protein into your diet, would you like a little spending money to get you started? One winner will get a $100 gift card to enjoy shopping either online or offline. The giveaway will be open for just one week – so enter now!
The Vitamin Shoppe
This post is sponsored by FitFluential on behalf of Vitamin Shoppe. All opinions are mine.