It's been a full month since my second bikini competition. I'm doing things different this time around and have continued to work with my trainer without a break. Last time I enjoyed the break, but ignoring my nutrition wasn't the healthiest decision and I knew it. I learned what didn't work for me and decided to do things differently this time.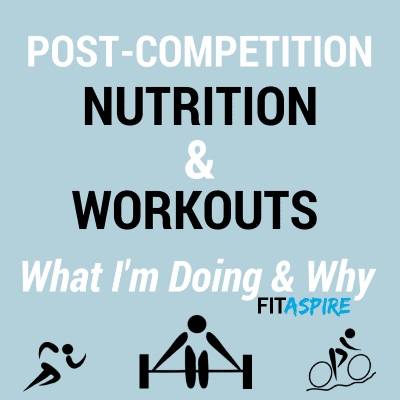 The right thing to do after a competition? Reverse diet!! The goal is to slowly build your calories back to a maintenance level, while making your metabolism strong! That doesn't mean eating everything is sight. It means eating what your body needs to recover from the hard work of preparing for the show.
I want to find a balance for me that continues to support my goals, while having a bit of fun.
Nutrition
My nutrition changes weekly right now, as we are slowly increasing my carbs based on my progress. I track my weight more closely than normal, as we watch how my body responds to the addition of more carbs each week. It's just a small amount each time, but it's FUN!
I'm following a flexible diet approach, which means no restrictions within my macros each day. I'm finding ways to fit wine, ice cream, waffles, and whatever else I'm thinking about into my daily meal plan. Not a cheat meal, but recipe creativity.
I've found Arctic Zero makes ice cream easy (and is gentle on my lactose intolerant tummy). Kodiak Cakes are my favorite for waffles, with their high protein count with no effort on my part. And wine! I'm having a glass more nights than not, with a smile on my face! And of course fish is a staple in my diet (affiliate). I've also brought back my no-holds-barred cheat meal once a week. I tried rocky mountain oysters this week. I actually thought they were pretty good!
 [Tweet "Learn more about nutrition AFTER a #bikini competition with @FITaspire. #FitFluential"]
Workouts
After a full week off after the show,  my first plan back in the gym was just 4 days a week! After a 10 minute warmup, my cardio is just 10 minutes of intervals (usually I choose running). For lifting, I follow a split routine, focusing on different body parts each day. My split is legs, shoulders, arms, and chest/back. I also do a lot of plyometric exercises to keep my heart rate going as part of my workouts. I get a lot out of every minute in the gym.
Since I'm also training for my vacation in France, I added 3 days of cycling to my training that aren't part of the plan. I actually enjoy working on my endurance, so I see this as a bonus, not a burden. Why do so many people hate cardio? I think lifting heavy and a long bike ride are both awesome!!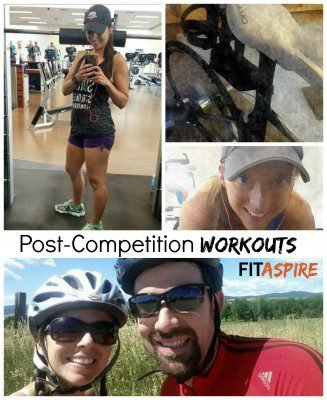 What's Next?
This week, my workouts are changing up again, on our progression to building. I'm back to 5 days in the gym, but with the same short cardio sessions. I'll continue my training on the bike for these final few weeks leading up to vacation. On vacation, I have NO plans to hit the gym at all – although I will certainly be getting exercise on the bike. Nutrition is another plan I will NOT be following.
When I get back, it will be time to resume work to my goal. What is that now? I want to continue working to build my shoulders and booty over the next year. No competitions until next summer, means plenty of time for progress. I may add running and duathlon races to my schedule, depending on how I feel and what inspires me.
My main goal with training is to work toward placing in a future show. I haven't hit the top 10 in either of my first two shows and I am motivated to make that happen. Eventually, I want to earn my pro card in bikini with WBFF! Did I just write that down? 
To get there, I want to eat and train to meet my goals! I've come a long way in the first year of this bodybuilding journey and I can't wait to see how I progress over the next year.
I want to find new and different ways to create healthy recipes and share the best of those with you. And I want to help others to meet their goals (either in racing or body comp), while having fun along the way!
[Tweet "Eating for your goals? @FITaspire's #nutrition and #workouts after competition. #FitFluential"]
*******************
Questions for you:
What is the best part of your workouts lately?

Do you eat and train in a way that supports your goals?