If you haven't noticed, I like to eat! I do a good job staying active, but I tend to be a volume eater and my mouth is often bigger than my stomach. I'm always on the lookout for a snack that tastes good, but that I can eat a LOT of without a lot of calories.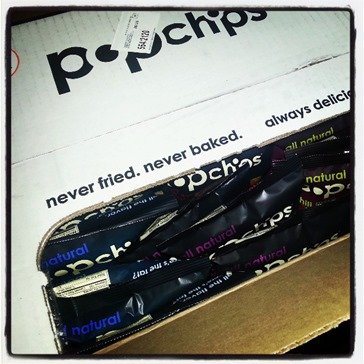 I first tried popchips at the Blend Retreat last year. Since then, it's one of those snacks that I look for when I need a snack but want need extra calories. I can usually find them in airports and gas stations, right when I need them. 🙂 When they offered me a chance to enjoy a case of popchips for myself AND host a giveaway for you, I jumped at the chance!
If you're like me, you might be curious about how they pop a chip:
popping is how we turn our naturally delicious ingredients into our tastier and surprisingly healthier popped potato, tortilla and popped corn chips. we start with the finest ingredients, add a little heat and pressure, and pop! it's a chip. in fact, popping our potato, tortilla and popped cornpopchips is almost as much fun as eating them. (we said almost.)
And for my plant-based friends – are they vegan?
our original, sea salt & vinegar, salt & pepper, jalapeño, chili lime, sweet potato, and thai sweet chili potato popchips and our salsa and chili limón tortilla popchips are vegan. and all the rest of our popped potato and tortilla chips are vegetarian.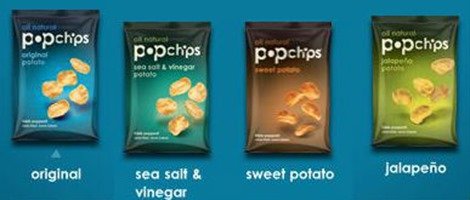 Finally, the question that's been frustrating me – why is the bag so hard to open?
we know that feeling of wanting to tear into your snack. far be it from us to get between you and your popchips, but in fact, we made it that way on purpose. our special bags are air-tight. it's how we make sure our naturally delicious popchips stay fresh and crispy. we've had a lot of practice tearing open our bags, so here are some chip tips:

at the top of the bag, pinch the front and back right in the middle. give both sides a good yank, and you're in.
or, try grabbing the seam on the back at the top with one hand and pulling on the front with the other.

we promise it'll be worth the little extra effort.
Popchips is one of my favorite snacks, but it's also a favorite snack of Jillian Michaels'. Remember when I used her Making the Cut program to get back into strength training last year?
She's shared some of her simple rules to help you stick to your diet and shed those unwanted pounds this new year!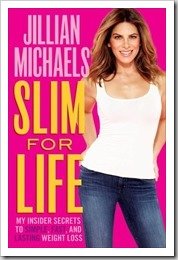 make a resolution…and keep it.
resolutions shouldn't be something you wait for so this new year, resolve to do it and resolve to start now!
it's all about balance.
eating three balanced meals (every four hours) with a snack between lunch and dinner is key.  reach for a healthier snack like carrot sticks and hummus, fresh fruit, or curb salty cravings with tasty snacks such as popchips or almonds and dried cranberries.
just because it's not fried, doesn't mean it's not delicious!
if you are in the mood to nosh, replace fried potato chips with a healthier alternative that still will satisfy that salty crave.   popchips are a great and my favorite snack option! they taste delicious and have less than half the fat of fried chips and only 100 calories in the single serve bag.
grab a buddy.
it's a fact that you will achieve greater success when you have the support of those closest to you.  so get your friends together to support each other in being healthier in 2013.
create healthier alternatives to your favorite fried foods.
opt for cooking methods that use little or no fat such as steaming, grilling, baking, popping, broiling or roasting.  you can still make these items taste great with the right seasoning!  have a weakness for fried chicken?  instead take skinless chicken breast cutlets, cover them in egg whites and a crushed up cereal like cornflakes, and bake.  same great taste and more than half the calories and fat.
Are you craving a pack of popchips, so you can follow Jillian's tip of enjoying a healthier snack alternative?
I might be able to help with that! Popchips has offered to send one of you a case of their healthy snacks PLUS an autographed copy of Jillian's "Slim for Life" book! If that sounds like something you'd enjoy, use the Rafflecopter widget below to submit your entries through next Friday, March 29th.
Disclosure: I received a case of popchips in exchange for hosting this review & giveaway, but all opinions are my own. I only host giveaways for products I love! The giveaway prizes are being provided by popchips.