My Halloween night didn't go exactly go as planned. I started feeling a little off after work, but I tried to ignore it and got dressed up to hand out candy.
Before long, I was on the couch, then on the floor, and up all night very unhappy. I spent all of Thursday in bed, watched way too many movies, slept, and ate soup. Kirk was a great helper, since he works from home (great perk for me!).
So….that explains yesterday's missing post. Sorry about that! I know it's now November 2nd, but I still really wanted to do my October recap post. So hopefully you'll give me a grace period since I was sick. 🙂
Your Favorite Post
Kirk and I had a friendly competition this month to see whose recipe would get the most attention. Guess who won? Kirk's Wicked Spicy Sausage Tacos were the winner (although my Beer + Butternut Squash Mac N Cheeseweren't far behind!).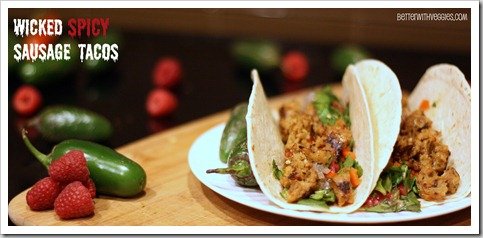 My Favorite Post
This is probably a weird one for my favorite, but I Hate Running was good for me to write. I try to be transparent and honest here, so that's part of it, but it also reminded me why I really do like running (usually). I'm happily taking a break right now, but I can't wait to recapture the fun of running again!
Recipes
I shared more recipes than usual this month, there was lots of good food in our house!




Fitness
Since there was more focus on food in October, it was a little light on the fitness front. I did run two races and accomplish my goal of running a marathon for fun, though!



Video
Another month with no videos. I will fix this in November. 🙂
************************
Don't forget that Monday starts a new month of Meatless Mondays from A-Z, with a new logo, and new ingredients. I am hoping I'll be well enough and have time to come up with a creative miso recipe to share on Monday. I have seen a few people who are ahead of the game with their recipe already (I'm a little jealous!).
********************
Questions for you:
Any miso recipe requests?

What fun weekend plans are on your list?

How was your Halloween?